Norman Yee
From KeyWiki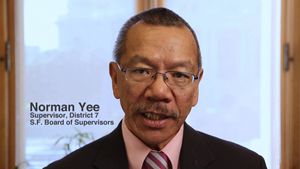 Norman Yee is a member of the San Francisco Board of Supervisors representing Supervisorial District 7.
Biography
Verbatim[1]
"Norman Yee has worked on behalf of San Franciscans for the past 35 years. He was elected in November to represent District 7 and was sworn in on January 8th to continue building stronger communities and improving the City's quality of life. Norman is a third-generation native San Franciscan and has lived in Westwood Park for over 25 years, where he and his wife Cathy raised their two daughters.
"Norman has served in an executive management capacity for over 20 years. He knows how to make tough decisions to maintain fiscal solvency. As a school board member, he closed under-enrolled schools to balance the budget. As Executive Director of a large social service organization, Norman grew the non-profit enterprise into a multi-million dollar entity with hundreds of employees.
"San Franciscans elected Norman to the Board of Education in 2004 and re-elected him in 2008 with the highest number of votes. During this time, he led the Superintendent search and brought a divided school board together. Under Norman's leadership, the school district has a renewed commitment to serving all students. The district now has a new strategic plan, student achievement and public school enrollment have made positive gains, and San Francisco parents have better options to give their children a quality education.
"Norman has spearheaded the creation of numerous civic organizations and initiatives, including the San Francisco Early Head Start Program, the Asian Parent Education Network, the San Francisco Child Care Providers Association, and the Chinatown Beacon Center. He currently serves on the board of directors of the San Francisco Child Care Providers Association and the Chinese Culture Foundation.
"Norman grew up playing basketball and helping at his family-owned grocery store. He is a product of San Francisco public schools, received a B.S. in Civil Engineering from UC Berkeley and an M.A. in Education from San Francisco State University. He was an active parent, coaching his daughters' sports teams and bringing language immersion programs to West Portal ES, Alice Fong Yu Alternative School, and Hoover MS. His daughters attended Lincoln HS and Lowell HS, and are both currently working in the education field.
Open Letter to the Biden Campaign on "Unprepared"
Open Letter to the Biden Campaign on "Unprepared" was released May 12 2020.
":Our demands: The country's greatest priority at this moment is to beat the COVID-19 crisis, and this requires embracing principles of antiracist solidarity and international cooperation. The Biden campaign can and should beat Trump and the GOP with a message centered on our real public health needs and the progressive values that are required to meet those needs. The "Unprepared" ad must be taken down, and all campaign messaging that fuels anti-Asian racism and China-bashing must end. We refuse to allow the Biden campaign to sacrifice our dignity in the name of political expediency."
Signatories included Norman Yee .
Save City College rally
Eric Mar September 4, 2012.
With John Avalos, Gordon Mar, Emily Murase, Chris Jackson, John Rizzo, Conny Ford and Norman Yee.
Phillip Burton Awards Committee
In 2013, the Honorary Phillip Burton Awards Committee, of the Immigrant Legal Resource Center, consisted of;
PowerPAC+ supported Elected and Appointed Leadership
The list of PowerPAC+ leaders is growing.
Here are the social justice champions we have helped elect.
PowerPac+ Board of Directors
PowerPAC+ Board of Directors, as of 2014 included Norman Yee - San Francisco, CA San Francisco Board of Education President.[4]
Westside Slate
Eric Mar February 23, 2016
Me and the WONDER WOMEN! Please join our WESTSIDE [19th Assembly District] SLATE for the DCCC [democratic party's central cmtee] June 7 election. with Myrna Melgar, Hene Kelly [wonder woman], Brigitte Davila, Alysabeth Alexander, Leah LaCroix, Sandra Lee Fewer and Norman Yee! We can take back the party from Big Business lobbyists and REAL ESTATE speculators! But we need your help through the June 7 elections. — with Myrna Melgar and Hene Kelly.
China
Charlotte Shultz organized the largest welcome ceremony in the history of SF Airport for Rose Pak in 2016 after she received a kidney transplant surgery in China."[5]
Verbatim:
"The 300 greeters who took the drive out to the airport Monday for Pak's welcome–home from China, where she underwent months of kidney treatment, included former Mayors Gavin Newsom and Willie Brown, Supervisors Aaron Peskin, Jane Kim, Norman Yee and David Campos, Public Defender Jeff Adachi and City Attorney Dennis Herrera.
"Also there was Academy of Art University President Elisa Stephens — whom Herrera just sued, claiming the school has illegally converted 22 buildings in the city into student housing and other uses.
"Even acting Police Chief Toney Chaplin made the pilgrimage.
"Pak wasted little time tossing out barbs as she emerged from customs, with Herrera being the first target.
""Are you going to serve me papers?" Pak mockingly asked, referring to the scrutiny she and her Chinatown allies have received in the past mostly from the district attorney's office over their campaign tactics. "Or are you here to serve the mayor papers?"
"Pak also publicly chided Herrera for suing her pal Stephens. After such pleasantries, she joined Brown and Public Works chief Mohammed Nuru in a burgundy Rolls-Royce from the Academy of Art's classic-car collection and headed to a Chinatown luncheon — escorted by SFPD motorcycle officers.
""It was a Fellini movie — if it had been filmed for reality TV, nobody would have believed it," said San Francisco PR agent Lee Houskeeper, who was among the spectators.
""Every year, tens of millions come and go from San Francisco International, but this is the first time I've seen a civic event of these proportions at the airport," Peskin said. "It was actually quite entertaining."
"The entertainment continued at the Far East Cafe, where Pak was flanked at a luncheon banquet by Brown, Chaplin and police Deputy Chief Garret Tom, a longtime Pak protege who has been mentioned as a candidate for the chief's job.
"Also at the head table were Campos, Kim and Peskin — who defeated Lee's hand-picked candidate for his supervisor's seat last year, with Pak's help.
"As for the mayor, he missed the banquet — instead catching a flight to D.C. for a gun-safety conference at the White House. In doing so, he missed Pak's expletive-laden remarks at the luncheon, laying in to Brown for persuading her to push Lee to run for mayor back in 2011.
"Pak got a new kidney as part of her treatment in China, and said her doctor told her she could expect to live another 40 years. She said she needed only 15 years, including 10 to get the Ping Yuen public housing complex in Chinatown rebuilt.
"And the other five years?
""To get even with the people who wished me dead."
Rose Pak Democratic Club 2016 voter guide
Host Committee
The Chinese Progressive Association (San Francisco) Celebrates 45 years of Resilience and Resistance.
On Saturday, October 7, 2017, the Chinese Progressive Association (San Francisco) will celebrate our 45th anniversary with the theme, "Harnessing the Strength of a Thousand Rivers.
Host committee members were:
Fahd Ahmed, Alysabeth Alexander, Mike Casey, Myra Chow,Cathy Dang, Antonio Diaz, Supervisor Sandy Lee Fewer, Norman Fong, Conny Ford, Alicia Garza,George Goehl, Rudy Gonzales, Corinna Gould, Sherry Hirota, Dana Kawaoka-Chen, Helen Kim, Supervisor Jane Kim, Aarti Kohli, Laura Livoti, Gordon Mar, Xavier Morales, Vanessa Moses, Tim Paulson, Supervisor Aaron Peskin, Ai-jen Poo, and Mu Ping Poo, Supervisor Hillary Ronen, Saket Soni, Sarath Suong, Mabel Teng, Shiree Teng, Supervisor Norman Yee, Haeyoung Yoon, Miya Yoshitani, Anand Singh.[6]
Proposition N
Chinese for Affirmative Action (CAA) May 23, 2018
For immediate release, please see our press release on San Francisco Board of Supervisors passing Non-Citizen Vote implementation. Thank you to all of our community allies ( Carecen SF African Advocacy Network) for providing their support and Supervisors Norman Yee Sandra Lee Fewer, Hillary Ronen for sponsoring the ordinance!
"The implementation of Prop N will enable working immigrant families to address K-12 education equity issues through the power of the ballot," said Cynthia Choi, co-executive director of CAA. "For more than a decade immigrant families and parents leaders have fought hard to make Proposition N a reality, and the Department of Elections is now clearly tasked and given direction on how to implement Prop N despite the challenges of the current political climate."
References