Norm Faramelli
From KeyWiki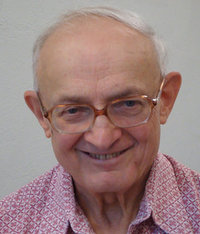 Norm Faramelli has, since 2000, been a Lecturer in Philosophy, Theology and Ethics at the Boston University School of Theology, and since 2006, has also been Adjunct faculty in Christian Ethics at the Episcopal Divinity School.[1]
Education
Faramelli holds a BS in Chemical Engineering (Bucknell University), a M. Div (Episcopal Divinity School) and a Ph.D. from Temple University in Religious Thought, specializing in the relationship of religion and technology. He also holds an honorary doctorate from Episcopal Divinity School.[2]
Career/activism
Norm has worked in petroleum engineering and also in transportation and environmental planning in both industry and government. He is an ordained Episcopal priest and has served numerous urban and suburban parishes in the New York, Philadelphia and Boston areas. He has also served as consultant to national denominations and the Episcopal Diocese of Massachusetts. Norm has had a long relationship with Episcopal City Mission in their work in housing and public advocacy for economic justice. In addition, Norm has served as President of the Community Development Corporation in Waltham, MA and currently serves on the boards of Massachusetts Interfaith Worker Justice and also Refugee Immigration Ministry. He is also a member of the Society of Christian Ethics.[3]
Writing
Over the years, he has written extensively on religion and technology, eco-justice, and economic and racial justice, including TECHNETHICS: CHRISTIAN MISSION IN AN AGE OF TECHNOLOGY. (1971) and has also published over 100 articles. In the early 1970's, he worked with national denominations in developing programs to address Eco-Justice–relating environmental and social/ economic issues. Most recently, he has contributed to publications of the Boston Theological Institute on the work of James Luther Adams and Walter Muelder, pioneers in the discipline of social ethics. Currently, he is working on a project on the works of his former BU colleague and environmental ethicist, the late James A. Nash.[4]
Temporary Worker's Right to Know Act
According to Paul Drake Massachusetts Interfaith Worker Justice, on the evening of July 30th 2012, thanks in part to the support of people of faith throughout the Commonwealth, the Massachusetts legislature passed a bill that would prevent unethical temporary employment agencies from exploiting temporary workers and undermining law-abiding businesses.
The Temporary Worker's Right to Know Act requires temp agencies to provide written notice of key details of job assignments, disclosure to workers of how to reach the Department of Labor Standards, and the name of the workers' compensation provider, among other protections. The bill, which benefited from the strong support of House Speaker Robert DeLeo and Senate President Therese Murray, will now go to Governor Deval Patrick for his signature.
Our faith traditions call for justice for all, not just the fortunate and the strong. So it has been exciting to see members of Massachusetts' faith communities speak up and declare that the transience of temp workers' employment does not make them disposable as persons. We are grateful today to see basics like honesty, safety, and fair pay being restored to the margins of our economy.
"We had so many frustrated and upset workers coming to us for help with unpaid wages, injuries, illegal fees," said Mirna Montano, MassCOSH Worker Center organizer. "With bad employers knowing that they could get away with leaving workers in the dark regarding almost everything: pay rate, who was covering workers' compensation insurance, how much transportation would cost, it made achieving justice for these individuals very hard."
"I worked ten hours per day peeling fruit. We had no breaks, until after ten hours of work," said Juan Calderas, a temporary worker and member of MassCOSH's worker center. "I was carrying a large bucket of fruit and fell. I broke two discs in my back. When the employer refused to pay my doctor's bills, that's when I learned that I wasn't working for the company at all, but instead for a temporary agency."
In response to such stories of worker exploitation, faith groups rallied behind the bill, joining together with worker centers, unions, community and legal groups. Lay persons made calls to their legislators, and 30 faith leaders signed a letter to Speaker DeLeo and House Ways & Means Chair Brian Dempsey calling for the bill's swift passage. "Such economic relationships lack basic honesty and respect for minimums of human life, and are therefore grievous to our faiths. They violate the shalom of our communities, with the exploitation of one worker eroding the security of another. This must change," declared the letter.
Faith groups also brought to light the plight of those on the margins of our economy in creative ways: "Young adults from the Workmen's Circle performed a street theater skit for a Labor Day action last September and baked over a hundred cookies to deliver to elected officials at a lobby day in June," reported Leah Madsen of the Boston Workman's Circle. "We have fun while we do it!"
The bill provides the transparency and enforcement resources that are key in correcting these abuses. "The bill is necessary and long overdue," says Norm Faramelli of the Episcopal Diocese of Massachusetts. "It is a step in the direction of economic justice at a time when so many of the trends are moving toward greater economic inequality."
"This is a significant win for to all those that care about economic justice," said Marya Axner of the New England Jewish Labor Committee. "I'm proud to live in a state that stands against the blatantly indecent working conditions that so many poor people and immigrants face. I want to thank the Jewish community for supporting the passage this bill. This action is part of the tradition of social justice and Tikkun Olam that is so central to our religion and culture."[5]
Religion & Socialism Commission
In 2000, the Democratic Socialists of America Religion & Socialism Commission consisted of[6];
Co-Chairs: Rod Ryon, Juanita Webster
Secretary: Maxine Phillips
Treasurer: John Cort
Executive Committee: Judith Deutsch, John Endler, Norm Faramelli, Mark Finkel, Andrew Hammer, Tharen Robson.
DSA summer member's meeting
The 2001 Boston DSA Summer members meeting, Saturday, August 18, discussed the future of Democratic Socialists of America, both nationally and locally, decide whether to endorse various candidates and referenda, and debate the "faith-based initiative" proposals of President Bush.
Afterwards a barbecue party was held in the in the Cambridge backyard of Executive Board member Allen Graubard.
Special Guests:
DSA Faith-based Initiatives forum
On August 18, 2001 the Boston Chapter of Democratic Socialists of America held a forum on the Bush Administration's Faith-based Initiatives. The forum, moderated by Judith Deutsch (member of the Religious Socialism Commission), included The Rev. Alexander Hurt, pastor of Kingdom Church in Brockton, MA ; the Honorable Byron Rushing, Massachusetts Legislature; and the Rev. Norm Faramelli of Religious Socialism.[8]
Transport activism
Boston Democratic Socialists of America members Norm Faramelli, Juli O'Brien and John Kyper were among those attending the 2007 annual meeting of the Association for Public Transportation, and John Kyper "got himself elected to the APT Board". Among other priorities, members voted to support the proposed rail link between North and South Stations, and re-connection of Massachusetts' older cities by rail transit....[9]
Left Forum 2005
The Challenge of the Rightist Values Agenda to Secular and Religious Socialists: Sponsor: Religion and Socialism Commission, Democratic Socialists America
Chair: Rod Ryon, Religion and Socialism Commission, DSA
Stephen Hart, SUNY Buffalo
Norm Faramelli, Boston University School of Theology
References