Noel Castellanos
Jump to navigation
Jump to search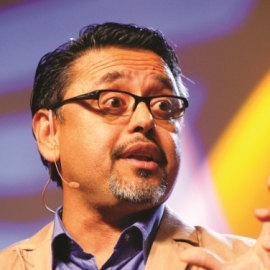 Template:TOCnestleft Noel Castellanos is CEO and president of the Christian Community Development Association (CCDA), a network of hundreds of community organizations around the U.S. that are living and working in under-resourced neighborhoods. He has served on President Obama's Council for Faith and Neighborhood Partnerships. His books include Where the Cross Meets the Street: What happens in the Neighborhood When God is at the Center (2015) and A Heart for the Community, New Models for Urban and Suburban Ministry (2009, as co-author).[1]
White House arrest
Shane Claiborne June 26, 2018 ·
BREAKING... Eleven faith leaders have been arrested at the White House. Here is our statement from today's witness.
Those arrested were: Rev. William Barber, Shane Claiborne, Don Golden, executive director of Red Letter Christians; Rev. Adam Taylor, Executive Director of Sojourners; Jim Wallis, president of Sojourners, Rev. Alex Dyer; Rev. Chaz Howard, UPenn Chaplain; Rev. Doug Pagitt, Vote Common Good; Noel Castellanos, executive director, Christian Community Development Association; Rev. William Gipson; and Jane Saari.
WE WILL NOT COOPERATE WITH POLICIES THAT SEPARATE FAMILIES
As members of the clergy, we have made vows to proclaim the truth of Scripture and lead people of faith in making sound moral choices in their private and public lives. Today we joined together in a prayer of defiance outside the White House to demonstrate that we will not cooperate with policies that separate families. We invite others to join us by taking direct action at places in our communities where the policy violence of this administration is being executed.
Promoting Illegal Immigration & Refugee Resettlement
Noel Castellanos signed a letter to President Trump written by World Relief.[2] titled "Top evangelical leaders and pastors from all 50 states urge action to help vulnerable immigrants" which lamented a decrease in refugees entering the United States, and requested amnesty for DACA recipients.
Courageous Conversations Conference
The Courageous Conversations Conference (C3) was s a one day event designed to teach and challenge the local church in the proclamation and demonstration of the gospel. C3 provides a Biblical framework to resolve the racial tensions that prevent addressing the spiritual and material needs of a community. Attendees will leave with an understanding of how to share the gospel while not ignoring needs and how to meet needs while not compromising the gospel.
It was held Saturday, September 16, 2017 at The Impact Center/Word Tabernacle Church 821 Word Plaza Rocky Mount, NC.
Keynote speakers were:
A Declaration by American Evangelicals Concerning Donald Trump
In October 2016, Noel Castellanos was one of the signatories for a letter condemning then-presidential candidate Donald Trump.[4]
Excerpt:
"We believe the candidacy of Donald J. Trump has given voice to a movement that affirms racist elements in white culture—both explicit and implicit. Regardless of his recent retraction, Mr. Trump has spread racist "birther" falsehoods for five years trying to delegitimize and humiliate our first African-American president, characterizing him as "the other" and not a real American citizen. He uses fear to demonize and degrade immigrants, foreigners, and people from different racial, ethnic, and religious backgrounds. He launched his presidential campaign by demonizing Mexicans, immigrants, and Muslims, and has repeatedly spoken against migrants and refugees coming to this country—those whom Jesus calls "the stranger" in Matthew 25, where he says that how we treat them is how we treat him. Trump has steadily refused to clearly and aggressively confront extremist voices and movements of white supremacy, some of whom now call him their "champion," and has therefore helped to take the dangerous fringes of white nationalism in America to the mainstream of politics."
Signatories
Support of Dreamer and a permanent fix for DACA recipients and CIR
CCDA board members making call to congress in support of Dreamer and a permanent fix for DACA recipients and Comprehensive Immigration Reform.
On January 18 2018, Noel Castellanos posted a live video[5] on Facebook and tweeted[6] about members of the Christian Community Development Association board making calls to Congress to pressure them to support Amnesty for DACA recipients. Others tagged were Mark Judkins, Sami DiPasquale, Cheryl Miller, Mary Nelson, Althea Taylor, John Liotti, and Dominique Gilliard.
Letter to Obama
July 1, 2014 The Honorable Barack Obama President of the United States of America
c/o Melissa Rogers, Executive Director, White House Office of Faith-Based and Neighborhood Partnerships
Dear Mr. President, As religious and civic leaders who seek to advance the common good, we write to urge you to include a religious exemption in your planned executive order addressing federal contractors and LGBT employment policies.
We have great appreciation for your commitment to human dignity and justice, and we share those values with you. With respect to the proposed executive order, we agree that banning discrimination is a good thing. We believe that all persons are created in the divine image of the creator, and are worthy of respect and love, without exception. Even so, it still may not be possible for all sides to reach a consensus on every issue. That is why we are asking that an extension of protection for one group not come at the expense of faith communities whose religious identity and beliefs motivate them to serve those in need.
Americans have always disagreed on important issues, but our ability to live with our diversity is part of what makes this country great, and it continues to be essential even in this 21st -century. This ability is essential in light of our national conversation on political and cultural issues related to sexuality. We have and will continue to communicate on these broader issues to our congregations, our policymakers and our nation, but we focus here on the importance of a religious exemption in your planned executive order disqualifying organizations that do not hire LGBT Americans from receiving federal contracts. This religious exemption would be comparable to what was included in the Senate version of the Employment Non-Discrimination Act, which passed the Senate with a strong, bipartisan vote. Without a robust religious exemption, like the provisions in the Senate-passed ENDA, this expansion of hiring rights will come at an unreasonable cost to the common good, national unity and religious freedom.
When you announced the White House Office of Faith-based and Neighborhood Partnerships, you said the following: …the particular faith that motivates each of us can promote a greater good for all of us.
Instead of driving us apart, our varied beliefs can bring us together to feed the hungry and comfort the afflicted; to make peace where there is strife and rebuild what has broken; to lift up those who have fallen on hard times...
We could not agree with you more. Our identity as individuals is based first and foremost in our faith, and religious beliefs are at the foundation of some of America's greatest charities and service organizations that do incredible good for our nation and for the world. In fact, serving the common good is one of the highest expressions of one's religious liberty outside of worship. The hiring policies of these organizations— Christians, Jewish, Muslim and others—extend from their religious beliefs and values: the same values that motivate them to serve their neighbors in the first place.
Often, in American history--and, indeed, in partnership with your Administration-- government and religious organizations have worked together to better serve the nation. An executive order that does not include a religious exemption will significantly and substantively hamper the work of some religious organizations that are best equipped to serve in common purpose with the federal government. In a concrete way, religious organizations will lose financial funding that allows them to serve others in the national interest due to their organizational identity. When the capacity of religious organizations is limited, the common good suffers.
But our concern about an executive order without a religious exemption is about more than the direct financial impact on religious organizations. While the nation has undergone incredible social and legal change over the last decade, we still live in a nation with different beliefs about sexuality. We must find a way to respect diversity of opinion on this issue in a way that respects the dignity of all parties to the best of our ability.
There is no perfect solution that will make all parties completely happy. As we know you understand, a religious exemption in this executive order would not guarantee that religious organizations would receive contracts. Instead, a religious exemption would simply maintain that religious organizations will not be automatically disqualified or disadvantaged in obtaining contracts because of their religious beliefs.
Mr. President, during your first presidential campaign you were asked your views on same-sex marriage. You responded: "'I believe that marriage is the union between a man and a woman. Now, for me as a Christian, it is also a sacred union. God's in the mix… I am not somebody who promotes same-sex marriage.'"
You justified withholding your support for same-sex marriage, at least in part, by appealing to your Christian faith. Yet you still believed you could serve your country, all Americans, as President. Similarly, some faith-based organizations' religious identity requires that their employees share that identity. We still believe those organizations can serve their country, all Americans, in partnership with their government and as welcome members of the American family.
This is part of what has been so powerful about religious liberty in our nation's history. Historically, we have been reticent as a nation to use the authority of government to bless some religious identities and ostracize others. We live in a blessed nation, constantly perfecting its fundamental ideal that no matter what god you pray to, what you look like, or who you are; there is a place in this nation for you if you seek to serve your fellow Americans.
Religious organizations, because of their religious faith, have served their nation well for centuries, as you have acknowledged and supported time and time again. We hope that religious organizations can continue to do so, on equal footing with others, in the future.
A religious exemption in your executive order on LGBT employment rights would allow for this, balancing the government's interest in protecting both LGBT Americans, as well as the religious organizations that seek to serve in accordance with their faith and values.
Sincerely,
Obama's Faith Council
On March 15, 2010, President Obama's White House Advisory Council on Faith-based and Neighborhood Partnerships included Castellanos.[8]
External links
References