Newt Gingrich
From KeyWiki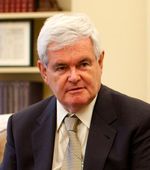 Newton Leroy "Newt" Gingrich was born Newton Leroy McPherson; June 17, 1943. Gingrich was born in Harrisburg, Pennsylvania, but was raised in nearby Hummelstown. He is currently married to Callista Gingrich.
Gingrich is an American politician who served as the 58th Speaker of the United States House of Representatives from 1995 to 1999. He represented Georgia's 6th congressional district as a Republican member from 1979 to 1999. He is a Republican candidate in the 2012 Presidential race.[1]
A college professor, historian and author, Gingrich ran twice unsuccessfully for the House before winning a seat in the election of November 1978. He was re-elected ten times and his activism as a member of the House's Republican minority eventually enabled him to succeed Dick Cheney as House Minority Whip in 1989. As a co-author of the 1994 Contract with America, Gingrich was in the forefront of the Republican Party's dramatic success in that year's Congressional elections and subsequently was elected Speaker of the House.[2]
Gingrich has a mixed track record of conservative stances as well as progressive positions on the right side of the political aisle. Many consider Gingrich to be 'Republican in name only.'
Early Life/Family/Personal
Gingrich was born Newton Leroy McPherson, at the Harrisburg Hospital in Harrisburg, Pennsylvania on June 17, 1943. His mother, Kathleen "Kit" and father, Newton Searles McPherson, had married the previous September, but the marriage reportedly fell apart within days. In 1946, his mother married Army officer Robert Gingrich (1925–1996), who adopted Newt. The family settled in Hummelstown, Pennsylvania, a small borough outside of Harrisburg. Gingrich has three younger half-sisters, Candace Gingrich, Susan Gingrich and Roberta Brown.
Gingrich was the child of a career military family, moving a number of times while growing up and attending school at various military installations. He ultimately graduated from Baker High School in Columbus, Georgia, in 1961. Gingrich has credited the beginning of his interest in seeking public life to his time living in Orléans, France, as a teenager where he visited and learned about extreme sacrifices in the Battle of Verdun and the importance of political leadership necessary to see it through.[3]
Gingrich has been married three times. In 1962, he married his first wife, Jackie Battley, who was 6 years his senior and his high school geometry teacher. In the spring of 1980, Gingrich left Battley after having an affair with Marianne Ginther. According to Battley, Gingrich visited her while she was in the hospital recovering from uterine cancer surgery to discuss the details of their divorce. Six months after the divorce was final, Gingrich wed Marianne Ginther in 1981. In the mid-1990s, Gingrich began an affair with House of Representatives staffer Callista Bisek, who is 23 years his junior. They continued their affair during the Lewinsky scandal, while Gingrich was a leader of the Republican investigation of President Bill Clinton for perjury in connection with his alleged affairs with Paula Jones and Monica Lewinsky. In 1999, over the Mother's Day weekend and on the same day his second wife had been diagnosed with multiple sclerosis, Gingrich informed her he had found someone else.
In 2000, Gingrich married Bisek shortly after his divorce from second wife Ginther. He and Callista currently live in McLean, Virginia.[2]
Marriages
Gingrich has been married three times. In 1962, he married Jackie Battley, his former high school geometry teacher. He was 19 and she was 26. In the spring of 1980, Gingrich left Battley after having an affair with Marianne Ginther.[4] In 1984, Battley told the Washington Post that the divorce was a "complete surprise" to her. According to Battley, in September 1980, Gingrich and their children visited her while she was in the hospital, recovering from surgery and Gingrich wanted to discuss the terms of their divorce.[4] Gingrich has disputed that account. In 2011, their daughter, Jackie Gingrich Cushman, said that it was her mother who requested the divorce, that it happened prior to the hospital stay (which was for the removal of a benign tumor, not cancer), and that Gingrich's visit was for the purpose of bringing the couple's children to see their mother, not to discuss the divorce.[5] Gingrich has two daughters from his first marriage. Kathy Gingrich Lubbers is president of Gingrich Communications and Jackie Gingrich Cushman is an author, conservative columnist, and political commentator whose books include 5 Principles for a Successful Life, co-authored with Newt Gingrich.
Six months after the divorce from Battley was final, Gingrich wed Marianne Ginther in 1981.[6] In the mid-1990s, Gingrich began an affair with House of Representatives staffer Callista Bisek, who is 23 years his junior. They continued their affair during the Lewinsky scandal, when Gingrich became a leader of the Republican investigation of President Clinton for perjury and obstruction of justice in connection with his alleged affairs. In 2000, Gingrich married Bisek shortly after his divorce from second wife Ginther. He and Callista currently live in McLean, Virginia.
Conversion to Catholicism
Gingrich who was a staunch Southern Baptist, converted to Catholicism on March 29, 2009.[7] The moment when he decided to officially become a Catholic was when he saw Pope Benedict XVI on his visit to the United States in 2008. Gingrich has stated that he has developed a greater appreciation for the role of faith in public life following his conversion and believes that the United States has become too secular. At a 2011 appearance in Columbus, Ohio, he said, "In America, religious belief is being challenged by a cultural elite trying to create a secularized America, in which God is driven out of public life."
Personal Interests
Gingrich is an avid reviewer of books at Amazon.com. He especially loves military history and spy novels. He has a great interest in animals and dinosaurs. He is also a great lover of all things space and NASA.[8]
Education
Gingrich received a B.A. in history from Emory University in Atlanta, Georgia in 1965. He received an M.A. in 1968 and then a PhD in Modern European History from Tulane University in New Orleans, Louisiana in 1971. At Tulane University he accepted student deferments rather than being drafted to Vietnam. He experimented with marijuana. He also led a campus demonstration defending the school paper's right to print a photo of a nude faculty member.[2]
His dissertation was entitled "Belgian Education Policy in the Congo: 1945–1960." While at Tulane, Gingrich, who at the time belonged to no religious group, began attending the St. Charles Avenue Baptist Church to pursue an interest in the effect of religion on political theory; he was soon baptized by Rev. G. Avery Lee.
Gingrich taught history at the University of West Georgia (then called West Georgia College) in Carrollton, from 1970 to 1978. He also taught a class, Renewing American Civilization, at Kennesaw State University (then called Kennesaw State College) in 1993.[3]
Early Career
Congressional Campaigns
In 1974 and 1976, Gingrich made two unsuccessful runs for Congress in Georgia's sixth congressional district. Prior to running for office, Gingrich had been Southern Regional Director for Nelson Rockefeller in 1968.[2] In both campaigns, Gingrich lost to incumbent Democrat Jack Flynt. Flynt had served in Congress since 1955 and never faced a serious challenge prior to Gingrich's two runs against him. Gingrich nearly defeated Flynt in 1974, a year that was otherwise very bad for Republicans due to Watergate. A 1976 rematch was similarly close, despite the presence of Jimmy Carter, the governor of Georgia until 1975, on the presidential ballot.
Flynt chose not to run for re-election in 1978. Gingrich ran for the seat a third time and defeated Democratic State Senator Virginia Shapard by almost 9 points. Gingrich was re-elected six times from this district, facing only one close race. In the House elections of 1990, he defeated Democrat David Worley by 978 votes.[3]
Pre-Speakership Congressional Activities
In 1981, Gingrich co-founded the Congressional Military Reform Caucus (MRC) as well as the Congressional Aviation and Space Caucus. During the 1983 congressional page sex scandal, Gingrich was among those calling for the expulsion of representatives Dan Crane and Gerry Studds.[9] Other notable early House activities by Gingrich include supporting a proposal to ban loans from the International Monetary Fund to Communist countries and endorsing a bill to make Martin Luther King, Jr.'s birthday a national holiday.
in 1983, he founded the Conservative Opportunity Society (COS), a group that included young conservative House Republicans. Early COS members were handpicked by Gingrich and included Robert Smith Walker, Judd Gregg, Dan Coats and Connie Mack III. The group expanded over time to comprise several dozen representatives who met each week to exchange and develop ideas. Gingrich's analysis of polls and public opinion identified the original issues that the group focused on. Ronald Reagan adopted the "opportunity society" ideas for his 1984 re-election campaign, supporting the group's conservative goals on economic growth, education, crime, space exploration and social issues, which he had not emphasized during his first term. Reagan also referenced an "opportunity society" in the first State of the Union address of his second term.
In May 1988, Gingrich (along with 77 other House members and Common Cause) brought ethics charges against Democratic Speaker Jim Wright, who was alleged to have used a book deal to circumvent campaign-finance laws and House ethics rules. During the investigation, it was noted Gingrich had his own unusual book deal, for Window of Opportunity, part of whose publicity expenses were covered by a limited partnership which raised $105,000 from Republican political supporters around the country to promote sales of the book. Wright eventually resigned as a result of the inquiry. Gingrich's success in forcing the resignation was in part responsible for his rising influence in the Republican caucus.[3]
Minority Whip
In March 1989, Gingrich was elected to succeed House Minority Whip Dick Cheney who had just been appointed Secretary of Defense. He defeated the Chief Deputy Whip, Edward Madigan in the election.

In May 1989, Gingrich was involved in talks about the appointment of a Panamanian administrator of the Panama Canal, which was scheduled to occur in 1989. Gingrich was outspoken in his opposition to giving control over the canal to an administrator appointed by the dictatorship in Panama.[3]
Gingrich and others in the house, including the newly minted Gang of Seven, railed against what they saw as ethical lapses in the House, an institution that had been under Democratic control for almost 40 years. The House banking scandal and Congressional Post Office scandal were emblems of the exposed corruption. Gingrich was among the 450 members of the House who had engaged in check kiting; he had overdrafts on twenty-two checks, including a $9,463 check to the Internal Revenue Service in 1990.[10]
Election of 1992
In 1992, Georgia picked up an additional seat for the 1992 US House elections due to the 1990 census. However, the Democratic-controlled Georgia General Assembly eliminated Gingrich's old district. Gingrich's home in Carrollton was drawn into the Columbus-based 3rd District, represented by five-term Democrat Richard Ray. At the same time, the Assembly created a new 6th District in Fulton and Cobb counties in the suburbs of Atlanta. Gingrich sold his home in Carrollton, moved to Marietta and won a very tight Republican primary. The primary victory was tantamount to an election in the district. Meanwhile, Ray narrowly lost to Republican state senator Mac Collins.
Election of 1994/Contract with America
During the 1994 campaign season, Gingrich and other Conservatives came up with the Contract with America which proposed 10 policies that Republicans committed to bring to a vote on the House Floor during the first 100 days of the new Congress.[11] Gingrich and the other Republicans signed the contract as a sign of their commitment to returning fiscal and principled sanity to the Congress. Issues in the Contract ranged from welfare reform, term limits, tougher crime laws to a balanced budget law. It also covered specialized legislation such as restrictions on American military participation in UN missions.
In the November 1994 elections, Republicans gained 54 seats and took control of the House for the first time since 1954. Long-time House Minority Leader Bob Michel of Illinois had not run for re-election in 1994, giving Gingrich, the highest-ranking Republican returning to Congress, the inside track to becoming Speaker of the House. The following year, Gingrich was named "Man of the Year" by Time magazine for his role in the 1994 election and his nascent Speakership, which Time wrote had "changed the center of gravity" in the nation's capital.[12]
Speaker of the House
Legislation
Welfare Reform
Balancing the Federal Budget
Taxpayer Relief Act of 1997
Other Legislation
Government Shutdown
Ethics Sanctions
Leadership Challenge
Resignation
Post-Speakership
Healthcare
National Security
Organizations and Public Appearances
Documentary Films and Books
Declined 2008 Presidential Run
2009 Election Involvement
2012 Presidential Candidacy
Affiliations
Council for National Policy
Gingrich's campaign manager for many of his congressional races was Ralph Reed of the Christian Coalition and a charter member of the secretive Council for National Policy. Ralph was a paid speaker like many of his fellow CNP members for Sun Myung Moon's Unification Church who has a front group within the CNP.[2]
Reed took money from fellow CNP member, Jack Abramoff's American Indian casino clients through a variety of conduits and manipulated Christian groups to act as fronts to oppose gambling competition for the tribes.
Council on Foreign Relations
In 1990, Gingrich became a member of the Council on Foreign Relations.[2]
Political/Financial Stances
Voting Record
In 1979, he voted to create the Department of Education.
In 1979, he voted to designate 68 million acres as federally protected wilderness.
He voted China as Most Favored Nation for trade.
He voted to supply funds to subsidize trade with the Soviets.
He voted to transfer 2.2 million acres in Idaho into federal wilderness status.
He voted for federal funding loan guarantees for greater trade with China.
He voted for taxpayer funds to be made available to foreign governments through export/import banks.
He is pro-amnesty - Joe Galloway wrote in December of 2010 that both Newt and Jeb Bush were pro-amnesty. Gingrich stated, "We are not going to deport 11 million immigrants."
He is pro-foreign aid. In 1995, he voted for 31.8 billion in foreign aid, but wouldn't vote to cut foreign aid by 1%. Gingrich also backed a strong central government, strong environmental laws, national service programs, the United Nations Goals 2000, federal financing of local police and UN peacekeeping missions for the military.
Gingrich is pro-Obamacare and even advocated it in the 90s on Meet the Press
Enter newly-announced candidate Newt Gingrich who said Sunday he thinks all Americans should be required to buy health insurance, too. And furthermore, he's opposed to Rep. Paul Ryan's proposal to privatize Medicare for Americans below age 55 and labeled it "radical." - The Baltimore Sun, May 16, 2011
He is pro-gun rights- Gingrich is currently circulating a letter advertising a DVD called: "America at Risk." On page 3 of his six-page letter he says: "Today the choice is yours: You can either sit back and allow Barack Obama and the liberal elite to disarm our country, leaving us defenseless against enemies who explicitly desire to erase America from existence."
Global Warming/Environmentalism
Newt Gingrich
and
Nancy Pelosi
- We Can Solve It, Apr. 24, 2008
The Third Wave
Gingrich is purported to believe in Alvin Toffler/Heidi Toffler's The Third Wave. The Third Wave was written in 1980 and is a sequel to the book Future Shock. Its basis, to be blunt, is communist and is mixed with a small amount of capitalism. The Third Wave was recommended by Gingrich in 1994 as a 'must' to read, right behind The Declaration of Independence and the Federalist Papers.[13] The book was printed by the Progress and Freedom Foundation. The book is the basis for the top down, bottom up, inside out approach to revolution.
Toffler believes mankind is entering a new system. To the founding fathers in his book, he wrote, "For the system of government you fashioned including the very principles on which you based it, is increasingly obsolete, and hence increasingly, if inadvertently, oppressive and dangerous to our welfare. It must be radically changed and a new system of government invented, a democracy for the 21st century. For this wisdom, above all, I thank Mr. Jefferson who helped create the system that served us so well for so long, and that now must, in its turn, die and be replaced."
From Steve Farrell's 8 part series on The Third Wave:
"The Third Way/Wave may sound new and innocuous to many, but its founders include such earlier notables as Plato (The Republic), Karl Marx (The Communist Manifesto), and Adolf Hitler (National Socialism), certainly not the best crew for men and women sworn to defend our Constitution and to turn to for inspiration."
"Plato didn't call his revolutionary plan for tyranny 'tyranny.' Who would? Rather he cloaked every item of revolutionary change in more palatable terms like, 'justice,' or 'the heavenly ideal,' or 'the pursuit of the good,' or 'the love of truth.' " He believed in and practiced double talk just as the politicians on both the left and right do today. "He believed so much in his double talk that he convinced casual readers that they were mulling over a Judeo-Christian appeal to virtue. Virtue, he taught, is whatever sustains or brings about the ideal city. And such an ideal city was his! Communist, through and through."
The 'Virtuous' Aims of Plato's Third Wave
Consider Plato's list of virtues:
I. Private property must be abolished, the wealthy hated, and their wealth redistributed by state mandate.
II. Children belong to, and are born to serve, the state. The influence of parents is noxious and disruptive to the interest of the state; therefore, every child should be raised in government nurseries, far from home, without knowledge of who his or her parents are and without the parents having knowledge of who their offspring are. Every child becomes the common property of every parent in the city. Every parent has the collective duty to watch over them.
III. Private education, like traditional parenting, is at the very headwaters of falsehood and social strife. It must be eliminated and replaced by a closely monitored state school system.
IV. Old values, passed down through song, history and children's storybooks, are equally a source of trouble. These should be rewritten to discredit and erase the old virtues and to exalt and enthrone the new.
V. Frivolous children's games make for foolish children. New games should be developed that emphasize law and order.
VI. Private industry is self-serving. The state has a moral obligation to move toward the absolute control of all industry for the benefit of the whole.
VII. Class mobility is a revolutionary idea that threatens the stability of the state and the pre-eminence of true philosophy. A strict caste system and the elimination of career choice is the answer.
VIII. Talent must never be allowed to wander or be wasted. Early on, children must be identified and channeled by the state for the benefit of the state into careers selected by the state — with only a "few" promising students selected for career or class crossover.
IX. Equality is preposterous and dangerous, but useful during the Third Wave. During this phase extreme views on equality are to be promoted by the state and by wise opportunists in order to – all the more quickly – overthrow the existing order.
X. Under the guise of equality women ought to be exploited in the same way: first to foment "class war" during the Third Wave (women's roles are reversed to men's); next, to be promptly put into their place as part of a "community of women" to be shared collectively by male guardians, war heroes, and rulers for pleasure or offspring.
XI. Selective breeding is beneficial to the state, as are the legalization and encouragement of recreational sex and rape across class lines.
XII. Unwanted babies, inferior babies, deformed babies and the adult handicapped are an unnecessary drag on the prosperity and well-being of society. They should be left to die. Unproductive adults, likewise, should be terminated.
XIII. Homosexuality is morally acceptable, and homosexual rape of lower-class males and boys is a right of rulers, guardians and war heroes.
XIX. Only a very few men are foreordained to understand life and the higher good; all the rest are the equivalent of dumb sheep. A few "wise" ones should be appointed "philosopher kings," even "saviors" by the state and given absolute power to control every facet of the helplessly lost lives of the masses.
XX. Absolute loyalty to the government is vital for the success and safety of society. Thus, the establishment of a state-sanctioned KGB-like network is an essential good. Citizens and leaders must be watched and intentionally goaded into committing crimes against the state, into taking advantage of sexual opportunities, and into being tried by every method imaginable in order to weed out those who are not loyal and not fit for duty from those who are.
XXI. Wealth is not essential to the safety of the state. When at war with free states, the enemy will display economic superiority — but not to fear: their wealth is their weakness and can and will be used against them. The divide and conquer class warfare tactic is the choice of the virtuous.
XXII. Lastly, virtue rejects troublemaking democracy (pure or direct democracy) as an end, yet shrewdly identifies it as the quickest, surest route to promoting the communist view of equality of ends. During the transitional phase, the virtuous reformer will utilize democracy to:
i) Degenerate traditional morality and foster fierce intolerance against it.
ii) Lead the dumb masses (like "dumb asses") by the nose to trample on each other's rights in the blind pursuit of their own supposed rights.
iii) Legitimize the government's "creeping into houses" through the creation of "new" rights which must be monitored.
iv) Create moral chaos, mob and factional spirit, revolution and anarchy.
v) Eventually bring about such a violent state of uncertainty and fear that the people will, out of necessity, vote themselves the most absolute of tyrannies, that of the democratic king, in order to restore order, peace and security.
These were the ultimate goals, the communist goals, of Plato's Third Wave, the place where all this Third Wave/Third Way business begins.
Just like their talk about decentralization and democracy, Third Way proponents today talk of national "service" (Obama), "Compassionate Conservatism" (Bush), "Faith-Based" subsidies and moral effective "partnerships" with cash for conversion. (most politicians).
"Gingrich openly calls himself a futurist, which is the study of, and interest in, forecasting or anticipating the future, or theorizing on how to impose controls on events.
Gingrich revealed to Congress that he began working with the Tofflers in the early 1970s on a concept called anticipatory democracy. He says, "For twenty years we (who's we?) have worked to develop a future-conscious politics and popular understanding that would make it easier for America to make the transition from the Second Wave civilization (the one the founders gave us) -- which is clearly dying -- to the emerging, but in many ways undefined, Third Wave civilization (Alvin Toffler's Centrist Utopia)."
Awards
In 1995, Time magazine selected him as the Person of the Year for his role in leading the Republican Revolution in the House, ending 40 years of the Democratic Party being in the majority. During his tenure as Speaker, he was the public face of the Republican opposition to President Bill Clinton. [12]
"Crossfire"
After months of speculation, CNN announced June 2013 that the debate program "Crossfire" will return with four new hosts. Former House Speaker Newt Gingrich and conservative columnist and current MSNBC host S.E. Cupp will represent the right. Political consultant and former adviser to the Obama campaign Stephanie Cutter and CNN contributor Van Jones will host from the left.[14]
#cut50 Briefing in D.C. (January 22, 2015)
#cut50 packed the house with political movers and shakers on Jan. 22 2015, in Washington, D.C. to address the critical need for criminal justice reform. Speakers included Dream Corps Van Jones, Right on Crime's Vikrant Reddy, Former Speaker Newt Gingrich, Senator Cory Booker, and Congresswoman Tulsi Gabbard.[15]
Quotes
Publications
Nonfiction - Books
The Government's Role in Solving Societal Problems. Associated Faculty Press, Incorporated. January 1982 ISBN 0-86733-026-0
Window of Opportunity. Tom Doherty Associates, December 1985. ISBN 0-312-93923-X
Contract with America (co-editor). Times Books, December 1994. ISBN 0-8129-2586-6
Restoring the Dream. Times Books, May 1995. ISBN 0-8129-2666-8
Quotations from Speaker Newt. Workman Publishing Company, Inc., July 1995. ISBN 0-7611-0092-X
To Renew America. Farrar Straus & Giroux, July 1996. ISBN 0-06-109539-7
Lessons Learned The Hard Way. HarperCollins Publishers, May 1998 ISBN 0-06-019106-6
Presidential Determination Regarding Certification of the Thirty-Two Major Illicit Narcotics Producing and Transit Countries. DIANE Publishing Company, September 1999. ISBN 0-7881-3186-9
Saving Lives and Saving Money. Alexis de Tocqueville Institution, April 2003. ISBN 0-9705485-4-0
Winning the Future. Regnery Publishing, January 2005. ISBN 0-89526-042-5
Rediscovering God in America: Reflections on the Role of Faith in Our Nation's History and Future. Integrity Publishers, October 2006. ISBN 1-59145-482-4
A Contract with the Earth, with Terry L. Maple. Johns Hopkins University Press, October 1, 2007. ISBN 9780-8018-8780-2
Real Change: From the World That Fails to the World That Works. Regnery Publishing, January 2008. ISBN 978-1596980532
Drill Here, Drill Now, Pay Less: A Handbook for Slashing Gas Prices and Solving Our Energy Crisis, with Vince Haley. Regnery Publishing, September 2008 ISBN 1596985763
5 Principles for a Successful Life: From Our Family to Yours, with Jackie Gingrich Cushman, Crown Publishing Group, May 2009 ISBN 978-0-307-46232-9
Nine Days that Changed the World (Video). Gingrich Productions, April 2010[145]
To Save America: Stopping Obama's Secular-Socialist Machine, with Joe DeSantis. Regnery Publishing, May 2010 ISBN 978-1-59698-596-4
Alternative history
Gingrich co-wrote the following alternate history novels and series of novels with William R. Forstchen.
Civil War Series
Pacific War Series
Revolutionary War Series
To Try Men's Souls: A Novel of George Washington and the Fight for American Freedom. October 2009, ISBN 9780312591069
Valley Forge: George Washington and the Crucible of Victory. November 2010, ISBN 9780312591076
External Links
References