New York State Communist Party
From KeyWiki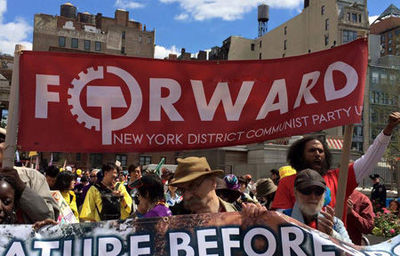 New York State Communist Party is part of the Communist Party USA.
Bassett, Kryzak, Gale fundraiser
On May 7 1994, the New York State Communist Party held a fundraising banquet to honor three Party activists Ted Bassett, Rose Kryzak and Mary Gale. Grace Bassett accepted the award on behalf of Ted Bassett. Almost 3,000 was contributed in honor of the three.
New York District chair John Bachtell MCd the event. Communist Party USA leader Gus Hall was keynote speaker while Maria Ramos introduced the honorees. Dorothy Burnham reminisced about her work with Bassett. Etta Glaser spoke of helping to organize the 1963 March on Washington with Ted Bassett.
Jarvis Tyner said that when Ted Bassett was educational director of the party's Harlem branch, they were recruiting 1,000 members a week.
Kryzak became a Party organizer in 1940. Esther Brall, who worked with Kryzak for years, recalled her work as chair of the New York Committee to Aid the Families of Smith Act Victims.
New York City councilman Tom Duane was there. He told the People's Weekly World - "I came to honor Mary Gale, to honor her activity in support of progressive causes. She's one of my role models. I'm proud to have earned her vote."
Tim Gay of the Chelsea Reformed Democratic Club, and Joel Frederickson, a vice president of the United Transit Union were there. Judge Charles Stackhouse came by to "pay his respects".
Richard Gottfried, chairman of the New York Assembly Committee on Health sent a letter congratulating Gale and Kryzak on their "many years of tireless effort" they had given to "the fight for peace and social justice...Your energy, spirit, commitment and cheer" had spurred "countless others in many struggles and helped win important victories."
State Senator Franz. S. Leichter sent a letter congratulating Gale on her 94th birthday and regretted not attending.
Adanjesus Quavez, New York chair of the Young Communist League also spoke, while Amelia Romana of the Communist Party's Arts, Entertainment and Media Club read a poem by Joe Hill.[1]
Paul Robeson celebration
On May 31 1998 the Peoples Weekly World held a Paul Robeson birth centennial celebration in New York, at the Henry Winston Auditorium.
Attendees included;
Tributes came from ;
Better World Awards
The New York Communist Party hosts an annual Better World Awards banquet.
Past honorees and speakers include : former NY State Assemblyman Frank Barbaro; Marvel Cooke; Domino sugar workers, ILA Local 1814; Ernesto Jofre (UNITE); Julie Margolin; NY State Senator Bill Perkins; Chris Silvera, Teamsters local 808; NY City Councilwoman Letitia James; Rev. Lucius Walker, Pastors for Peace; former US Congressman Major Owens; Betty Smith, International Publishers; NY City Councilman Robert Jackson; Adolfo Fana; Make the Road by Walking; TWU Local 100, NY Taxi Workers Alliance; Brooklyn for Peace; Estelle Katz etc. [3]
2000 Better World Awards luncheon
On October 22, 2000 the Peoples Weekly World held its 4th annual celebration luncheon in New York, at the Henry Winston Auditorium.
Awardees were;[4]
Speakers included City Councilmembers Bill Perkins and Christine Quinn, Assemblymember Richard Gottfried, State Senator Tom Duane, Larry Moskowitz of the Communist Party USA and Working Families Party and Elena Mora for the Communist Party.
US Rep. Charles Rangel sent greetings and State Senator Eric Schneiderman sent a letter of commendation to the honorees.[5]
2006 Better World Awards banquet
In December 2006 Major Owens was honored at the Communist Party USA "Better World Awards".[6]
In New York City, Rep. Major Owens will be honored at the annual "Better World Awards" for his years of progressive struggle in Congress. Also being honored is Betty Smith, president of International Publishers and longtime fighter for peace and democracy. Elena Mora, chair of the N.Y. State Communist Party, will discuss the recent election results.
2007 Better World Awards banquet
The New York Friends of the Peoples Weekly World newspaper held its annual Better World Awards Gala May 6 2007, to celebrate the May Day and Cinco De Mayo holidays and to benefit the paper.
2007 Better World Award honorees include New York City Councilman Robert Jackson, and Latino community activist Adolfo Fana. Past honorees and speakers have included former State Assemblyman Frank Barbaro, NY State Senator Bill Perkins, Rev. Lucius Walker of Pastors for Peace, Congressman Major Owens, and many local union and community activists from throughout the state.[7]
2008 Better World Awards banquet
This year the Better World Awards was held on Saturday June 14, 2008.
The event took place at the Martin Luther King Jr. Auditorium at 1199 SEIU.
This year the event focused on the Costs of War and the 2008 Elections.
Our featured speaker was Judith Le Blanc, National Organizing Director for United for Peace and Justice. The 2008 Better World Award Honorees included: Estelle Katz, Transport Workers Union, Local 100, Brooklyn For Peace and the New York Taxi Workers Alliance. [8]
2011 Better World Awards banquet
Local People's World readers and contributors held their annual Better World Awards banquet May 29, focusing on the fight for quality public education.
The assault by the Bloomberg administration on teachers, coupled with state budget cuts pushed by Democratic Gov. Andrew Cuomo, prompted the organizing committee to pick the education theme, as well as the choice to honor educators for, in the words of one committee member, "all the good work they do, work that is always challenging and at times may seem daunting."
Pioneering civil rights activist Dorothy Burnham was warmly received with a standing ovation after she received her award. At 96 years old, the program was not long enough to mention all her life's work, which began in the 1930s with the American Student Union and continued in the 1940s with the Southern Negro Youth Congress in Birmingham. She has long been active in women's and peace organizations, and is currently she is president of the Louis Burnham Awards Fund.
State Senator Velmanette Montgomery, another of the honorees, stayed to talk with Dorothy and took several pictures for their local paper. State Sen. Bill Perkins appeared to show his appreciation and respect for his colleague, Sen. Montgomery, who fought a hedge fund-backed opponent over the issue of public education in the recent election.
City Council Member Letitia James sent a tribute to the People's World, printed in the program's ad book. She praised the work of the World in making New York - and beyond - a better place in many ways. And she praised her "mentor" Velmanette Montgomery.
Elena Mora, a union grievance representative, hosted the event. At one point, Mora asked all those who are present or former educators to stand and be recognized. To everyone's surprise, a third of the audience stood and received a loud ovation. The audience was a multiracial full house of all ages.
Awards were also given to Bronx Parent Association leader Michael Arney and Bob Greenberg, co-chair of the United Federation of Teachers Social and Economic Justice Committee.[9]
2013 Better World Awards banquet
The Friends of the People's World hosted its yearly fundraiser Dec. 8, 2013, the Better World Awards.
This year was an exceptional one; the Friends of the People's World hosted the event for an overflow audience at the Henry Winston Auditorium. Our Honorees were exceptional ­­-- as they always are -- but being a participant at Sunday's event was truly special, special because one could envision a world without racism.
The diversity of the participants, black, brown and white of various ages, was absolutely wonderful; not only did it show the power of the movement that is changing the politics and economics of America but it showed too the idea that socialism is on the minds of many ordinary citizens.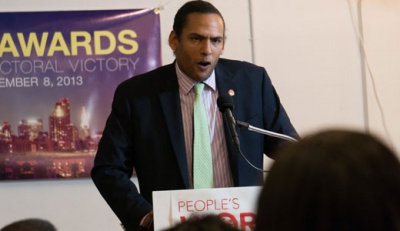 Estevan Bassett-Nembhard, New York City organizer for the CPUSA, opened the event with the message, "Let it be said that, in the 2013 elections, voters in the five boroughs put the 1 percent on notice. Reaching consensus on jobs not jails, schools not corporate tax breaks. The voters of the city voted to move our city in a new direction." The audience broke out into chants of "Yes we can."
Joelle Fishman, host of the event and chair of CPUSA's Political Action Commission, introduced the honorees. "I am very honored and excited to be here today at the Better World Awards to share your celebration of the great election victory in New York that has captured the attention of the entire country," said Fishman. "This election is a victory over racism. It is a victory over stop and frisk. It is a victory over 20 years of direct Wall St. rule. But it is only a beginning. To realize the possibilities, everyone here has an important part to play going forward."
She then proceed to introduce and deliver the awards to Raglan George, Zakiyah Ansari and Lethy Liriano and the lifetime achievement award to Vinie Burrows and Ellen Perlo.
Betty Smith, president of International Publishers, introduced Vinie Burrows, the accomplished actor who has given over 6,000 performances, on and off-Broadway. Burrows is a member of Dramatists Guild and representative for the Women's International Democratic Federation to the United Nations. Ms. Burrows paid tribute to Nelson Mandela.
"I object to the sanitizing of Mandela's militant beginnings in the papers of record," Burrows said. "Yes, he forgave his oppressors but after he defeated them."
Ellen Perlo's son, Art Perlo, spoke in loving admiration of his mother's life's work; a lifetime member of the Communist Party USA, working for a more just and peaceful world. While nourishing her passion for justice and equality she assisted her husband Victor Perlo-- world-renowned economist and author in researching and editing his work. At 98, she continues to produce art and participates in the work of the Party.
Honoree Lethy Liriano, thankedd her parents for giving her direction which motivated her to graduate college and fulfill her dream. She is the Founder & Program Director of WHAM, the Washington Heights Artist Movement. WHAM provides the opportunity for children to pursue their dreams in the arts.
From humble beginnings to advocacy director with the New York State Alliance for Quality Education, to member of the new mayor of New York City, Bill DeBlasio's transition team. Zakiyah Ansari, BWA honoree, told an extraordinary story of awareness and accomplishment.
Zakiyah was one of two New York City Coalition for Educational Justice parent leaders appointed to the City Council Task Force on Middle Schools. The Task Force led to recommendations adopted by the NYC Department of Education and the Campaign for Middle School Success. As a result, more than $30 million has gone to some of the lowest-performing middle grade schools to support school improvement efforts.
Executive Vice Chair of the CPUSA, Jarvis Tyner, introduced the keynote speaker, Raglan George, Jr., Executive Director of District Council 1707. Rags, as he is known, was born and raised in new York City and has been active in the labor movement for over 40 years.
His union represents childcare workers; those who are expected to give the very young their first or pre-school exposure to a well-rounded education.
He quoted Nelson Mandela: "There can be no keener revelation of a society's soul than the way in which it treats its children."
"We live in New York City." George said. "Millions of our children are being mis-educated and hundreds of thousands of our children have been unlawfully stopped and frisked and have been made sub-human by the authorities. New York City has one of the highest unemployment rates in the nation for young people of color. Under the Bloomberg Administration the homeless rate has risen 13 percent."
He continued: "We applaud the election of Bill Di Blasio, Tish James and Scott Stringer. Di Blasio's nearly fifty point vote over Republican Joe Lhota gives us a mandate that New Yorkers want safe, affordable and quality child care for our children. And we must do everything in our power to insure that the coming administration succeeds against the naysayers who continually want to diminish the public service sector. Di Blasio will be under tremendous pressure from capital, the right and the commercial press to mitigate his goals, but we must stay focused and support him."
The Awards given to the recipients read, simply:
"We ask for nothing that is not right, and herein lies the great power of our demand...Paul Robeson"[10]
2014 Better World Awards banquet
The Friends of the People's World hosted its yearly fundraiser Dec. 8, 2014, the Better World Awards.
Hearty salutes to striking fast food workers and the tens of thousands protesting the killing of Michael Brown and Eric Garner paid by Jarvis Tyner district chair of the New York Communist Party, and others quickly warmed the crowd as the program honoring Cormanita Mahr, Vice President of United Healthcare Workers East (SEIU 1199), Zephyr Teachout a candidate for governor of NY, Reverend Danilo Lachapel, director of Give Them to Eat Ministry and New York CP labor leader Bill Davis, got underway.
The event was MC'd by Estevan Nembhard-Bassett, the New York CPUSA organizer.
A resolution condemning the police killings of Eric Garner and Michael Brown was presented and passed unanimously. It urged all "intensify our personal efforts and those of organizations in which we participate, joining with the millions of African Americans, Latinos, Native Americans and other people of color, as well as white working people who are ready to fight to end the scourge of racism, and for full equality in our land."
Teachout, argued that campaign finance reform can be achieved through antitrust reform. Antitrust legislation can be seen as a form of indirect campaign finance reform by limiting the power of corporations to influence elections, she said.
Commenting on taxes, Teachout said, "I would roll back the tax cuts Governor Cuomo handed the wealthy few. We should extend the millionaire's tax beyond 2017, to ensure we can fund our schools and public programs for the long-term. We should bring back a form of the bank tax, and review the corporate tax system, to ensure companies pay their fair share."
Bill Davis, received Peoplesworld.org's of the Lifetime Achievement Award. He expressed his appreciation this way, "All that I have accomplished and hope to in the future I owe to my party. Not that everything that I have done was within my party. But when I took on responsibilities in other organizations, whether it was my union, the May Day Committee, the Working Families Party, the Left Labor Project, Veterans for Peace, or numerous Political Campaign Committees and campaigns - I did so with the party's help and encouragement."
The Reverend Danilo Lachapel, when receiving his award paid tribute to peoplesworld.org and those on the program working for the poor, including the Communist Party. "I see no contradiction between my Christian beliefs and those of communists; communists fought along side those in Central and South America to free themselves from brutal dictatorships backed by Western powers".
Ricky Eisenberg, longtime peoples troubadour led participants in songs of struggle while participates enjoyed a variety of delicious entrees prepared by the food committee.[11]
2015 Better World Awards banquet
New York Friends of the People's World Newspaper in Honoring the Contributions of Outstanding New Yorkers at our Annual Awards Luncheon Celebration, November 7 2015.
This years theme is "The Challenge of 2016: Forging the Unity of the 99%"
Lifetime Achievement Honorees:
Amina Baraka - Renowned poet, singer and legendary activist and leader of the Black Arts movement & Ricky Eisenberg - Lifelong trade unionist and leader of the Communist Party of New York (CPUSA). Author of "Fast Food Workers on the Cutting Edge"
Better World Honorees:
Henry Winston's centenary celebration
A standing room only crowd gathered in Winston Unity Center, New York, on the occasion of Henry Winston's centenary celebration. Winston, who was born in 1912, was the national chairman of the Communist Party for two decades until his death in 1986.
The multi-media celebration of this great African American leader included speeches, music, slideshow and greetings from former coworkers and friends - including one from New York Congressman Charles Rangel. It was streamed live to a national audience and hosted by Judith LeBlanc, the national field director of Peace Action.
Noted scholar and political activist Angela Davis brought the multi-racial audience to its feet in her moving tribute to Winston
Davis said, " [Winston] was a constant inspiration to me, especially when it came to garnering the courage to stand up to attacks I had never imagined would be directed individually at me."
Winston was also a political prisoner, unjustly imprisoned in the McCarthy era where he lost his fight due to poor medical care while there.
Davis went on to speak of Winston's "enduring opposition to corporate capitalism, militarism and racism."
While the Obama administration, she noted, wasn't immune from criticism, the election of the president had created a political climate for labor and social justice activism since 2008.
In another poignant tribute, Charlene Mitchell, the national chair of the Committees of Correspondence for Democracy and Socialism and close co-worker of Winston's, pointed out that "Winston's life was intertwined with the two social forces that would mark his future life - a member of the working class, viciously exploited by the capitalist system and an African American, subjected to the base degradations of national oppression."
Mitchell also said the forces that are poised to reelect President Obama in the November election are the very same forces that can bring about "the fundamental transformation of this society."
Jarvis Tyner, the executive vice chair of the Communist Party, in his tribute remarked that the Winston's thinking "built unity and confidence in the possibility of winning masses of white working people away from the self-defeating ideologies of racism and anticommunism."
Saying that this year's election could turn on the issue of race, Tyner argued "the Republican racist campaign must be solidly defeated at the polls next November."
He added that the Republicans "aim to divert mass anger from millionaires to minorities and immigrants; from Wall Street hustlers to the hungry and the homeless."
Danny Rubin, national board member of Communist Party and co worker of Winston for nearly thirty years, said in his tribute that what Winston "taught us stands in great stead today when the people of our country face so sharp a choice of direction, when they face an extreme right that wants to take everything severely backward ..."
Like the other speakers, he emphasized the importance of the fall elections.
The celebration ended with a wine and cheese reception giving everybody in attendance a chance to talk, look at the visual displays, and pick up a commemoration brochure that includes a biography of Winston's life, excerpts from his writings, and the full speeches of Davis, Mitchell, Tyner and Rubin.[13]
2014 State Convention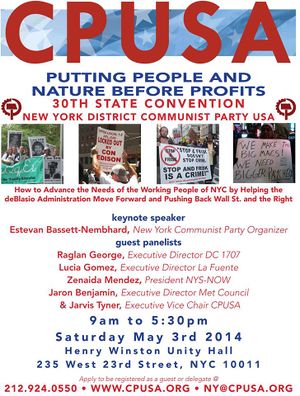 MC was Estevan Nembhard - NYS organizer Communist Party USA
Speakers were;
"Marxism for the 99%."
The New York district of the Communist Party held a series of 4 classes in May and June 2015, titled "Marxism for the 99%." The classes were aimed at new members and others interested in a basic introduction to Marxism."Club members invited friends and contacts," said Estevan Nembhard-Bassett, NY CP organizer.
A total of 30 people attended the four week course equally Communist Party members and interested friends, all of various ages and backgrounds. Nembhard-Bassett indicated five new people came from the online efforts. Over 30 expressed interest in the school on the Facebook event page. The classes were also streamed online.
Each of the classes was led by a member of the party's state committee. Lively discussions were held at each class. Participants read The Communist Manifesto, The Road to Socialism, Can Capitalism Last? by Danny Rubin, and Introduction to Marx, Engels, Marxism by Lenin. People who attended enjoyed delicious potluck dinners before each class prepared and brought from home by many attendees.
The first class was taught by Danny Rubin, in which he described how Marxism shows why capitalism produces poverty, exploitation, racism, reaction and war, and how socialism will lay the basis for ending these evils and lead to peace, equality, democracy and common prosperity.
Estevan Nembhard taught the second session explaining why capitalism always strives for maximum profits at the expense of the working class and results in class struggle. He explained the theory of surplus value and historical materialism.
Tina Nannarone taught the third class on Marxist Sstrategy and tactics. The group discussed examples of strategies that were successful and strategies that failed. Students discussed what analysis is necessary to plan successful strategies. Nannarone discussed Marxist methodology and why its use is necessary to achieve socialism.
The final class was taught by Jarvis Tyner with the title "To Win Socialism." He examined what it will take to achieve socialism, what role the labor movement must play and why a strong democratic movement led by the working class is needed.[14]
Winston Unity Center
The Communist Party USA will reach its centennial anniversary in 2019, but comrades and friends in New York got a head start in 2015. A program featuring song, poetry and a dramatic presentation at its offices on 23rd Street drew a diverse and engaged crowd of supporters.
The New York District marked the occasion by naming the office the Winston Unity Center in honor of the Party's late National Chair Henry Winston. Current New York State Chair Jarvis Tyner emphasized in his remarks the importance of Winston's lifetime contributions and work for the Party and for the country generally. He recalled that Winston had been one of the Party leaders who served years in federal prison on trumped up Smith Act charges and that the authorities' lack of attention to Winston's health had caused the nearly complete loss of his vision. He also noted that it had been President John Kennedy who, as a result of the activity of the Party and its supporters and legal representatives, had commuted Winston's sentence and ordered him freed in 1961.
The program included musical presentations by guitarist/vocalists David Laibman and Ricky Eisenberg, poetry by Chris Butters, presentations by Vinie Burrows and fast food activist Rynetha Benjnet, a dramatic reading of a 1949 speech of NY Communist City Council member Vito Marcantonio, as well as the smooth sounds of DJ Poliarity.
The event was chaired by Esther Moroze and Sara of the YCL. New York District Organizer Estevan Nembhard spoke about the CPUSA's long and impressive record of contributions to the people's struggles from the pioneering efforts against Jim Crow and lynching during the decade of the 1930s, through the struggle to organize workers in America's basic industries during the '30s and '40s, the Civil Rights Movement and more.
The day had additional significance due the presence a distinguished international guest, Mujahidul Islam Salim, the President of the Communist Party of Bangladesh.[15]
"Better World Awards 2018"
On Sunday, December 9, 2018, The New York Friends of People's World will hold their annual "Better World Awards" luncheon. The keynote speaker will be Dr. Mary Basset, and awardees are Nelson Antonio Denis, Michael McKee, Gabe Falsetta, and Jill Furillo.
Dr. Mary Bassett is Director of the François-Xavier Bagnoud (FXB) Center for Health and Human Rights at Harvard University, as well as the FXB Professor of the Practice of Health and Human Rights at the Harvard School of Public Health. With more than 30 years of experience in public health, Dr. Bassett has dedicated her career to advancing health equity. Prior to her directorship at the FXB Center, Dr. Bassett served for four years as commissioner of Health for New York City. As commissioner, she worked to ensure that every New York City neighborhood supported the health of its residents, with the goal of closing gaps in population health across the city.
Nelson Antonio Denis is a writer, film director, and former New York State Assemblyman. He is the author of the book War Against All Puerto Ricans. His award-winning films premiered at the Tribeca Film Festival and have been screened throughout the U.S. and Puerto Rico.
Michael McKee is a driving force within the Tenant's PAC of New York and serves as its treasurer. The organization's mission is to give a strong public voice to tenants and make them a viable electoral force. They have led successful campaigns to elect officials who guide legislation to keep housing affordable in the New York City area.
Gabe Falsetta is a retired member of NY Local 6 of the International Typographical Union. He writes for People's World and volunteers as office staff for the Communist Party USA and serves as a member of the latter's NY State Committee.
Jill Furillo, a nurse, is the executive director of the New York State Nurses Association. She joined NYSNA to work with the rank and file activists to help transform NYSNA into a progressive voice and union for registered nurses. NYSNA led a campaign to keep hospitals open, winning a moratorium on all hospital closures in New York until an accurate and complete assessment of the health needs of distressed communities is carried out.[16]
May Day greetings
2000
The New York Friends of the People's Weekly World sent salutations to the New York labor movement in the People's Weekly World 2000 May Day Supplement, page D.
2004
The following sent May Day greetings in the People's Weekly World of May 1-7 2004 May Day Supplement page F, from the Northern Westchester Club.
References