New Students for a Democratic Society
Jump to navigation
Jump to search
New Students for a Democratic Society is a relaunch of the old SDS.
Chapters past and present
Refounding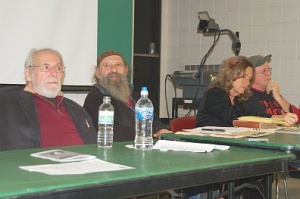 Shutting Down John Guandolo
New Students for a Democratic Society was cited at FightBack! News[1] as one of the groups who successfully intimidated venues to cancel events called "Threat of Islam to America".
"Earlier this week, anti-fascist groups from the Fox Valley and Green Bay led a phone blast campaign to the hotel where one of Guandolo's events was scheduled to take place. The announcement of confrontational protest in addition to phone calls pressured the venue to cancel the event, which was called, "Threat of Islam to America."
[...]
"Building on the Green Bay victory, activists in the Milwaukee area organized a call-in to a hotel in the Milwaukee suburb of Pewaukee. Area Islamic groups and individuals called the hotel, which is a popular wedding venue for Muslim families. Organizations such as the Milwaukee Coalition Against Trump, SDS, and Wisconsin Antifa networks spread the word online.
"In under 24 hours the Pewaukee venue announced that the event was no longer taking place. Worldview Weekend once again tweeted their response, saying "We have over $15,000 into conferences not counting mailing."
"In La Crosse, Wisconsin activists from the Interfaith Shoulder to Shoulder Network, and Showing Up for Racial Justice (SURJ) were busy planning a mass rally and call-in for the last of three planned stops in Wisconsin. The venue, Onalaska Omni-Center, refused to cancel the event, citing the First Amendment. But activists in La Crosse and throughout the state continued to prepare for a demonstration.
2019 convention, Jacksonville
On September 20, Students for a Democratic Society (SDS) chapters from across the United States convened at the University of North Florida to reaffirm their commitment to student organizing and to discuss ways to, "Stop Trump, Stop Racism, Stop U.S. Military and Police Terror." The conference peaked at over 80 students with a dozen chapters represented.
Speeches and applause rang through the halls all weekend. Students opened the conference chanting, "Dare to struggle, dare to win!" The conference ended with, "It is our duty to fight for each other, it is our duty to win!"
On Saturday evening, students took to the streets of Jacksonville and rallied against police brutality at the Duval county courthouse. The second day of the conference, SDS calls to action showcased the seriousness of the activists of New SDS in building the student movement.
Students resolved to organize for "Justice for Botham Jean" who was murdered by police officer Amber Guyger. There are plans for protests if officer Guyger is acquitted. Students also voted to organize campus rallies on October 8 for LGBTQ+ rights. The U.S. Supreme Court is holding three hearings related to Title VII, calling for federal protections for LGBTQ+ people against harassment, termination and other discriminatory practices. Students also embraced a November 8 day of action on the anniversary of Trump's election, in order to condemn Trump's administration.
Students also renewed their determination to demonstrate against Trump's immigration policies, from the border wall to the concentration camps, and now ICE's new abilities to arrest and detain immigrants without a warrant. SDS embraced the demand for "Legalization For All" undocumented immigrants. SDS then pledged to continue organizing against hate crimes and white supremacist acts on campuses and to demand accountability from campus officials who allow them.
One of the highlights of the convention was a speech by Michael Sampson, a leading organizer of the National Alliance Against Racist and Political Repression, who spoke about the fight against police crimes. He discussed the movement to form civilian police accountability councils that is spreading across the country. New SDS as a national organization has endorsed this demand, as well as the upcoming refounding conference of the NAARPR, November 22-24 in Chicago.
Matthew Wheat, a new member of Tampa Bay Students for a Democratic Society, stated, "This was my first SDS convention. I was so happy to interact with and get to know other SDS members from around the country. Words cannot express how grateful I am to be a part of SDS, a group that is on the front lines of progressive change. I look forward to fighting bigotry and tyranny with a message of solidarity."
SDS devoted much time on the panels and in workshops to strengthen their stance against U.S. wars and intervention, particularly the U.S. coup attempts in Venezuela. Students heard from Tracy Molm who visited Venezuela and saw firsthand the might of the Venezuelan people that crushed the attempted U.S. coup d'état.
New SDS resolved to continue to organize in solidarity with Venezuela, against the U.S. sanctions as well as other acts of war. SDS passed a resolution outlining the accomplishments of the Bolivarian Revolution in eradicating illiteracy and greatly expanding higher education as well as other social programs to benefit the people.
In response to Trump's order to deploy troops to Saudi Arabia, in preparation for military aggression against Iran, SDS resolved to say, "No war on Iran!" SDS pledged also to resist U.S.-backed military aggression against the people's movements in the Philippines and occupied Palestine as well.
SDS is united behind demands related to the climate crisis. Students proposed analysis and resolutions about the climate crisis, including a resolution calling for actions against fossil fuel industries that poison the earth, and a call to organize against pipeline constructions, similar to the Standing Rock campaign. SDS respects the sovereignty of indigenous people's lands.
"The SDS convention was a think tank of conversations and exchange of ideas to inspire us and tell us to keep going. It is a reminder that student activists are here to stay and that we are not alone. We're on the right - no pun intended - track. Let's push things forward," said Gabriela Medina from University of Texas Arlington Progressive Student Union.
"The SDS convention was an amazing show of student activism from around the country. We got to learn from each other's struggles and make goals to build movements on our campus," said Monique Sampson, of North Florida Students for a Democratic Society chapter, which hosted the convention.[2]
SDS 2006 Conference Schedule
Schedule for the Students for a Democratic Society conference at the University of Chicago, August 4-7 2006.
Friday, August 4
ARRIVALS AND OPENING PLENARY
Facilitator- Millicent Hadjivassiliou (Tacoma, Washington) Introductions- Pat Korte and Al Haber Local Chapter Reportbacks, Short Written Statements from Chapters Not in Attendence Conclusions- Tom Good
Saturday, August 5
TOPIC: VISION
Workshops
Working Commitee Lunch
Chicago Caucus meeting for Chicago SDS
Viewing of Lauren Giaccone's New Orleans Documentary (Pace & NYC SDS),
Working Lunch on Ad Hoc Committees for Issues
Other informal caucuses or lunch
Plenary
Workshops
Saturday Night Protest
Hiroshima Day Commemoration and Protest - Hands Across the U.S.
Casual Presentations
Students in Revolt: SDS and the Global Student Movements of 2006 and Beyond - Adam Sanchez, Presentations, Freewheeling Discussion
Movement for a Democratic Society (MDS) Business Meeting

Sunday, August 6
TOPIC: STRATEGY
Workshops
Working Caucus Lunch
Marxian Caucus - Tom Burgess to facilitate
Queer/Trans Caucus - Tristan Harlequin to facilitate
Anarchist Caucus - Brendan Dunn to facilitate
People of Color Caucus
Feminist Caucus
Environmental Caucus
Workshops
Megiddo Peace Project - Alan Haber, Odile Hugonot Haber - Using the Megiddo "Peace Table"
Modern Sex Worker's Rights Movement: Sex Workers Rights are Human Rights - M Betty Devoe, Tristyn Harlequin
Sir! No Sir! Uniting Students and Veterans to Resist Militarism - Elliott Adams, Charles Warnke
People's Global Action: Should SDS/MDS Join the 'Movement of Movements'? - Matt McLaughlin
Prison Abolition and Prisoner Support - Aaron Petcoff
Democratizing Higher Ed: Uniting Campus Communities to Resist Corporatization - Ben Manski, Sarah Turner, Carl Willians, Ashok Kumar, Liberty Tree Foundation
SDS National Structure - Pat Korte, Millicent Hadjivassiliou, Kat Poe, Brian Kelly
Hiroshima Day Event - Matthew Rothschild (editor, The Progressive magazine), James Thindwa (director, Chicago Jobs with Justice),Melissa Jennings (Illinois Peace Action), Barry Romo (national director for Vietnam Veterans Against the War), music by Dave Martin and Samantha Johnson.
Parecon: Participatory Economics" - Michael Albert, Mitchell Szczepanczyk, Chicago Area Participatory Economics Society
Who's Dime is it Anyway?: The Price that Students and Workers are Paying - Brandon King- UNITE HERE, Kat Poe, Aaron Petcoff
Defending Academic Freedom on Campus - John Wilson and Douglas Giles
National Guard Civil Disturbance Techniques - Robert & Skip
SLAM!: Lessons from Ten Years of Multiracial Organizing in CUNY" - Daniel Tasripin, Neha Gautam, Rodolfo Leyton
SDS Then and Now: Lessons and Frameworks for Winning a New World. Discussion between Original SDSers, MDSers and SDSers with Paul Buhle, Tom Good, Al Haber, Jay Jurie, Michael Albert, Paul Krehbiel, and more.
Monday, August 7
Workshops
Moratorium NOW!
On Sept. 17, 2008, the Moratorium NOW! Coalition to Stop Foreclosures and Evictions sponsored a rally at the Michigan State Capitol, demanding the State Legislature enact SB 1306, a two-year foreclosure moratorium bill. Represented at the rally was UNITE HERE, Change to Win, United Auto Workers, Service Employees International Union, American Federation of Teachers, Green Party of Michigan, Detroit Greens, the Cynthia McKinney presidential campaign, Students for a Democratic Society, National Lawyers Guild, Workers World Party, Food Not Bombs, Critical Moment, Michigan Emergency Committee Against War & Injustice, Michigan Welfare Rights, Call 'Em Out, Latinos Unidos of Michigan, Grand Rapids Latino Community Coalition, Joint Religious Organizing Network for Action and Hope, Adrian Dominican Sisters & Associates for Peace. The following led or spoke at the rally: Sandra Hines and Abayomi Azikiwe of the Moratorium NOW!; Kris Hamel; Reverend Ed Rowe, Central United Methodist Church; State Representatives Gabe Leland, Shanelle Jackson, Bettie Cook Scott and Steve Tobocman; State Sen. Martha G. Scott; Rubie Curl-Pinkins and her daughter Nikki Curl; Jerry Goldberg, people's attorney and coalition leader; Juan Daniel Castro, Grand Rapids Latino Community Coalition; Linette Crosby; Larry Holmes, a leader of the Troops Out Now Coalition; Robert Pratt of UNITE HERE; and Rosendo Delgado of Latinos Unidos of Michigan.[3]
Moratorium NOW! is affiliated with the Bail Out the People Movement and is controlled by the Workers World Party. The organization's office is located at the Central United Methodist Church and holds meetings there.[4][5]
Solidarity with Sept. 24 FBI Raid Activists
The Committee to Stop FBI Repression lists New Students for a Democratic Society as one of the organizations that has issued a statement of solidarity in support of the activists raided in the September 24, 2010 FBI Raids.[6]
7th Annual National Convention, 2012
According to Michela Martinazzi, 70 student activists from all over the country arrived in Gainesville, Florida to attend the annual Students for a Democratic Society National Convention Oct. 27-28, 2012. The activists arrived from as far as Utah and Minnesota.
The convention began with opening statements by Robbey Hayes and Skye Schmelzer from the host Gainesville Chapter.
Stephanie Taylor, a national leader of SDS, reported, "It was awesome. SDS continues to be the largest anti-war student group, to organize for education rights, and there is a growing trend of struggle supporting women's and LGBTQ issues. SDS invited the Dream Defenders who spoke about immigrant rights, justice for Trayvon Martin and exposing the Republican Party's voter suppression in Florida. A Gainesville member of Students for Justice in Palestine spoke about boycott, divestment, and sanctions of Israel."
Students attended different workshops, such as "Bad Acting Theater" and "Basic Organizing Skills." SDS affiliate the Revolutionary Students Union presented "Turning Red States Red." Other workshops included "Organizing Immigrant and Farmworker Rights Campaigns on Campus" and "Combating Male Chauvinism within Your SDS Chapter."
Noor Elashi, an author, journalist and an advocate for her father and the Holy Land 5, spoke on the SDS plenary "Fighting Back Against Political Repression."
Tom Burke, of the Committee to Stop FBI Repression, was also on the panel. Burke is one of the 23 anti-war activists raided by the FBI in 2010.
Afterwards, Burke said, "Speaking to the SDS Convention was a powerful experience. I spoke about the FBI raids and grand jury repression, including members of SDS. I relayed my student experience with the Divest Now! campaign to smash racist Apartheid in South Africa. Then, with the Progressive Student Network in the 1980s, we organized campus protests against CIA recruitment. We acted in solidarity with the revolutionary movements of Nicaragua and El Salvador. In 1991, the PSN helped organize mass rallies to oppose the first U.S. Gulf War on Iraq."
Burke continued, "Today's student activists have known nothing but the U.S. always being at war. I spoke and emphasized the importance of supporting liberation struggles in Colombia and Palestine today, to stop U.S. intervention. Our effective organizing to stop U.S. funding of war and oppression is the reason Assistant U.S. Attorney Barry Jonas is continuing his investigation of the 23 anti-war activists, especially focused on Hatem Abudayyeh in Chicago."
The second day of the SDS convention began by remembering Laura Elizabeth Langley from Alabama SDS and Andrew Stapleton from Tampa Bay SDS who died during the previous year. T
To guide each chapter in the year head, SDS passed resolutions. Most were a call to action, like "Close the School of the Americas" (the U.S. school that trains military death squads), and vowing to join the protest Nov. 16-18 at Fort Benning in Georgia. Another one, "Education Rights Days of Action," plans to demand funding and access for education in the first week of March 2013. "SDS - Demand an End to All Wars and Occupations" calls for the end of U.S. war and occupation in Afghanistan and an end to the covert war and U.S. sanctions against Syria and Iran. It also demands an end to U.S. drone attacks. Another unanimously supported resolution, called for "Justice for Trayvon Martin." Lastly, the SDS passed a resolution "Oppose U.S. Government Political Repression," as part of the push back against the growing political repression by the U.S. government and police forces.
The day ended with each SDS chapter reporting back on the actions they organized in the past year and relaying their lessons and victories to the rest of convention attendees.
The closing of the convention was a boisterous and loud "otro golpe," a Gainesville SDS tradition, which represents "another strike" against U.S. imperialist war and racism in the U.S. - and looking forward to the next victories for Students for a Democratic Society![7]
SDS National Convention, 2016
Public · Hosted by Students for a Democratic Society at UMN
October 8, 2016 – October 9, 2016
Oct 8, 2016 at 9 AM to Oct 9, 2016 at 1 PM CDT
The 2016 national convention of Students for a Democratic Society, here at the University of Minnesota!
Open to SDSers and non-SDSers alike!
Featuring guest speakers:
Speaking on issues like:
Anti-war and -repression activism
Anti-racism and police brutality
Student-labor solidarity
Education for all!
Palestine solidarity
Dump Trump!
Woman and non-binary folk in the movement
Invited on Facebook
Interested
Went
SDS NWC Call 10/29
Public · Hosted by Students for a Democratic Society (National)
Sunday, October 29 at 8 PM CDT (2016?)
Facilitator: Lorenzo Osterheim (PCC SDS)
I. Political Developments II. Roll call III. National Convention Summation - What went well - What went less well - What we can do better next year IV. Set due date for resolution edits V. Further discuss new structure proposal VI. SDS Speaker Response List - Pick people we want to protest VII. Pick next facilitator[8]
Invited on Facebook
Interested
Went
Chapters and Affiliates, 2017
Arizona
California
Colorado
Florida
Illinois
Indiana
Kentucky
Louisiana
Maryland
Massachusetts
Michigan
Minnesota
Missouri
Montana
New York
North Carolina
Ohio
Pennsylvania
South Carolina
Tennessee
Texas
Utah
West Virginia
Wisconsin
2008 affiliates
Mid-West Region
Illinois
Kansas
Michigan
Minnesota
Missouri
Nebraska
North Dakota
Ohio
Wisconsin
Northeast Region
Connecticut
Delaware
Maryland
Massachusetts
New Hampshire
New Jersey
New York
Pennsylvania
Bryn Mawr College SDS, Bryn Mawr, PA Genevieve Anderson-Krengel
Central Dauphin (High School) SDS, Harrisburg, PA Cole Oberman, Chris Siennick
IUP SDS (Indiana University of Pennsylvania), Indiana, PA Jamie Lesh, Emily Cashell
Lancaster SDS, Lancaster PA
Millersville (University) SDS, Millersville, PA
Muhlenberg (College) SDS, Allentown, PA Alex Lotorto
Philly SDS, Philadelphia, PA Faye Bibeau, Alex Grosskurth
Strath Haven (High School) SDS, Wallingford PA
Swarthmore College SDS, Swarthmore, PA Gwen Snyder
University of Pennsylvania SDS, Philadelphia, PA, Meredith McBride, Brett Thalmann, Tanvi Rastogi
West Chester University SDS, West Chester, PA Andrew Barrett, Rich Scalzo
York College SDS, York, PA Quinn MacRorie
Rhode Island
Washington, DC
Northwest Region
Oregon
Washington
Southeast Region
Alabama
University of Alabama, Tuscaloosa, AL
Florida
FAU SDS (Florida Atlantic University), Boca Raton, FL
Florida State University, Tallahassee, FL Mike C.
UCF SDS (University of Central Florida), Orlando, FL Ashley H.
UF SDS (University of Florida), Gainesville, FL
Louisiana UL SDS, University of Louisiana at Lafayette, Lafayette, LA Jeremy Brannon, Patrick Flanagan
North Carolina
Tennessee
Texas
University of North Texas, Denton
Virginia
George Mason University SDS, Fairfax, VA Jasper Conner
James Madison University SDS, Harrisonburg VA Laurie Benade
University of Mary Washington Jason Walsh
VCU SDS - Virginia Commonwealth University, Richmond, VA
WM SDS - The College of William and Mary, Williamsburg, VA
Yorktown Highschool SDS, Arlington, VA Maurine, Nina
Southwest Region
California
Colorado
Animas SDS, Fort Lewis College, Durango, CO Nathan Coe
2006 affiliates
Chapter List (245 Registered)
High School Chapters (46)
University Chapters (138)
Aachen Ingo Assenmacher
Albany Albany, NY Charles Warnke
Animas (Ft Lewis, CO) SDS Durango, CO Nathan Coe
Antioch LA SDS Los Angeles, CA James Denison
Auckland Auckland, New Zealand Omar Hamed
Auraria (Denver) SDS Denver, CO Scott Kwasny
Ball State SDS Muncie, IN Dustin McCormick
Beloit College SDS Beloit, WI Nick McCann
Berrien County Chapter (BCC) Berrien Springs, MI Bjorn Kavanaugh
Birmingham-Southern College SDS Birmingham, AL Steven Grant Hallmark
Boston University Boston, MA Ari Wartanian
Bradley University Evan Lackie
Brandeis Joshua Russell
Bridgewater Rich Michaels
Butte College SDS Oroville, CA Naomi Thomas
Campus Greens Glen Ellyn, IL David Wilcox
Central Connecticut State University Kris Notaro
Central Michigan Students for Democratic Society Mount Pleasant, MI Luke Hitsman
Cerritos Community College Gredma Casasola
Choate Rosemary Hall CT Peter Gault
College of Santa Fe Santa Fe, NM Alysha Layla Shaw
Columbia University SDS New York, NY Samuel John Scioscia
Columbus State SDS Columbus, OH Dustin Reese
DePaul Students Against the War Chicago, Il Casey Cherry
Duke SDS Durham, NC Darian Zubia
Eastern New Mexico Univ - People Before Profits Portales, NM Michael Harman
Edinburg (UT Pan American) Edinburg, Texas Carlos Umana
Emory University Kendra Kline
Franklin Pierce College Rindge, NH Eric Schoner
Fullerton Anjali Nath
Gainesville SDS Gainesville, FL Shen Hunt
George Mason University Fairfax, VA Nick Zinzer
Goucher SDS Chapter Baltimore, Maryland Colin Rynne
Hampshire College SDS Amherst (zip code is 01002), MA Owen Schaffer
Haverford Rob Korobkin
Highline Community College SDS Des Moines, WA Matthew Bermingham
Hofstra SDS Hempstead, NY Jason Emerson
Howard Community College Vanessa Ung
Humboldt Arcata, CA Jesse Goplen
Indiana State University SDS Terre Haute, IN None Yet
Indiana University SDS Bloomington, IN Shawn Way
Kent State Greg Schwartz
Lewis and Clark SDS Portland, Mary Sackley or Linn Benton
Albany, Oregon Nicolas McGovern
Loyola Los Angeles, CA Kristine M. Pine
Madison Madison, WI Jonathan Dedering
Mankato SDS (MN) Mankato, Minnesota James Dimock
Marquette SDS (Warriors) Milwaukee, WI Lindsey Riesinger
Michigan State University SDS East Lansing, MI Cameron Ackerman
Monarchs for Democracy Norfolk, VA Gene Mayes
Montclair State University SDS Montclair, NJ Grover Furr
Montreal SDS Montreal, Quebec Alana Wortsman
Morehead State University SDS Morehead, KY Amanda Daniels
Mount San Antonio College Walnut, CA Dan
Naropa University SDS Boulder, CO Jordan Sears
New England College SDS Henniker, NH Jonathan Glovin
New School SDS New York, NY Pat Korte
New York University cuddrew AT nyu.edu NYU
Northeastern Illinois University
Chicago, Illinois Matt Larson
Northern Arizona University Flagstaff, AZ Kristin Schall
Northern Illinois University Andy McMurray
Ohio University Will Klatt
Ohlone (Cabrillo Junior College) Aptos, CA Thomas Leavitt
Ole Miss SDS Oxford, MS Andrew Whitaker
Olympia SDS Olympia, WA Brendan M.
Organization of Student Revolutionaries New Brunswick, NJ Christopher Lennon
Oswego SUNY Brian Morton
PACE Lauren Giaccone
Paso del Norte (El Paso) El Paso, Texas Kathleen Muro
Pratt Davey Vacek
Progressive Alliance Athens, WV Brad Wood
Progressive Student Union (Sussex Co) Newton, New Jersey Diana Yarzagaray
PUSH (Ideas into Action)/SUNY Purchase Westchester County, NY Kevin Gilmartin
Radical Organization for Action at RIC (ROAR) Providence, Rhode Island Lindsay Wells
Razorback SDS (University of Arkansas) Fayetteville, AR Chris Pappas
Reed SDS Portland, OR Matt Wasserman
Reno, Nevada Anthony Davanzo
San Antonio San Antonio, TX Chris Molina
Santa Ana College Santa Ana, CA Humberto Gonzalez
Santa Barbara Santa Barbara, CA Shawn Tallant
Santa Cruz SDS, Radical Slugs, Santa Cruz, California Nate Emery
Sarah Lawrence College Kaz Ture
SDS Antigonish Antigonish, NS Dan Hayden
SDS Arizona State University Tempe, AZ Kyle
SDS Bellingham Bellingham, WA Kat
SDS Charleston Charleston, SC Ryan Cleary
SDS GC CUNY New York, NY Michael Laufer
SDS Indiana (Indiana University of Pennsylvania) Indiana, PA Cole Hood
SDS Milwaukee Milwaukee, WI Dawson Barrett
SDS Nova (Southeastern University) Davie-Plantation, FL Stefani Rubino
SDS Providence Providence, RI Senia Barragan
SDS Providence (RI School of Design) Providence, RI John Ewing
SDS SE Missouri State Cape Girardeau, MO Richard Taylor
Slippery Rock Students for a New Society Slippery Rock, PA Matt Mahoney
Socialist Unity League Asheville, NC Kati Ketz
South Georgia SDS Douglas, GA Brooks Hester
Southwestern Law Los Angeles, CA Acer Chiang
Students for a Renegade Society (McMaster) Hamilton, ON Robyn Ocean
Tacoma Millicent Hadjivassiliou
The Arts Institute Minneapolis, MN Amy Bullentini
Trinity College SDS Hartford, CT Benjamin Schacht
Truman State University Sarah Saheb
Tucson Tucson, AZ Geoffrey White
Tuscaloosa Tuscaloosa, AL Chapin Gray
UC Berkeley Berkeley, CA Josie Becker
UC Irvine C.J. Howard
UMass-Boston Drew Devereaux
UNC - Chapel Hill SDS Chapel Hill, NC Ben Carroll
Univ of Florida SDS Gainesville, FL Sarah Henry
University of Chicago SDS Chicago, Illinois Patrick R. Dunn
University of Mary Washington SDS Fredericksburg, Va Jason Walsh
University of Massachusetts - Amherst Justin Jackson
Ann Arbor, MI Matt Roney
University of North Alabama Florence, AL Andrew Walker
University of North Carolina at Charlotte Charlotte, NC Michael Graham
University of North Texas (Denton) Denton, Texas Matthew Williams
Kingston, RI Tyler Whittaker
University of Vermont Burlington, VT Conor Casey
University of Wisconsin-Milwaukee Milwaukee, wi Jonathan J. Burseth
Utah Cramer Hall
Valencia Nick Zigler
Virginia Commonwealth University Richmond, Virginia John Bowers
Western Michigan University Kalamazoo, MI Jennifer Barns
Westwood Chicago, IL Eduardo Lopez
Winter Park (Rollins College) Winter Park, Florida Kim Hartman
WSU Students for a Democratic Society Detroit, Michigan Red (and Black) Aaron
Yale University Micah Landau
SDS/MDS Chapters (52)
Arlington Arlington, TX Michael McGehee
Atlanta Jay Welin
Austin Kay Rosenkranz
Bay Area Nina Frazier
Bergen County Doug Viehmeyer
Boston Andrew Hannon
Camden County SDS (CCSDS) Blackwood, NJ Bill Tuttle
Central Florida Phil Jasen
Chicago Nick Kreitman
Claremont Hal
Denver Denver, CO Mark Derderian
Detroit Detroit, MI Aaron
Eugene Eugene, Oregon Eric Eiden
Flagstaff Justin
Freak Unity Collective Josh Brielmaier
Gainesville Area/North Central Florida MDS Gainesville, FL Flora Maccoll
Greater Waterbury MDS/SDS Waterbury, CT Mark Galvin
Houston Gareth Morgans
Kansas City Lindsey Walker
Los Angeles None Yet
Madison County SDS Richmond, Kentucky Will Emmons, Morgan Giles
Memphis SDS Memphis
Michigan Kyle Taylor
Mision Ricardo Flores Magon (Michoacan) Erongaricuaro, Michoacan (Mexico) Carlos Dews
Missouri Dave Overfelt
Monmouth County Chapter Monmouth Beach, NJ Bridget
New Orleans Ben Kilpatrick
New York City SDS/MDS Brian Kelly
New York City SDS/MDS Thomas Good
North Carolina Jessica Rapchik
Oakland Students Oakland, CA Daniel Sandoval
Ohio Tom Nomad
Old Town Alexandria SDS Alexandria, VA John Downing
Panama City Beach, FL Ricky Shea
Philadelphia Shannon Phillips
Plainville SDS Plainville CT Jason Miller
Pleasant Hill SDS (CA) Pleasant Hill, California Bryan Reiss
Port Jervis SDS Port Jervis, New York Christine Olsavsky
Portland Michael Dawson & Adam Sanchez
Rudi Dutschke Chapter (Werneck, Germany) Werneck, Germany Robert Evers
San Diego SDS/MDS San Diego, CA Josh Russell
SDS Cleveland (Cuyahoga CC) Cleveland, OH Alex Kral
Sount Florida Jason Espeland
Southern Vermont MDS Wilmington, VT Phil Leggiere
Staten Island Staten Island, NY Thomas Good
Stony Brook University Stony Brook, NY Jacob Levich
Think of Peace Sykesville, MD Steven K. Hubbell
Urbana-Champaign Laura Stengrim
Western PA Gabe Ross
Youngstown Youngstown, OH Tony Budak
State Chapters (10)
*SDS Wyoming No Organizer Yet
National Entities (9)
Movement for a Democratic Society National Org
Not Specified (1)
External Links
References