New Orleans Democratic Socialists of America
From KeyWiki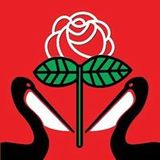 New Orleans Democratic Socialists of America is a Louisiana affiliate of Democratic Socialists of America.
Contact
In March 2017 Joshua Lewis was contact for the New Orleans Democratic Socialists of America Organizing Committee.[1]
Frances Gill took over in July 2017.[2]
2021 Executive Candidates
Co-Chair (2 elected) Trey D., Nadia E. Membership Chair (1 elected ) Sean D.* Secretary (1 elected ) Benjamin Hoffman Treasurer (1 elected ) Lauren O. Treasurer Trustee (1 elected) James P. At-Large (2 elected ) Patrick D., Allison Tebbe
2021 National Conference delegates
Delegates (9 elected ) Jeffrey Oswald Barrois, Joseph A. Colon, Frances Gill, Benjamin Hoffman, Jack Reno Sweeney, Emilie S., Emmanuel Segura, Allison Tebbe, Mandi Wood, Sean D.*
2020 exec candidates
Candidates & statements
New leadership
June 2019, another major milestone passed with an overwhelming majority, as Marguerite Green received DSA New Orleans' first official political campaign endorsement as she begins her run for Louisiana Commissioner of Agriculture and Forestry.
A number of candidates ran for local council seats, with Jordan Flaherty elected as a new co-chair alongside re-elected Co-Chair Michael Ifeoma Esealuka
The entire elected Local Council includes Zach D. and Sophie Kosofsky as at-large Local Council members, Logan Yates as membership chair, Alli DeJong as treasurer, and Ryan S. as secretary. Michael Ifeoma Esealuka, Sue M., Frances Gill, Joshua Lewis, and Jordan Flaherty were chosen to represent the chapter at DSA's upcoming National Convention in August.[3]
Comrades
Eric Blanc May 29 2019·
So New Orleans is definitely one of the best (the best?) cities in the U.S. Many thanks to the DSA New Orleans comrades who hosted me this weekend, y'all are doing really amazing work and I had a such a great time strategizing, drinking, and dancing with you all. — with Jeffrey Oswald Barrois, Sue Kuyper, Michael Ifeoma Esealuka, Ernesto Bernesco NogueraGarcia and MonaLinda Smile.
Frances Gill December 2 2019·
Three years ago, I was reeling after the election of Trump, baffled by what was happening, looking for an explanation and looking for something to do. I signed up for every save-the-world email list that popped up, set up my monthly donation to Planned Parenthood and Democracy Now!, and still I cried myself to sleep worrying about what would happen to Obamacare and with it, my mom's health care. And amidst all that chaos and confusion and fear, I also filled out a Google form… See More
— with Joseph A. Colon, Allison Tebbe, Michael Ifeoma Esealuka, Andy Nemo.
Leaders
Kaitlin Marone, a comedian who is also a councilmember-at-large for the New Orleans Democratic Socialists of America.[4]
Healthcare arrests
Jefferson Parish sheriff's deputies arrested two women and a man participating in a healthcare protest at U.S. Sen. Bill Cassidy's offices in Metairie on Jul 5, 2017;.
Haley Saucier, Laura Welter and Mark D'Arensbourg were among 20 or so people to stage a sit-in inside of the office building at 3421 N. Causeway Blvd. about 11 a.m.
After about a half-hour, a spokesman for Sheriff Newell Normand said, deputies asked the group to leave, saying its members were disrupting the operation of a number of other businesses in the building. Most in the group left after being warned that they could be arrested if they remained in the building, but Saucier, 26; Welter, 29; and D'Arensbourg, 33, wouldn't leave, the Sheriff's Office alleged.
Deputies booked the trio on a count of remaining in a place after being forbidden, a form of criminal trespassing in Louisiana. That offense is a misdemeanor that can carry up to six months in jail as well as a maximum fine of $500.
The Sheriff's Office said Saucier is from Ponchatoula, while D'Arensbourg and Welter are from New Orleans.[5]
New Orleans Democratic Socialists of America described the three activists as "our comrades".
Alli DeJong, a member of New Orleans Democratic Socialists of America, was media contact for the protesters.[6]
Our Revolution connection
September, 2016 Daniel Werst of Socialist Worker wrote about a launch meeting for Bernie Sanders' Our Revolution in New Orleans and what it revealed about the new organization.
Paul Fleckenstein's recent article provided a valuable analysis of the "down-ballot" strategy that Bernie Sanders has supported in his newly launched non-profit organization Our Revolution ("Taking down the revolution?").
I attended the kickoff night meeting for Our Revolution in New Orleans, and I believe the debate that took place among participants connects directly to the criticisms raised in Fleckenstein's article.
On August 24, staff, volunteers and supporters from Sanders' campaign for the Democratic nomination organized local meetings across the U.S., inviting contacts and friends of friends from their mailing lists and activist networks to join this new political organization. Each meeting tuned in to watch a LiveStream broadcast of Bernie Sanders giving a speech to a small audience of supporters in Vermont about his goals for influencing politics after losing to and endorsing Hillary Clinton for president.
The New Orleans Our Revolution meeting was made up of about 20 people, most of whom had been strong supporters of Sanders' campaign.
Virtually all of the attendees spoke heatedly before the meeting began about their anger at Hillary Clinton's politics and discussed different opinions about Sanders' endorsement.
Before Sanders' speech, we had time for a few introductions, and Aaron, who was leading the meeting, asked for an informal poll: "Who considers themselves a socialist?" A majority of the room raised our hands, including the speaker, who explained that he was a member of the Democratic Socialists of America (DSA)--and later that he was inviting people to join that organization as well as Our Revolution.
But when we began discussing Hillary Clinton, Aaron made clear that the position of Our Revolution was already decided by the central leadership from the Sanders campaign, and not subject to debate by its membership, which was just about to be formed. Justifying this, he indicated that the organization was committed to supporting Clinton in order to take "an anti-fascist position" against Donald Trump.[7]
DSA New Orleans New Member Social
DSA New Orleans New Member Social Public · Hosted by New Orleans Democratic Socialists of America
Thursday, August 31 at 6:30 PM - 8:30 PM CDT
2762 Orleans Ave, New Orleans, Louisiana 70119
Interested in DSA? Wanna get more involved but don't know how? Join us at our new member event on August 31st and socialize with your fellow local socialists! Conversation and snacks will be provided, and this is also a family-friendly event, so all are welcome! Hope to see you there![8]
Invited on Facebook
Interested
Going
References