New Consensus
Jump to navigation
Jump to search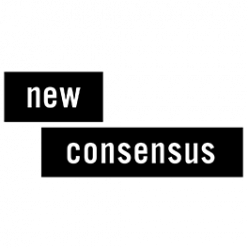 Template:TOCnestleft New Consensus "is a 501C3 policy group created to mobilize Progressives into taking ownership" of the Green New Deal.[1] According to their website, the New Consensus is a "global, distributed network of academics, creators, activists, leaders and entrepreneurs working to make the new consensus the standard operating system for national economies around the world".
Strategy
From the New Consensus website:[2]
"New consensus thinkers are exploring how government and other public institutions can lead the transition to a green economy, close wealth and income gaps between groups, spearhead innovation and research, kick-start new high wage industries, and more.
We are a global, distributed network of academics, creators, activists, leaders and entrepreneurs working to make the new consensus the standard operating system for national economies around the world."
Background
Maitefa Angaza of Our Times Press[3] wrote:
"Rep.-elect Alexandria Ocasio-Cortez has plans for a Green New Deal to lift all boats and it appears to be working already. Her resolution has inspired a team of Black scholars poised to take the lead on facilitating her initiative. The New Consensus is a 501C3 policy group created to mobilize Progressives into taking ownership of this resolution spearheaded by one of their own. They intend to be in place with the ideas and the capacity to put the hydra-headed marvel to work.
"Twenty-nine-year-old Yale graduate and Rhodes scholar Rhiana Gunn-Wright will head the policy group and work alongside tech magician and organizer Demond Drummer. They are both from Chicago. She was the policy director for Abdul El-Sayed, a candidate in Michigan's Democratic gubernatorial primary whose campaign featured an aggressive clean-energy platform.
""I learned on that campaign that the best way to equip a progressive idea is to do the work of figuring out 'how,' so that's what I think we're bringing to the Green New Deal," she said. "We'll be the 'how' shop."
"Drummer is the co-founder and executive director of the Chicago youth mentoring and education program CoderSpace. He and Gunn-Wright are positioning New Consensus to help point out the actual meat on the bones of Ocasio-Cortez's plan.
""Right now, we're focused on what needs to be done and how all the pieces fit together," Drummer said. "Then we will focus on how to pay for it. To be clear: It's a question of how we will pay for it — not if we can afford to pay for it. America can afford what we decide to do."
"At a time when Democrats are belatedly realizing that middle-of-the-road messaging is taking a backseat to bold and impassioned politics, Gunn-Wright and Drummer are inspired by Ocasio-Cortez, who recently joined a group of protestors outside House Speaker Nancy Pelosi's office to demand that climate change be given serious and immediate attention –an unprecedented action for an incoming Congress Member and a shock to the body politic.
"The Green New Deal asks that poor people, the unemployed, and those who've faced racial, gender and other factors in the quest for a living wage, be first in line to be trained for and fill the new jobs. And along with climate change, lawmakers must address environmental justice, often denied to many Black and brown people due to systemic racism.
"New Consensus is figuring out the ways in which the new policies can lead to green jobs across all sectors of the community, rather than leaving those with less behind. The policy group posits that one of the paths to full funding is a public "green bank." The bank would offer financial support to communities in need of clean energy and environment and better and more viable transportation. Investments in zero-carbon technologies could be made through the bank.
"Gunner-Wright and Drummer will spend a good amount of time and energy seeing to it that opportunities are available to all in the new green society. Job training, a living wage, labor union protections, and universal healthcare are crucial to ensuring that those most affected by the negative impacts of climate change – with its threats to the health and employment – are prepared and protected.
People
Demond Drummer, Rhiana Gunn-Wright and Zack Exley are listed as the "people" of the New Consensus.
Profiles verbatim:
Demond Drummer
Demond Drummer is an organizer and civic innovator whose work in Chicago has been recognized by the Obama White House, Code for America and the Aspen Institute. He is currently co-founder and executive director of New Consensus. Demond's notable projects include CoderSpace, a computer science learning lab where high school students develop leadership skills for a changing world, and LargeLots.org, a community-driven effort to reclaim and repurpose city-owned vacant lots in Chicago. An alumnus of [Morehouse College], Demond was a field organizer for Barack Obama's first presidential campaign. Demond lives with his wife and one-year-old daughter in Chicago.
Rhiana Gunn-Wright
Rhiana Gunn-Wright was previously the Policy Director for Abdul El-Sayed's 2018 gubernatorial campaign. A 2013 Rhodes Scholar, Ms. Gunn-Wright has also worked as the policy analyst for the Detroit Health Department, the Mariam K. Chamberlain Fellow of Women and Public Policy at the Institute for Women's Policy Research (IWPR), and as a policy intern in for former First Lady Michelle Obama. Ms. Gunn-Wright graduated magna cum laude from Yale in 2011 with majors in African American Studies and Women's, Gender & Sexuality Studies.
Zack Exley
Zack Exley was a senior advisor to Bernie Sander's 2016 presidential campaign, and was a co-founder of Brand New Congress and Justice Democrats, which recruited and ran dozens of unconventional candidates for the 2018 midterms such as Alexandria Ocasio-Cortez. With Becky Bond, Zack co-authored Rules for Revolutionaries, a book of organizing lessons and principles. In ancient internet times, he was the co-founder of the New Organizing Institute, and played a major role in the rise of online politics in his work with MoveOn.org, Howard Dean, John Kerry, the Obama campaign and as the non-profit practice director of a global software company called ThoughtWorks. He had a side career in online fundraising, working with global NGOs, including the Wikimedia Foundation, where he built a $90 million per year fundraising program to keep Wikipedia free and independent. Zack spent his 20's working as a union organizer all over the United States.
Alexandria Ocasio-Cortez Staff Joins New Consensus
According to Zero Hedge, Alexandria Ocasio-Cortez's chief of staff Saikat Chakrabarti and communications director Corbin Trent both left "abruptly" to join New Consensus:[4]
"Saikat has decided to leave the office of Rep. Alexandria Ocasio-Cortez to work with New Consensus to further develop plans for a Green New Deal," according to Alexandria Ocasio-Cortez communications director Corbin Trent], who added "We are extraordinarily grateful for his service to advance a bold agenda and improve the lives of the people in NY-14. From his co-founding of Justice Democrats to his work on the Alexandria Ocasio-Cortez campaign and in the official office, Saikat's goal has always been to do whatever he can to help the larger progressive movement, and we look forward to continuing working with him to do just that"
"The 33-year-old Chakrabarti - a Harvard graduate and former Bernie Sanders organizer in 2016 - made headlines in June when he compared moderate Democrats to Southern Democrat segregationists in a now-deleted tweet.
Saikat Chakrabarti is under investigation for alleged campaign finance misconduct as of August 4 2019.[5] He is the founder of Justice Democrats and Brand New Congress, along with Zack Exley.
References