Nelson Lichtenstein
From KeyWiki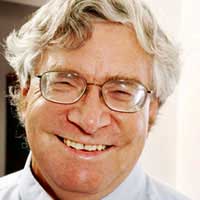 Nelson Lichtenstein is America's foremost Wal-Mart expert from the left. Nelson Lichtenstein has chronicled the rise of the world's largest company—focusing on the company's anti-unionism. Lichtenstein's latest book, The Retail Revolution: How Wal-Mart Created a Brave New World of Business, may be the definitive account of how the discount retailer grew from Arkansas to blaze a new commercial model in a globalized economy.
The University of California, Santa Barbara professor founded and serves as the director of the university's Center for the Study of Work, Labor and Democracy, which aims to "expand public understanding and discussion of important issues facing working people." The center hosts conferences and courses and administers an undergraduate minor in Labor Studies.
Lichtenstein— is also author of State of the Union: A Century of American Labor and editor of Wal-Mart: The Face of Twenty-First-Century Capitalism.
Lichtenstein is on the e-mail list of John Logan, the new director of the San Francisco State Labor Studies Center. Logan studies the anti-union consulting industry.
Nelson Lichtenstein is the author o/The Most Dangerous Man in Detroit:Walter Reuther and the Fate of American Labor.
Campaign for America's Future
In 1996 Nelson Lichtenstein, University of Virginia was one of the original 130 founders of Campaign for America's Future.[1]
Center for Democratic Values
The Center for Democratic Values (CDV) was launched[2]at the 1995 Democratic Socialists of America National Convention as a means of contesting the current hegemony of capitalist ideas.
By 1997 CDV network members Ron Aronson, Nelson Lichtenstein, Harry Brod, Maxine Phillips, Rick Perlstein, Anna Marie Smith and Skip Oliver were all publishing op-ed pieces for the Progressive Media Network and local newspapers. Topics include arts funding in schools, the Teamsters election, the meaning of Clinton's reelection for women, and the use of polls in elections.
"Back to Basics"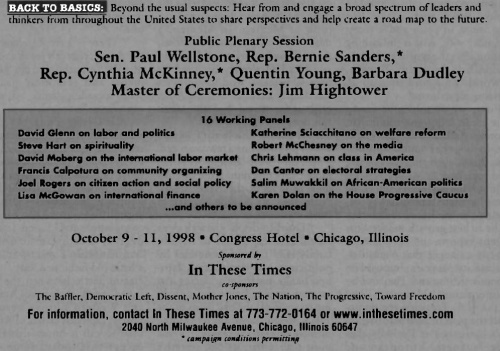 Speakers at the October 1998 Back to Basics Conference in Chicago included;
Public Plenary Session, Sen. Paul Wellstone, Rep. Bernie Sanders, Rep. Cynthia McKinney, Quentin Young, Barbara Dudley, Master of Ceremonies: Jim Hightower
16 Working Panels;
Poltical agenda and views
Lichtenstein's political[5] first occurred when;
I witnessed from afar, and as a young teenager, the rise of the Student Non-Violent Coordinating Committee. Courage and commitment in action, what could do more to inspire a young person? And second, my ideas were sharpened when I participated in UC-Berkeley's political world in the late 1960s.
Lichtenstein is an anti-capitalist with a soft spot for Leon Trotsky and his leading U.S. follower Max Schactman.
I'm an academic with a political agenda: to help lead a generation of social and labor historians toward a radical critique of capitalism and the corporation, now and in the past.
I still think Leon Trotsky and Max Schactman were right when they did their best work, both political and journalistic. But it seems almost impossible to deploy their politics in today's world, so from an operative sense I am a social democrat with a prime commitment to the revitalization, democratization and expansion of the labor movement, in the U.S. and abroad...
DSA member
Nelson Lichtenstein has been a member of Democratic Socialists of America[6]
Anti Walmart symposium
The Wal-Mart, Race & Gender: Local Controversies, Global Process symposium was held on January 21st 2006 at the University of Chicago. It was an opportunity to put the many-faceted struggle against Wal-Mart—and the nature of the corporation itself—into context.
Organized by the university's Center for the Study of Race, Politics and Culture and the Center for Gender Studies, the "symposium drew about 250 people into a mostly sober discussion of the Wal-Mart menace, and the particularities of how it impacts the various groups it seeks to crush or coopt— the kind of conversation that is sorely needed by all who claim to be "movement" people."[7]
Young Sam built his first stores in what he considered the "magic circle" centered in Arkansas, Oklahoma and Missouri, according to University of California at Santa Barbara professor Nelson Lichtenstein. Walton exploited the pools of "surplus labor" that resulted from corporate agricultural consolidation and the ravages of the Thirties dustbowl. Desperate to keep their land, surviving small farmers—and their wives—turned to wage labor.
Wal-Mart is not some unique product of the Ozarks. Rather, it is the end result of a long history of retailers seeking ever-increasing shares of the market and dominance over the companies that actually make the products. "Wal-Mart is not unusual in basing cheap goods on low wages," explained Susan Strasser, a professor of history at the University of Delaware. Nor is its fabled inventory management system something new under the sun. Since the late 19th Century, Woolworth, Sears, A&P and others "established mechanized systems…among thousands of manufacturers and millions of customers."
Open letter to Andy Stern
On May 1 2008, Nelson Lichtenstein, a Professor of History at University of California, Santa Barbara signed an open letter to SEIU president Andy Stern in protest at SEIU move to force its local United Healthcare Workers into trusteeship.
"We are writing to express our deep concern about SEIU's threatened trusteeship over its third largest local, United Healthcare Workers (UHW). We believe that there must always be room within organized labor for legitimate and principled dissent, if our movement is to survive and grow. Putting UHW under trusteeship would send a very troubling message and be viewed, by many, as a sign that internal democracy is not valued or tolerated within SEIU. In our view, this would have negative consequences for the workers directly affected, the SEIU itself, and the labor movement as a whole. We strongly urge you to avoid such a tragedy."
New Politics
As of 2009 Nelson Lichtenstein served as a sponsor of New Politics, magazine almost completely staffed and run by members of Democratic Socialists of America[8].
Campaign for Peace and Democracy
Lichtenstein is listed as an endorser of the Campaign for Peace and Democracy, as of March 15, 2010.[9]
Cry Wolf Project
The Cry Wolf Project was established in 2010 to counter conservative attempts to stop or discredit "progressive" policy options.
Cry Wolf Project Coordinators
Project Advisory Board
New Labor Forum
New Labor Forum is published by Center for Labor, Community, and Policy Studies, Joseph S. Murphy Institute for Worker Education & Labor Studies.
Editorial Board members listed, as of March 2013; were;[11] Elaine Bernard, Ron Blackwell, Barbara Bowen, Kate Bronfenbrenner, Arthur Cheliotes, Mike Davis, Amy Dean, Steve Early, Hector Figueroa, Janice Fine, Bill Fletcher, Jr., Juan Gonzalez, Marie Gottschalk, Gerald Hudson, Lisa Jordan, Tom Juravich, Robin D G Kelley, Jose LaLuz, Nelson Lichtenstein, Manning Marable, Ruth Needleman, Ai-jen Poo, Katie Quan, Adolph Reed, Daisy Rooks, Andrew Ross, Kent Wong.
External links
References