Nelson Johnson
Jump to navigation
Jump to search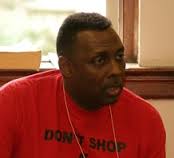 Rev. Nelson Johnson was a Communist Workers Party leader.
Background
Johnson has been active in the movement for social and economic justice since high school in the late 1950's. He served as a student leader Student Government Association at A&T State University, in Greensboro, NC in 1970. Between high school and college Rev. Johnson served four years in the United States Air Force. He continues to work for social and economic justice in Greensboro as Pastor of Faith Community Church and Executive Director of The Beloved Community Center of Greensboro.
Though involved in a myriad of initiatives, Rev. Johnson centers his efforts on facilitating a process of comprehensive community building, which include a convergence of racial and ethnic diversity, social and economic justice, and genuine participatory democracy. At the Beloved Community Center, he and his colleagues attempt to bring together the homeless, the imprisoned, impoverished neighborhoods, and other disenfranchised groups in the spirit of mutual support and community.
Guided by his three-part emphasis of diversity, justice and democracy, Rev. Johnson is actively building relationships with and providing leadership within organized labor, faith groups and other public and private community organizations. He and other local ministers of the Greensboro Pulpit Forum led an active support effort in 1997 that resulted in a significant contract settlement for workers at the Greensboro K-Mart Distribution Center. As a result, he is frequently invited to share that success story at workshops and meetings, including those sponsored by the George Meany Labor Institute, the AFL-CIO of New York, and the Michigan AFL-CIO.
Because of his extensive experience in community organizing and socio-political analysis, Rev. Johnson is routinely invited to speak on university campuses around the country to share his vision of community building. He has written articles for the University of Pennsylvania Journal of Labor and Employment Law and The Witness Magazine, published by the National Episcopal Church. Rev. Johnson is also a former Contributing Editor for the Black Scholar Magazine, National Chair and Contributing Editor for the African World Newspaper, and Assistant Editor for the Carolina Peacemaker of Greensboro, NC.
Rev. Johnson is a native of Halifax County, NC. He received a baccalaureate degree in political science from North Carolina A&T State University and a Master of Divinity Degree from the School of Theology at Virginia Union University. He is married to Joyce Hobson Johnson, a retired research director and School of Business and Economics faculty member at A&T who now works side by side with Johnson at the BCC. The Johnsons have two adult daughters, Akua Johnson-Matherson, a university administrator and Ayo Johnson, a registered nurse and certified recreational therapist. [1]
Workers Viewpoint Organization
Paul Bermanzohn, Sally Bermanzohn, Nelson Johnson, Roz Pelles, and Jean Chapman were all members of the Maoist Workers Viewpoint Organization in North Carolina in the late 1970s.[2]
Communist Workers Party
The Communist Workers Party had its national headquarters in a rundown commercial building at 1 East Broadway in New York City, in Chinatown at the foot of the Bowery. Active CWP chapters were found in Chicago, Philadelphia, Berkeley and Los Angeles, as well as in Greensboro. Until October 1979, the Communist Workers Party was known as the Workers Viewpoint Organization and published a monthly newspaper with the same name.
In 1972, Workers Viewpoint formed an alliance with Nelson Johnson's Greensboro, N.C., group, the Youth Organization for Black Unity . Mergers with other small Maoist Communist groups followed. Workers Viewpoint cadre were active in various left causes including support of Maoist revolutionary terrorist organizations in southern Africa through the African Liberation Support Committee.
Workers Viewpoint announced its change of name to the Communist Workers Party in October 1979, with Nelson Johnson as its chairman and Jerry Tung as general secretary.[3]
Greensboro Massacre
In November 1980 Communist Workers Party supporters Nelson Johnson, 37, Rand R. Manzella, 28, Lacie S. Russell, 37, all of Greensboro, and Allen D. Blitz, and Dorothy D. Blitz, of Martinsville, Virginia, had rioting charges against them dropped, after the Greensboro Massacre.[4]
Meeting Mugabe
In These Times ad for a National Conference July 30-August 1, 1982 of the FFP
The Communist Workers Party front Federation For Progress put a half-page ad in the "socialist" oriented weekly newspaper, In These Times in the July 14-27, 1982 issue, p. 8, entitled: "A natural follow-up to June 12: A national conference July 30-August 1 at Columbia Un., in New York City".
It was a follow-up conference to the major "anti-defense lobby" march and protest in New York on June relating to the U.N. Second Special Session on Disarmament.
Endorsers of the event included Nelson Johnson- Organizing Committee of Coalition Against Black Genocide.
"Los Angeles Remembers"
Also in attendance were:
Mayor Judy Chu - Monterey Park, "dedicated the evening to Linda Mitchell a longtime ardent supporter of the GJF, who passed away suddenly in July, 1999. A candle-lighting ceremony evoked the memory of the lives of each of the Greensboro martyrs".
Prof. Jose Calderon read a poem.
Fayetteville peace rally
The Fayetteville rally for peace was held on March 19th 2005.
Speakers included;
MCs were Bridgette Burge, Peace LEAP (NC; and Bryan Proffitt, North Carolina Peace and Justice Coalition.[5]
Black Liberation Theoreticians
Circa 2012, a Black Left Unity Directory;
Ashaki Binta/NC, William Darity /NC, Ajamu Dillahunt /NC, Joyce Johnson /NC, Nelson Johnson /NC, Joseph Jordan, Julianne Malveaux / NC, Shafeah M'Balia, Naeema Muhammad /NC, Saladin Muhammad /NC, Mark Anthony Neal /NC, Ed Whitfield /NC, Leah Wise / NC.[6]
Micah and Repairers of the Breach
Micah and Repairers of the Breach:Spirituality and Social Justice Conference, was convened July 26, 2013, at Rebuilding Broken Places CDC 2105 North William Street, Goldsboro, North Carolina.[7]
Leaders in the social justice movement explore key justice issues & the responsibility of the church[8]
Speakers
Rev. Dr. William J. Barber II, The Holy Spirit, Faith and Social Justice.
Panelists
Beloved Community Center/Moral Mondays
Housed in a brick church on a residential corner in Greensboro, North Carolina, the Beloved Community Center is a living monument to the city's role in civil and human rights struggles, from the early 1960s to the present. Pay it a visit and the people who run the place will point out their younger selves in the decades-old photos of rallies and voter-registration drives that cover the walls. They'll recount a standoff between local black students and the police in 1969 that left a 20-year-old dead. They'll tell you how they organized a citywide truth and reconciliation commission after members of the Klan gunned down five people in the Greensboro massacre of 1979. They'll talk about why, nearly a decade ago, they supported black and Latino workers in the state who tried to unionize a pork-processing plant despite management's effort to intimidate them with immigration raids. And they'll look at you quizzically if you ask, as I did when I visited in May, why they joined the Moral Monday movement, which has upended North Carolina's politics and dominated headlines for the past year.
"There wasn't a joining," says Joyce Johnson, a co-founder of the center. "There was a flow."
Given the news coverage, it's easy to think that the Moral Mondays protests and Forward Together—the movement behind the Monday mobilizations—came out of nowhere. It's easy to believe that more than 900 people were arrested while engaging in civil disobedience last spring and summer because the laws passed by North Carolina's conservative legislature and signed by Republican Governor Pat McCrory were just too draconian for a state accustomed to a more moderate leadership. It's easy to read the accounts of teachers outraged by attacks on tenure, or swing voters upset by McCrory's refusal to expand Medicaid under the Affordable Care Act, and think that the mobilization is under way because politics—aided by model legislation crafted by ALEC and funding from the Koch brothers—just got too ugly in the Tar Heel State.
Johnson's husband, the Rev. Nelson Johnson, was a member of that first group of seventeen people arrested on April 29 2013, on the very first Moral Monday. "People see the great crowds on Mondays," he says. "What they don't see is all the work that came before that."
The Johnsons are part of a coalition called HKonJ, which stands for Historic Thousands on Jones Street (where the state capital's legislative buildings are located), and which laid the groundwork for Moral Mondays and the Forward Together movement. In December 2006, sixteen organizations—representing clergy, labor, women's rights, LGBTQ rights and racial justice—came together to form what the Rev. William Barber II, the head of the state NAACP and the movement's most visible leader, called a "transformative fusion coalition." Transformative fusion means that each organization came to the coalition with a deep commitment not just to advance their own political priorities, Barber explains, but to advance the various causes of the other coalition members as well. Together, the coalition members would review state policy from an anti-racist and anti-poverty perspective and come up with a fourteen-point agenda, as well as an action plan for achieving those goals. Asked how the organizations make decisions and set priorities collaboratively, Barber replies that the key is sharing a broader vision for the state's future.
"It's about fundamental change, not incremental change," he tells me. "Victory on one issue does not mean you leave the coalition." [10]
Early supporters
In May 2013, with "deep appreciation to Rev. Dr. William J. Barber II, President of the State Branches of the NAACP and HKonJ of which many of us are a part, a group of citizens and organizations in Greensboro have agreed to organize to send a large delegation to Raleigh to participate in non-violent civil disobedience or to observe as moral witnesses".
Among the groups and individual committed to Greensboro Moral Monday are Bishop Alfred "Chip" Marble and members of the Faith Leaders Council, Rev. Clarence Shuford of the Pulpit Forum, Rev. Cardes Brown of the Greensboro Branch NAACP, and Rev. Nelson Johnson of the Beloved Community Center.[11]
"Progressive" leaders in North Carolina
In August Dr. Jack Rasmus invited guests from the "grass roots fight for democracy in North Carolina, where democratic and civil rights have come under intensifying attacks from its Republican governor and conservative state legislators". Continuing the theme of recent Alternative Visions radio shows on the growing assault on democratic and civil rights in the US and abroad,
Dr. Rasmus interviewed three "well known and highly respected community activists who have been deeply involved in the 'moral mondays' protests and other movements in that state. Jack welcomes Reverend Nelson Johnson, Ajamu Dillahunt, and Zach Robinson--all three located in different parts of the state and together involved in the fight to defend democratic, civil and labor rights in a state where recent attacks on democratic, civil and labor rights have been the most intense. What happens in North Carolina is a harbinger of things to come."
References