Naveen Malik
Jump to navigation
Jump to search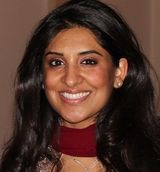 Template:TOCnestleft Naveen Malik was selected for a Presidential Appointment in the Obama Administration and served her role in Washington DC, in the Office of the Secretary of Defense at the Pentagon. She started as a Special Assistant to the Assistant Secretary of Defense for Legislative Affairs. Subsequently, she was selected for the prestigious White House Liaison Office Defense Fellowship. As a Defense Fellow, she worked as the Deputy Country Director for Qatar, UAE, and Bahrain, on the Gulf/Arabian Peninsula Team - International Security Affairs/Middle East Division, as well as Country Director for Pakistan in the Asian Pacific Security Affairs/APC Division, for the Under Secretary of Defense for Policy. She spent several months deployed to Camp Eggers in Kabul assisting the ISAF/NATO/CSTC-A/DCOM SPO/Class III Fuel LogOps division and is proud to have volunteered as a DoD civilian to serve her country in Afghanistan.
Prior to her appointment, Naveen Malik was the New Media Director of Illinois for the Obama for America 2008 Presidential Campaign. In this capacity, Naveen wrote the new media strategy for the Illinois field operation, and managed a team of 3. Her execution of the plan - which synthesized all forms of new media; website, blog, e-mail, text messaging, social networking, video, and design - was responsible for exponentially increasing the amount of contacts that the Illinois Field Operation made, and for signing up over 10,000 volunteers for export to five surrounding battleground swingstates - 4 out of 5 which were won due to the influx of Illinois volunteers.
Naveen Malik was selected to work as a member of the 2009 Presidential Inaugural Committee in Washington D.C.
She is now a student in South Dakota.[1]
Roland Burris staffer
Naveen Malik was a staffer for Senator Roland Burris.
Change:Unstuck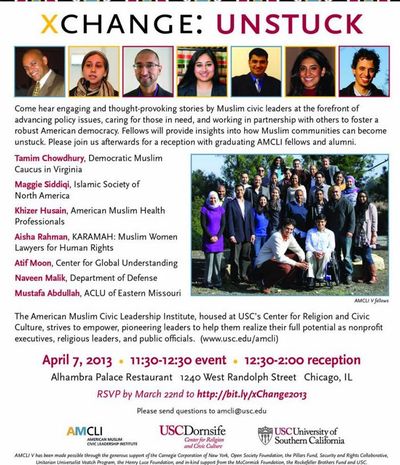 Come hear engaging and thought-provoking stories by Muslim civic leaders at the forefront of advancing policy issues, caring for those in need, and working in partnership with others to foster a robust American democracy. Fellows will provide insights into how Muslim communities can become unstuck. Please join us afterwards for a reception with graduating AMCLI fellows and alumni.
xCHange will take place on April 7, 2013 at 11:30.
Presenters:
References