Nature, Society and Thought
Jump to navigation
Jump to search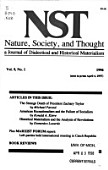 Template:TOCnestleft Nature, Society, and Thought is a refereed interdisciplinary international journal of Marxist Studies containing articles and commentaries dealing with the application of dialectical- and historical-materialist methods to all fields of study. It also contains articles that are of particular interest to Marxist scholars even if not based on Marxist methods of analysis. The journal usually includes a nonrefereed section called "Marxist Forum," presenting programmatic materials from or about Marxist political organizations from different countries. From time to time, special issues of the journal are devoted to articles on individual topics such as "Marxism and Religion," "Marx and Freud," "African American History and Marxist Historiography" or monographs such as Hans Heinz Holz's Downfall and Future of Socialism and James S. Allen's Organizing in the Depression South: A Communist's Memoir[1]. "
Nature, Society and Thought is based at the University of Minnesota. it is published quarterly in January, April, July, and October by MEP Publications, University of Minnesota, Physics Building, 116 Church Street S.E., Minneapolis[2].
Past contributors
A flier from "NST:MEP Publications", University of Minnesota, 2005 described "Nature, Society, and Thought" is an interdisciplinary journal published quarterly since 1987. It tracks Marxist ideas internationally, and is carried by major university libraries on almost every continent. NST covers a wide range of thought on the current Left, showing the creative response of dialectical and historical materialm to ongoing world change. Academics and activists find it indispensable for keeping abreast of philosophy and theory in physical and social sciences and humanities."
"Past contributors to NST include:
"Articles in most NST numbers touch a range of subjects. occasional focused issues or sections have gathered papers from conferences sponsored by NST on subjects such as globalization, market socialism in China and Vietnam, and Marxist philosophy. Two monographs have analyzed the collapse of Eastern European socialism and presented a personal account of Communist organizing in the southern stated during the Depression. A collection on African American historiography and a political biography of the Irish revolutionary James Connolly have appeared as double issues. Subjects of special issues organized by guest editors have include Marx and Freud, Freethought history, and, most recently, a 'red critique' of cultural studies."
NST is published by the Marxist Educational Press under the name of MEP Publications at the University of Minnesota, and was led by Prof. Erwin Marquit for years.
Personnel
Nature, Society and Thought personnel in 2009 were[3];
Editor: Erwin Marquit (physics, Univ. of Minnesota)
Book review editors: Eric R. Jackson (history, Northern Kentucky Univ.) and Doris Marquit (literature, women's studies)
Asoociate editors: Gerald Erickson (classical studies, Univ. of Minnesota), Gerald Horne (African American studies, Univ. of Houston), Eric R. Jackson (history, Northern Kentucky Univ.), Jeffrey R. Kerr-Ritchie (history, Howard Univ.), April Knutson (French literature, Univ. of Minnesota), Doris Marquit (literature, women's studies), David S. Pena (philosophy, Miami Dade College), Michael Parenti (political science), Epifanio San Juan (cultural studies, Philippines Cultural Studies Center, Storrs, CT), Jose Soler (labor education, Univ. of Massachusetts, Dartmouth) Ethel Tobach (comparative psychology, City Univ. of New York) , Prasad Venugopal (physics, Univ. of Detroit Mercy)
2007 personnel included Manuscript editor : Leo Auerbach (English education, retired, Jersey City State College), Associate editors Jan Carew (African American studies, Northwestern Univ.), Mort Frank (physiology), Viktoria Hertling (German exile & Holocaust literature, Univ. of Nevada, Reno), Jack Kurzweil (electrical engineering, San Jose State Univ.), James Lawler (philosophy, State Univ. of New York, Buffalo), Sara Fletcher Luther (political sociology)[4].
2006 personnel included Associate editor Leola A. Johnson (communications, Macalester College)[5]
NST Conference/Study Tour of Vietnam
A conference on the theme "Consequences of the Changing World Economy for Class Relations, Ideology, and Culture," cosponsored by Nature, Society, and Thought and the Ho Chi Minh National Political Academy was held in Hanoi 9–11 January 2006.
The conference was embedded in a two-week study tour that included visits to Hanoi, Hue, Da Nang, and Ho Chi Minh City. Tour itinerary provided meetings with representatives of the Vietnam General Confederation of Labor and the Vietnam Womens Union, as well as visits to villages in rural areas, including a village inhabited by the Muong minority people. Also included was a tour of a Ford assembly plant and some smaller factories, craft centers, and historical/cultural sites. The deputy chair of the Ho Chi Minh City People's Council met with the group during its visit to that city[6].
The papers by the Vietnamese scholarsn provide a valuable insight into their views of the progress and difficulties of Vietnam's path to socialism as its socialist-oriented market economy becomes integrated into the world economy.
References