National Domestic Workers Alliance
From KeyWiki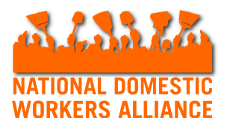 National Domestic Workers Alliance is affiliated with the Freedom Road Socialist Organization.
Support from Onward Together
Hillary Clinton's PAC Onward Together lists National Domestic Workers Alliance as a partner and has provided them with financial support.[1]
UNITY
Circa 2015 Michael Guerrero was National Coordinator of the Grassroots Global Justice Alliance and UNITY, a collaboration between six national grassroots alliances including the National Domestic Workers Alliance, the National Day Laborer Organizing Network, Right to the City Alliance, Pushback Network, National Guestworker Alliance, Grassroots Global Justice Alliance and Jobs with Justice. [2]
Leftist alliance for Stacey
The collaboration between the Working Families Party and New Georgia Project in Georgia, the leadership in sectors of Stacey Abrams' campaign by people out of Movement for Black Lives' The Electoral Justice Project, the fact that the National Domestic Workers Alliance deployed the largest independent field operation in that state – all this energized young voters, re-energized veterans of the Civil Rights Movement of the 1960s and strengthened the emerging Black-Latino alliance, laying the basis for future wins if Stacey Abrams doesn't pull it out this time..[3]
Clinton connection
Palak Shah June 10, 2015 near Denver, CO ·
President Clinton just announced National Domestic Workers Alliance's groundbreaking partnership with @caredotcom the #FairCarePledge — with Ai-jen Poo, Sheila Marcelo and Avra Siegel.
Board of Directors
As of 2013;[4]
Staff
As of 2015;[5]
Executive Office
Campaign Team
Field Team
Policy Team
Communications & Development
Social Innovations
Workforce Development
Research
Finance & Operations
"Unstoppable Women Workers"
Washington, DC -- From July 10-12 2019, in the midst a growing women's movement, a delegation of domestic workers and farmworkers led by Jane Fonda and prominent activists lobbied Congress for safe and dignified workplaces.
The delegation, dubbed the "Unstoppable Women Workers," included Ai-jen Poo of National Domestic Workers Alliance, Monica Ramirez of National Farmworker Women's Alliance, Fatima Goss Graves of National Women's Law Center, and others.
Guided by farmworker women and domestic workers, many of whom had experienced labor exploitation and sexual violence on the job, the delegation met with key lawmakers, including Senator Bernie Sanders (VT), Senator Patty Murray (WA), Senator Cory Booker (NJ), Congresswoman Rosa DeLauro (CT), Congresswoman Pramila Jayapal (WA).
Policy Demands Include:
Expanding Title VII of the Civil Rights Acts to extend protections to all workers.
Supporting the Fairness for Farm Workers Act to ensure that farmworkers receive overtime compensation.
Passing a Federal Domestic Workers Bill of Rights to provide the domestic workers with basic labor protections, including the development of a new framework and mechanism that can extend
safety-net benefits to domestic workers.
The delegation additionally held a congressional luncheon on July 11, and a public forum at the U.S. Capitol Visitors Center on July 12 that included Jane Fonda as the keynote speaker.
"The issue of workers rights has been very important to me for a long time. But with the rise of the TIME'S UP and #MeToo movements, this is a new reality." said Jane Fonda, Academy Award winning actress and activist. "If we are truly going to confront and solve the issues of dignity, equality, rights and safety, we have to stand in alliance with our sisters across all sectors. I am honored to be here with domestic workers and farm workers as we call on Congress for policies that will uphold their rights and dignity. We are here for the long haul."
"Domestic workers and farm workers are proud to be a part of a growing movement of women that are transforming the way we live and work in America," said Ai-jen Poo, executive director of National Domestic Workers Alliance. "The workers who have been the least visible and most vulnerable are now at the center of our solutions, which means that when we win, no one will be left behind."
"As we speak, many farmworkers are working 15 hour days to cultivate and harvest the fruits and vegetables that we eat," said Mily Trevino-Sauceda, co-director of Alianza Nacional de Campesinas. "Hundreds of farmworker women around the country are leading to create change for our community. It's imperative that we work together to ensure safe and dignified working conditions for all working women."
"As care workers, we provide care to our loved ones and our most precious possessions. Our work makes all other work possible, yet our exclusion from many labor laws makes us vulnerable to exploitation and abuse," said Myrla Baldonado, domestic worker and organizer with Pilipino Workers Center. "We need to pass stronger laws and enforce them to protect all of us, not just some. We ask you to stand with us. We must change the way America cares."
This effort builds on this year's Unstoppable Day of Action, which for the first time brought together more than 100 domestic workers and farmworker women to the nation's capital to push for an expansion of Title VII of the Civil Rights Act among other workplace laws.[6]
IPS partner
Institute for Policy Studies is a "key partner with the National Domestic Workers Alliance". [7]
References