Nathan Gregory Silvermaster
Jump to navigation
Jump to search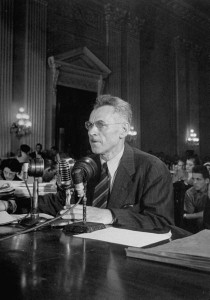 Nathan Gregory Silvermaster
Early life
Born in Odessa in 1899, Nathan Silvermaster and his family reached the United States in 1914. After spending his post college years from 1920 to 1935 as an active Communist Party USA member on the West Coast, Silvermaster moved to Washington to work at various New Deal agencies before settling at Treasury.[1]
Induction to espionage
Silvermaster had met Earl Browder and served as his courier duringthe 1934 "general strike" in San Francisco. It was through Browder that Silvermaster was introduced to Jacob Golos and the Soviets' East Coast intelligence network. Silvermaster's wife, Helen, a distant relative of the famous Czarist Prime Minister Count Witte, was also willing to assist Soviet intelligence.[2]
Espionage agent links
Louise Bransten first met Gregori Kheifets in 1942, and soon afterward commenced an intimate association with him. In fact, Bransten was unquestionably the closest associate of Kheifets, and he frequently confided in her.
While Louise Bransten's open activities appeared to have been related principally to the American-Russian Institute, a Communist- front organization, she frequently met with individuals such as Haakon Chevalier, professor of Romance languages at the University of California, Joseph North, editor of New Masses; Earl Browder, his brother, William Browder, Lement Upham Harris, Gerhart Eisler and Nathan Gregory Silvermaster.[3]
"Silvermaster Group"
Because of his relationship with Golos, in 1941-42, Silvermaster became the coordinator of several other Soviet sources - economists like himself-within the wartime U.S. government: Frank Coe ("Pick"), William Ludwig Ullman ("Polo"), and David Silverman ("Eleron").
Later additions would include Treasury's Harry Dexter White, who had been involved during the 1930S with the GRU network for which Whittaker Chambers had been a courier.[4]
The "Silvermaster Group," as it was called by American counterintelligence experts once it was exposed, was actually an untidy assemblage of agents and sources with little "group" identity. Thus, one member-Frank Coe-complained frequently to handlers that his agent work was hindering his "official" career. Another-Solomon Adler ("Sax") - had actually left Washington for duties in China, though Moscow still counted him in Silvermaster's conspiratorial cohort. Even Harry Dexter \Vhite, a veteran Soviet source, was a reluctant recruit: agitated constantly over the possibility of exposure, concerned with career advancement within Treasury, and generally (in Zarubin's words) "a very nervous and cowardly person."
Despite the organizational disarray, Silvermaster and his associates produced for the NKVD the most valuable information then being generated from its American stations. Immediately after Germany's invasion of the Soviet Union in June 1941, for example, Silvermaster delivered to Golos and other Soviet operatives documents from the U.s. military attache's office in London and elsewhere containing recent data on the German armed forces and its deployment in Germany and various occupied countries.
References