Natalie Jeffers
From KeyWiki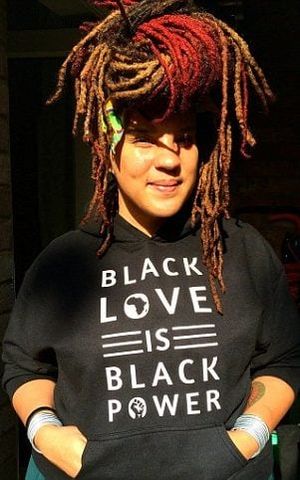 Natalie Jeffers is the co-founder of Black Lives Matter UK.[1],[2]
Natalie Jeffers was cited at the Women's March London website.[3]
In Solidarity with Black Lives Matter - US
Natalie Jeffers wrote an article with Alexandra Wanjiku Kelbert for the UK-based "Voice"[4] that read in part:
"The lack of jobs in the UK isn't down to immigrants, it's down to a lack of government investment, generation upon generation. If schools are failing and the NHS is seriously ill, it's because not enough resources go into them, not because of the numbers of immigrants who use the services - the very same immigrants who take zero hour contracts, work long unsociable hours, and undertake menial jobs that keep our services working despite the Tory cuts to them.
"At the end of the day politics is about choice, and so the biggest lie of them all is when politicians tell us we have none. No choice but to close the borders, no choice but to pursue austerity, no choice but to choose to address symptoms rather than the root causes of knife crime or terrorism.
"One of the results of the harrowing events that happened in Manchester and London is we've seen all parties move towards a discourse of increased security, everyone trying to out-pledge the other with promises of more police in our communities, more armed police on the streets, and greater powers to "do whatever needs to be done", including obliterating the Human Rights Convention - a familiar Tory tale.
"While we do need to talk about security of our streets and about the fast-changing context in which we live in, and while we do need to have conversations and indeed action for how to keep us all safe, let us not forget what happens when the policing of black, brown, immigrant communities is increased and when police are empowered to shoot-to-kill.
Unitarian Universalist
Natalie Jeffers in a video featuring Highlights from Black Lives of Unitarian Universalist from the 2017 UUA General Assembly in New Orleans, LA
Natalie Jeffers
spoke at a video released by the
Black Lives of Unitarian Universalist
Organizing Collective.
References