Nanette Barragan
From KeyWiki
Nanette Barragan won California Congressional District 44 in 2016. Barragán was the only Latina to win an open House seat, and she points to the Congressional Hispanic Caucus' fundraising political action committee, the Committee for Hispanic Causes/Building Our Leadership Diversity PAC (CHC BOLD PAC), as a major factor in her win.
Barragán beat Sen. Isadore Hall (D-Compton) in the race to replace Rep. Janice Hahn (D-Los Angeles), who gave up the seat to run for the L.A. County Board of Supervisors.
Barragán rallied public support to keep a Bakersfield oil company, E&B Natural Resources, from drilling in the Santa Monica Bay, the issue that drove her to join the Hermosa Beach City Council.
Her parents immigrated to the United States from Jalisco and Mexico City.
Education
UCLA, political science B.A. 2000
USC, J.D. 2005
Endorsed by Our Revolution
Nanette Barragan was endorsed by Our Revolution, an organization run by former campaign workers and supporters of former socialist presidential candidate Bernie Sanders.[1]
HR 109 endorser
By February 20 2019 endorsers of Alexandria Ocasio-Cortez's HR 109 (Green New Deal) included Nanette Barragan.
Medicare For All Congressional Caucus founders
In August 2018 Medicare For All Congressional Caucus founding members included Representative Nanette Barragan.
Medicare for All Act
In February 2019 Rep. Pramila Jayapal introduced H.R.1384 - Medicare for All Act of 2019. By May 29 she had 110 co-sponsors including Rep. Nanette Barragan.
PDA 2016 endorsements
In 2016 Progressive Democrats of America endorsed;
Progressive Democrats of the Santa Monica Mountains, 10th Anniversary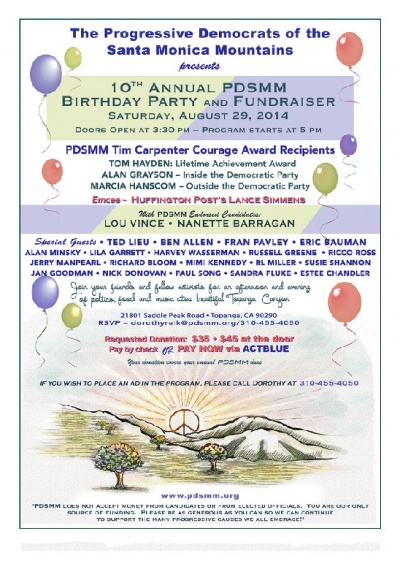 Attendees;
Progressive Democrats of the Santa Monica Mountains Tim Carpenter Courage Award Recipients
MC - Huffington Post's Lance Simmens
PDSSM endorsed candidates - Lou Vince, Nanette Barragan
Special guests - Ted Lieu, Ben Allen, Fran Pavley, Eric Bauman, Alan Minsky, Lila Garrett, Harvey Wasserman, Russell Greene, Ricco Ross, Jerry Manpearl, Richard Bloom, Mimi Kennedy, R.L. Miller, Susie Shannon, Jan Goodman, Nick Donovan, Paul Song, Sandra Fluke, Estee Chandler.
CPC
In 2017 Nanette Barragan was a new member of the Congressional Progressive Caucus.
Los Angeles Women's march
The Women's March on Washington took place in January 2017, with sister marches also being held all over the country in support of the march. Thousands of people" are gathering and participating in the Los Angeles march, with countless celebrities joining in as well". One of the organizers was Emiliana Guereca'
Speakers
CHIRLA connection
CHIRLA held 2 roundtables with supportive Congressional representatives and Chambers of Commerce. One was held on October 18th with Minority Leader Nancy Pelosi, Rep. Judy Chu, Rep. Lucille Roybal-Allard, and Rep. Jimmy Gomez. A second Roundtable was held between CHIRLA California Dream Network youth and Rep. Linda Sanchez at Cal State Fullerton on October 19, 2017.
September/October 2017, CHIRLA organized 3 public events and 2 business roundtables with the Los Angeles Chamber of Commerce and Rep. Nanette Barragan and Rep. Jimmy Gomez, as well as the Hispanic Chamber of Commerce, Los Angeles County Business Federation (BizFed), and the Carson Chamber of Commerce.[4]
Congressional Progressive Caucus PAC
In 2018 Congressional Progressive Caucus PAC (CPC PAC), the political arm of the 76-member Congressional Progressive Caucus, endorsed incumbent Nanette Barragan for the House of Representatives.[5]
References