Nancy Fraser
From KeyWiki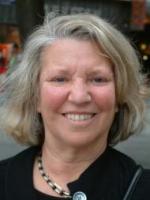 Nancy Fraser is Professor of Political Science at the New School University in New York. A noted feminist thinker concerned with concepts of justice. Her previous books include Unruly Practices, Justice Interruptus and Feminist Contentions(co-authored with Judith Bulter, Drucilla Cornell and Seyla Benhabib). In addition to her many publications and lectures, Fraser is also the editor of Constellations, an international journal of "critical and democratic theory"[1].
An Einstein fellow at the John F Kennedy Institute of the Free University of Berlin, she also holds the chair in global justice at the Collège d'Etudes Mondiales, Paris. In winter 2014, she will be visiting professor of gender studies at Cambridge University. Her most recent book is Fortunes of Feminism: From State-Managed Capitalism to Neoliberal Crisis (Verso, 2013).
boundary2
Joseph Buttigieg served on the editorial board of boundary 2 with Paul Bove, Jonathan Arac, William Spanos, Michael Hays, Daniel O'Hara, Donald Pease, Margaret Ferguson and Nancy Fraser. [2]
Socialist Scholars Conference 1990
The Socialist Scholars Conference 1990, held September 6-8, at the Hotel Commodore, New York, included panels such as:[3]
Feminism and the Public Sphere
New Party builder
New Party News Fall 1994 listed over 100 New Party activists-"some of the community leaders, organizers, retirees,, scholars, artists, parents, students, doctors, writers and other activists who are building the NP" the list included Nancy Fraser, Northwestern University
DSA's Cuba Letter
Nancy Fraser signed an April 2003 Statement on Cuba, initiated and circulated[4] by prominent Democratic Socialists of America (DSA) member Leo Casey, calling for the lifting of trade sanctions against Cuba.
"a statement circulating among democratic left/socialist folks, largely by members of Democratic Socialists of America, condemning the recent trials and convictions of non-violent dissenters in Cuba".
The petition criticized Cuba's poor human rights record, but shared the blame for Cuba's problems with reactionary elements of the U.S. administration...
The democratic left worldwide has opposed the U.S. embargo on Cuba as counterproductive, more harmful to the interests of the Cuban people than helpful to political democratization. The Cuban state's current repression of political dissidents amounts to collaboration with the most reactionary elements of the U.S. administration in their efforts to maintain sanctions and to institute even more punitive measures against Cuba.
Many of the petition's 120 odd signatories were known members of DSA.
2008 YDS event
On the heels of a strong Young Democratic Socialists turnout at DSA's 2007 national convention, its winter outreach conference's success represents another stepping stone for a revived YDS. The conference title, "Be Realistic, Demand the Impossible: Reviving Democratic, Socialist, and Youth Activism," honored the spirit of the young radicals of 1968 and reflected similar hopes and dreams that continue to motivate young activists forty years later.
On Friday evening February 15, 2008, the conference opened with a panel discussion: "2013 Isn't Soon Enough: The Anti-War Movement Post-Bush." The gathering of close to one hundred young activists served both as conference opener and an Iraq Moratorium event. YDS has participated in numerous Iraq Moratorium events (monthly actions to raise awareness against the war in Iraq) since September and the panel showcased our grassroots work on a national stage. [5]
In the closing plenary on Saturday, Temple University political theory professor and DSA Vice- Chair Joseph Schwartz, prominent socialist-feminist theorist Nancy Fraser, and veteran trade union leader and DSA Vice Chair Jose LaLuz addressed the continued importance and relevance of democratic socialist values to building mass social movements for racial, economic, and gender justice.[6]
Women's March
In The Guardian Monday 6 February 2017, Linda Martín Alcoff, Cinzia Arruzza, Tithi Bhattacharya, Nancy Fraser, Barbara Ransby, Keeanga-Yamahtta Taylor, Rasmea Yousef Odeh, Angela Davis wrote;
Women of America: we're going on strike. Join us so Trump will see our power... The 'lean-in' variety of feminism won't defeat this administration, but a mobilization of the 99% will. On 8 March we will take to the streets.
The massive women's marches of 21 January may mark the beginning of a new wave of militant feminist struggle. But what exactly will be its focus? In our view, it is not enough to oppose Trump and his aggressively misogynistic, homophobic, transphobic and racist policies. We also need to target the ongoing neoliberal attack on social provision and labor rights....
Let us join together on 8 March to strike, walk out, march and demonstrate. Let us use the occasion of this international day of action to be done with lean-in feminism and to build in its place a feminism for the 99%, a grassroots, anti-capitalist feminism – a feminism in solidarity with working women, their families and their allies throughout the world.
References