Nadina LaSpina
From KeyWiki

Nadina LaSpina "is an activist for social justice and in particular for disability rights. She has been arrested countless times for civil disobedience and is an organizer for American Disabled for Attendant Programs Today (ADAPT), Not Dead Yet and the Disability Caucus of Occupy Wall Street."[1]
Occupy Wall Street
Nadina LaSpina wrote an article for New Politics, "an independent socialist forum for dialogue and debate on the left,"[2] where she described organizing disabled people to join the Occupy Wall Street movement:
"Since ADAPT is known as the radical arm of the disability rights movement, I didn't expect an ADAPT leader to disapprove of our involvement in Occupy. Yet, Bob Kafka wrote: "At a time when our people across the country are being threatened with cuts to basic services, States are slashing Medicaid budgets, workers with disabilities are being targeted [and laid off], sheltered employment pays sub-minimum wages, we need to use our scarce organizing energies and resources carefully, and not be dazzled by a movement that hardly recognizes our issues." And he added: "Personally I'm tired of educating 'progressives' on our issues 38 years after 504 [the Section of the 1973 Rehabilitation Act prohibiting discrimination on the basis of disability in all programs receiving federal funding] and 21 years after the ADA [Americans with Disabilities Act]."
"Bob's message exemplifies a widely held attitude in the disability rights movement, that of seeing our issues as ours and ours alone.
"All of us who fight for social justice know very well that it's always the poorest and the neediest who pay for the sins of the rich. In times of plenty, poor people are thrown some crumbs. And those crumbs often are enough to pacify us and render us passive. In times of economic crisis, of course, poor people are the ones who are made to bear the heaviest burden."
[...]
"What Occupy has also done is embolden all of us. You will hear previously timid people say words out loud with pride. Words like 'revolution.' You'll hear 'I'm a socialist,' a democratic socialist or whatever kind of socialist, or a communist or an anarchist."
"This is the time for the disability movement to be bold. For decades, the strategy of the power elite has been to throw us those crumbs and then threaten to take them away. They keep us fighting to hold on to those crumbs, so we do not demand what should be rightfully ours."
[...]
"It is time we move "beyond ramps"—that's the title of a book my friend Marta Russell wrote back in '97. It is even time to move beyond fighting for equality. And fight to change the system that creates and fosters inequality."
"I don't remember how many times I've been arrested"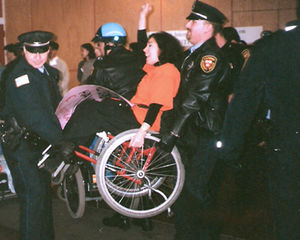 "I don't remember how many times I've been arrested. I lost count years ago. Unfortunately such dramatic actions are necessary to get our struggles to the attention of government, the media, the general public.
"I wish we could stop fighting. But so many of our people are still incarcerated in nursing homes and other institutions, so many are still living below the poverty level, so many are being denied basic human rights, including the right to live... The promise of equality of the Americans with Disabilities Act still remains unfulfilled... We still face prejudice and discrimination in every area of our lives on a daily basis...
"We have no choice but to keep fighting. Activism must come first."[3]
Arrests in 2002
Below is a first-hand account from Bruce Darling about a "direct action" protest in 2002:[4]
"Some of us were able to put into practice what we learned about civil disobedience from Bob and Stephie a few days later when we went to Albany and were part of the ADAPT action there. The action turned out to be very exciting and quite effective. Our message was heard --loud and clear. For the first time we had a large crowd. In past Olmstead actions, in Albany, we never had more than 50 people. This time, because many of the (independent living) people that attended the "Our Homes Not Nursing Homes" Conference joined us, we had about 200 people. And for the first time there were arrests. Eight people were arrested, two of us from NYC - myself and Dina Niedelman (with her little dog Tiny). So the State officials now know how serious we are. We also got lots of media coverage, most of it very positive."
[...]
"Mel Tanzman, Nadina LaSpina, T.K. Small and I (Bruce Darling) went to meet with Mr. Wolner. At this point, it seems someone from the state decided to 'show us' that direct action doesn't work. Mr. Wolner didn't show up for the meeting. We waited nearly 45 minutes for him and then returned to the Health Department Tower where we instructed everyone to leave the building.
"We exited the building and lined up in the Concourse. Kathleen Paultler was shouting, 'Grab a sign. Get in Line!' as loud as she could. We began marching to the Capital. It was awesome. The line seemed to go on forever. Looking back you were struck by the large numbers of people.
"We got to the elevators that took us up into the Capital Building and a group of about a dozen people got to the first floor before the elevators were shut down. Four people had made it up to the Governor's floor by elevator when State Troupers shut it down. Nadina LaSpina (NYC), Chris Hilderbrant (Rochester), Spitfire Sabel (Philadelphia, PA), and Ann Kaplow (Rochester). Four more came up by the stairs. Dina Niedelman (NYC) crawled with assistance from Larry Fein (Buffalo). Debbie Bonomo (Rochester) was carried part of the way by Bruce Darling (Rochester) and crawled the rest. In all, eight people got up to the second floor."
"The group was waiting in the Concourse and cheered as each arrestee came out of the State Police Station. I was touched that Bonnie Shoultz was there waiting for us. We walked back to the hotel in single file where we got rooms for the extra people who stayed, including Larry and Todd Vaarwerk from Buffalo. We didn't get a meeting, but we knew we raised community awareness."
References