Nabil Abuznaid
Jump to navigation
Jump to search
Template:TOCnestleft Nabil Abuznaid is an a prominent Palestinian/American activist and was a "close friend" and advisor to Yasser Arafat. He is the father of Ahmad Abuznaid.
Background
"Dr. Nabil Abuznaid was appointed the head of the Palestinian Mission to the Kingdom of the Netherlands in September 2009, prior to this appointment Dr. Abuznaid served as Chargé d'Affaires in The PLO Mission to the United States beginning in 2008. Dr. Abuznaid first joined the PLO Mission in Washington as the Deputy Head of Mission in 2004.
"Dr. Nabil Abuznaid was born and raised in Hebron, Palestine. He has been a committed public servant who has had the honor of serving as an advisor to the late Chairman and President of the PLO, Yasser Arafat. Prior to joining the Palestinian Delegation in Washington, D.C., Dr. Abuznaid held various teaching positions in Palestinian Universities and was the Director of the International Relations Department at Hebron University. During his tenure at Najah National University in Nablus, he was the lead coordinator of the Palestinian Universities' Staff Unions in the Occupied Territories. Dr. Abuznaid was a member of the Palestinian Delegation that participated in peace talks in Annapolis in November 2007. Dr. Abuznaid has organized and participated in several international conferences on Palestine. He is also the author of numerous articles and has been interviewed by many major media organizations, including CNN, Al Jazeera, and Time Magazine.[1]
Education
"Dr. Abuznaid received his Bachelor of Science degree in Political Science from James Madison University in Harrisonburg, Virginia in the U.S. He then obtained a Master of Arts degree in International Relations from Howard University in Washington, D.C and later received his Ph.D in International Relations from Warsaw University in Warsaw, Poland. Dr. Abuznaid's dissertation was written on the Palestinian/Israeli conflict and is titled: "From Confrontation to Negotiations".[2]
Palestinian negotiator
"In 1993, when President Bill Clinton and Palestine Liberation Organization Chairman Yasser Arafat shook hands on the White House Lawn, Palestinian peace negotiator Nabil Abuznaid (James Madison University '79) obviously savored the political symbolism of that historic turn in U.S.-Middle East relations. The internationally-televised handshake had publicly elevated the Palestinian people and Arafat himself from the status of terrorists to full partners in the region's peace process. And Abuznaid had helped that moment arrive.
"But the catharsis of achievement washing through Abuznaid was much more personal and profound. "I was crying and happy and surprised and excited all at the same time," he says. "I could not believe the American president was shaking the hand of Chairman Arafat just a few yards away from Pennsylvania Avenue, where my friends and I had demonstrated and protested on behalf of the Palestinian people. I could not contain my emotions. I was overcome with gladness and gratitude."
"From Madison College student to professor to behind-the-scenes Middle-East peace negotiator, the Palestine native has felt the full circle of growing pains in the United States' acceptance of his people and their cause.
"Circa 1985, the U.S. Justice Department kept the wary eye of its criminal division on the Palestinian Information Office (a foreign mission much like an embassy) in Washington, D.C., where Nabil Abuznaid answered media inquiries on Palestinian culture, assisted members of Congress on Palestinian issues and gave lectures about the Palestinian people.
"I worked in this office to make others aware of my people's culture and struggles," he says. "I developed lifelong relationships and friendships with some members of Congress and the media, but I always felt the watchful eye of the Justice Department officials. I feel that we were looked at as possible terrorists."
"Abuznaid first worked for the information office straight out of Madison College. During his first year, FBI agents found - in time - a bomb in his Dupont Circle office building. "There are many people who are actually against peace between Palestine and Israel," he says.
"Abuznaid is not one of them, despite that and other narrow escapes, including arrests and surveillance, living under Israeli occupation and living dangerously in the potentially violent vortex of the peace process. Instead, Abuznaid has committed his life to work for peace and understanding. His efforts have included a career as an educator at Mid-Eastern universities and as a secret peace emissary, carrying messages between Palestinian and Israeli leaders, setting agendas and mapping out negotiation blueprints both before and after the 1993 Oslo talks. Understandably, Abuznaid cannot speak in detail about his role and strategies in a process rife with nuance and strong convictions.[3]
Arrest
"His path to peace could have been a different one, especially after being arrested and held for 18 days by Israeli soldiers for being suspected of political activism. "I was held in an Israeli jail, where I sat for hours handcuffed to a wall with a sack over my head," Abuznaid says. "When I was released, I could have easily picked up a rifle and become a soldier for the PLO or another faction," he says. "But taking up arms achieves nothing but losing our loved ones. My study and work in America - where I first experienced freedom - helped me realize that my life's work would be educating others about my people and our desire for peace. Peace, not war."[4]
US education
"Abuznaid's Madison experience affected his choice to work for change with words rather than violence. He studied political science at Madison College, learning of JMU when he visited Palestinian friends at Eastern Mennonite College.
"I loved my Madison experiences," Abuznaid recalls. "JMU was a huge step, which changed my life. I traveled thousands of miles across the ocean to sit in a classroom and study a new culture. And JMU showed me what real freedom felt like. I wondered why it couldn't be like this at home. Why couldn't I vote in a free election and have my own country? I decided that I needed to educate others - Palestinians, Americans and everyone - about the Palestinians' struggle for peace and nationality."
"And even at an institution of higher learning, that was sometimes an up-hill battle. Abuznaid studied at JMU during the 1970s, when students readily recalled the slaughter of Israeli athletes at the 1972 Munich Olympics and saw newscasts of Middle East terrorists hijacking planes, exploding car bombs, and kidnapping and vilifying westerners. Those images didn't accurately reflect Abuznaid's personal experiences.
"I asked a Palestinian friend who was studying at Eastern Mennonite College to come and speak about our culture to my JMU classmates," Abuznaid recalls. "In my political science classroom, we were being taught about our rights to expression and free speech, but my friend was protested against by other students for just talking about our homeland."[5]
Meeting Arafat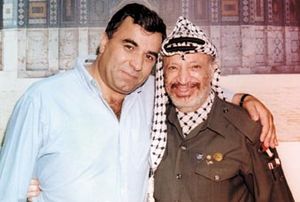 "Yet Abuznaid harbors no resentments nor ill will. "I wouldn't change any part of my time here at Madison," says the man whose American experience was part of the reason Arafat selected him as a personal adviser. Abuznaid met Arafat in the 1980s in Beirut, Lebanon (PLO headquarters), during his second stint at the Palestinian Information Office. He returned to the information office while completing his master's and taking Ph.D. courses at Howard University. He completed his dissertation on negotiations and international relations at the University of Warsaw, Poland.
"Abuznaid has worked confidentially with Arafat throughout the Mid-East peace process, becoming a close friend of the PLO chairman. The soft-spoken Abuznaid, who is decades younger than Arafat, speaks modestly of their close relationship. "Chairman Arafat is one of the most amicable men I know. When you first meet with him, it usually involves sharing a meal. And, at his table, he serves you first. He is genuinely personable. He asks about your family and your life. He has so many world issues weighing on his mind, but he still thinks of you personally. The more I know him, the more I like him."
"Abuznaid's inside view of Arafat fits the now-softening, even grandfatherly, image the world media is beginning to paint of the man they once portrayed as a brutal terrorist. "I know that President Arafat carries inside him a burden for peace for both Israel and Palestine," says Abuznaid.
"To skeptics of the Mid-East peace process, who recall acts of terrorism executed by both the PLO and Israelis, Abuznaid acknowledges, "I hope both sides have learned from their mistakes. … We have learned that it is very easy to start a war, but it takes wisdom and courage to work for peace. There is nothing any of us can do about the past, but we can learn from it, and focus on changing the future. ...
"I will do everything possible to bring Palestine and Israel together," he adds. "I want both nations' children to stop throwing bombs and stones and to throw balls and share food with each other. Violence achieves nothing. I hope this opportunity of peace is not lost; and I hope the world members who support peace in the Mid-East will support our peace. Our children should have the opportunity to live free."[6]
Peace process
Abuznaid speaks eloquently and passionately of the Palestinian people, their desire for a state and the regional peace process. He chooses his words carefully, a natural habit for an adviser and negotiator, but his radiant smile and welcoming manner have no doubt made him an engaging teacher. He has taught at Najah National University in the West Bank (1983-85) and is currently a professor of political science at Hebron University (near Jerusalem), where he has taught since 1992. He and wife, Lubna Abuznaid, maintain homes in Hebron and North Lauderdale, Fla., with their sons, Ahmad Abuznaid, 16, and Adam Abuznaid, 5.
"All of us are members of the world community and we should all work to educate others," says Abuznaid. "I want to return the nice things that were done for me throughout my education, and I want to do that for both Americans and Palestinians."
And Israelis too. Abuznaid frequently takes his peace mission on the road and has appeared in Israel, on the floor of the U.S. Congress and in a classroom at JMU. During a fall 1999 visit to campus, he discussed the history of the Palestine/Israel conflict and his involvement in the peace process with a group of political science students studying international negotiations. "In the past, many Americans viewed Palestinians as only terrorists," says Abuznaid, conceding that media images played a key role in that view. "But it is impossible for you to know personally what it feels like to live under an occupation."
And contrary to those well-worn media stereotypes, Abuznaid adds, "Palestinians look favorably toward Americans because throughout history they have never been an occupying or colonizing force in the Mid-East. It was the British who colonized Palestine. Their promise to form a Palestinian state was never carried out after decolonization; and when the State of Israel was formed in 1948, hundreds of thousands of Palestinians became refugees. Since 1948, there has been nothing but displacement, anger, resentment, conflict and violence in our region."
As a visible and historic reminder, Abuznaid opens his wallet and shows the class his family's refugee card issued by the United Nations. In the other hand, he proudly holds his diplomatic passport, issued by the Palestinian National Authority and signed by President Yasser Arafat.
"The PLO was formed to reclaim our homeland, and throughout the 1960s, '70s and '80s the movement became more powerful, yet the U.S. tried to deal with the region without acknowledging the PLO's existence. … Now you can begin to understand my great joy and satisfaction in watching an American president shake the hand of the PLO leader at the White House."
After the fall of the Soviet Union, the Middle East ceased being a proving ground for Cold War superpowers, and Abuznaid says, "the United States was the first to step up and try and bring peace to the region. And our people are grateful for that."
That first step began with President George Bush's historic Madrid Conference in October 1991. "This was the first attempt at a peace formula," says Abuznaid. "This was the first time that there were direct, face-to-face talks between Israelis and Palestinian leaders. Both sides recognized the importance of negotiating for peace. … Unfortunately, these talks were under heavy international scrutiny because they were public. It is hard to make concessions when the world is watching."
After the 1991 peace talks failed to achieve a plan for peace, and as Abuznaid played out his role in the secret negotiations leading up to the 1993 Oslo Peace Talks, this man of peace put his own safety on the line. It was nothing new. He petitioned before the high court of Israel, making a case to reopen Hebron University after Israeli terrorists shot three students in a classroom, burned the library and closed the school for nearly six years during the Intifada. Instead of taking up arms in retaliation, his negotiations before the court were successful. "We must always be seeking peaceful resolutions to conflict," he says.
The December 1992 Oslo talks were a turning point in the history of the peace process. Neutral Norway hosted the talks in private, making it much easier for leaders to make concessions. The resulting Declaration of Principles and Oslo Accords were signed by Arafat and Israeli Prime Minster Yitzhak Rabin on the White House lawn, and Israel began to withdraw from the West Bank and the Gaza Strip. For the first time, the Palestinian government had authority and raised its own flag.
"The world needs to realize what a huge step it was for these two sides to move from hostility and killing to negotiating," says Abuznaid. "When Rabin and Arafat shook hands, it was a giant accomplishment. That step changed the image of us as terrorists to one of the U.S. president welcoming us with open arms. Rabin and Arafat, two enemies, took huge steps, not just one, but many. This affected everyone's daily life. Palestinians must accept a hard life right now, but we must go through this struggle for our children's future. We must forgive. We must do things for our children, so they may live in peace, meet in cooperation, receive a good education and have better lives. Arafat and the new Israeli prime minister, Ehud Barak, are continuing this work for peace."
Currently the Palestinians and Israelis are discussing settlements, refugees, borders and Jerusalem issues against a backdrop of sporadic violence and shifting coalitions. And despite his optimism over the progress made so far, Abuznaid recognizes that the future is uncertain. "As long as Israel wants to control the land," he says, "there will be no free Palestinian state; and I believe there will be no peace until there is a Palestinian state. It's nice to address negotiation deadlines, but I expect it will take longer to make a lasting peace. We need to worry less about meeting deadlines and more on working toward resolving serious issues."
Today Abuznaid is working on more ways to address those serious issues and to change the attitudes of the next generation. He is raising funds for Hebron University's center for peace. As a testament to his powers of persuasion and negotiation, Saudi Ambassador Prince Bandar Bin Sultan agreed to Abuznaid's request to fund the center, which is named in his honor - the Prince Bandar Bin Center for Peace and Regional Studies. "Our goals for the center are to teach peace studies, to teach democracy and to study and research issues of the Mid-East region, including the environment, economics and the struggle for peace," says Abuznaid.
In addition to his duties as director of the center, Abuznaid is an academic and political leader, who speaks for the Palestinian National Authority and on behalf of his people around the world. "Arms fail," says Abuznaid. "The only choice we have is to use our brains at the negotiation table. We must solve issues in peaceful ways, not on the battlefield. That is our future - our peace."[7]
Ambassador
June 2015, for the first time in history, Palestine voted as a member of the Assembly of States Parties, a meeting of the members of the International Criminal Court in The Hague. It was an emotional day for Palestine's ambassador, Nabil Abuznaid.
"It's emotional to be here and to have State of Palestine - for the first time - written on my desk. This is really big for Palestine. Today was a special day: to vote for the first time, to elect an ICC judge.
"I have been referred to as Palestinian observer, Palestinian authority, Palestine Liberation Organisation. To be called State of Palestine in an international organization is new. It's a good feeling not to be outside but amongst the civilised nations.
"Many people looked at me and shared there happiness, saying: 'Wow, you're closer now. This is a step towards towards the state. Congratulations!' So I have received lots of smiles, lots of congratulations.[8]
References