Muna Coobtee
From KeyWiki
Muna Coobtee is a founding member of the Party for Socialism and Liberation and a member of the ANSWER Coalition Steering Committee in Los Angeles, representing the Free Palestine Alliance. Muna is also a member of the Palestinian American Women's Association and a 2011 graduate from the USC School of Social Work.[1]
Anti Iraq War
October 27, (circa 2007) in Los Angeles, nearly 20,000 people marched through downtown to the federal building for a mass rally and Die-In.
After the march, almost everyone present participated in a mass symbolic Die-In. Ian Thompson of the ANSWER Coalition introduced the Die-In while masses of people lay down. Thundering sound effects of air raids and bombs exploding punctuated the action, followed by a solemn minute of silence for the Iraqis and U.S. soldiers killed in the war. As protesters rose up after the Die-In, all chanted "Stop the war!" Preston Wood of ANSWER and Greg Akili of African Americans Against the War spoke about the cost of war on people in the United States, urging everyone present to become organizers in the anti-war movement. Muna Coobtee of the National Council of Arab Americans spoke about the dire conditions facing Iraqis due to the imperialist occupation.
Other speakers included actors Martin Sheen ("The West Wing"), Mike Farrell ("MASH") and Mark Ruffalo ("Zodiac"). ANSWER initiated the protest, which was organized by the Oct. 27 Stop the War Coalition, a broad array of progressive, anti-war and social justice organizations.[2]
National Conference on Socialism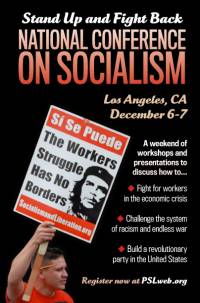 The Party for Socialism and Liberation held a National Conference on Socialism, December 6-7, 2008 in Los Angeles, CA.
The Opening Plenary introduced conference participants to the Party for Socialism and Liberation, highlighting recent struggles and campaigns.
The Opening Plenary was chaired by Peta Lindsay, PSL- Los Angeles.
Speaking on the plenary were;
References