Muhammad Ahmad
From KeyWiki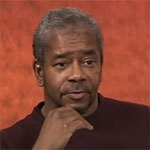 Muhammed Ahmad was formerly known as Max Stanford.
RAM
In 1963, young activists led by Max Stanford (Muhammad Ahmad)—a close associate of Malcolm X and Queen Mother Audley Moore —created the Revolutionary Action Movement . A semi-clandestine organization and paramilitary wing of the Organization of Afro-American Unity, the RAM articulated a revolutionary program for African Americans that fused Black nationalism with Marxism-Leninism. Its goal was to develop revolutionary cadre in the northern cities and connect with more militant students in the south involved with the Student Non-violent Coordinating Committee and the Congress of Racial Equality .
RAM supported the movement by SNCC and others for armed self-defense for southern Blacks terrorized by the Ku Klux Klan—the extra-legal army "enforcing the racist Jim Crow segregation system". RAM also provided security for Malcolm X after his break from the Nation of Islam and members of RAM actively participated in the Organization of Afro-American Unity.
RAM had an extremely active branch in Detroit, which had become a center of revolutionary activism. During the 1967 Detroit Rebellion, RAM formed the Black Guards, a youth group that hoped to channel the spontaneous rebellion into coordinated revolutionary action.
Despite their limited success in this regard, RAM was one of the first groups that not only recognized the legitimacy of urban rebellions, but also aimed to formulate a concrete plan of action around those rebellions.
RAM became one of the first casualties of the FBI's Counter-Intelligence Program (COINTELPRO) . Max Stanford and other RAM leaders were charged with plotting to assassinate mainstream political leaders Roy Wilkins and Whitney Young. At this point, Stanford dissolved the formal structure of the organization. As individuals, many RAM members gained influence in groups like the League of Revolutionary Black Workers[1].
Comrades
Tyrone Brooks, Michael Simanga, Muhammad Ahmad, Sababu Akili in Wrightsville 1982.
Unity
Muhammad Ahmad, contributed to Unity, November 16 1987, the newspaper of the League of Revolutionary Struggle.
Malcolm X conference
A conference, Malcolm X: Radical Tradition and a Legacy of Struggle was held in New York City, November 14 1990.
The "Fighting Repression and Supporting Political Prisoners" panel consisted of;
Chairperson:
Panel:
Institute for Social and Economic Studies/CrossRoads
In the mid 1990s Muhammed Ahmad served[2]on the Board of Directors of Oakland based Institute for Social and Economic Studies- sponsor of CrossRoads magazine, which sought to promote dialogue and building new alliances among progressives and leftists... and to bring diverse Marxist and socialist traditions to bear while exploring new strategies and directions for the progressive political movements. Ahmad was also a CrossRoads contributing editor.
Key CrossRoads supporters
Among the more illustrious supporters of CrossRoads were Gil Green, Harry Hay, Elizabeth Martinez, Roxanne Dunbar-Ortiz, David McReynolds, Muhammed Ahmad [Max Stanford] and Peter Camejo.[3]
CoC National Conference endorser
In 1992 ,Muhammad Ahmad, Institute for African American Studies, East Cleveland Ohio endorsed the Committees of Correspondence national conference Conference on Perspectives for Democracy and Socialism in the 90s held at Berkeley California July 17-19.[4]
Socialist Scholars Conference
Sam Anderson, New School for Social Research, Abdul Alkalimat, Barbara Omalade, Center for Worker Education, Bill Sales, Gerald Horne, Horace Campbell, Jimmy Garrett, Muhammad Ahmad, Ron Bailey, Jim Turner and Mack Jones were speakers on the Curriculum of Inclusion or... Curriculum of Struggle? panel sponsored by the Antiracist Curriculum Collaborative and the Network of Black Organizations at the Tenth Annual Socialist Scholars Conference. The conference was held April 24-26, 1992 at the Borough of Manhattan Community College, New York City[5]
1993 NCIPA National Steering Committee
As of Spring 1993, the National Committee for Independent Political Action Steering Committee included Muhammad Ahmad .
Black Radical Congress
In March 1998 "Endorsers of the Call" to found a Black Radical Congress included, Muhammed Ahmad, Instructor of African-American History & Political Science, Cuyahoga Community College, Cleveland[6].
Movement for a Democratic Society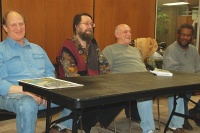 Mike James left, Franklin Rosemont, Mike Klonsky, Muhammad Ahmad, MDS Convergence, november 2007
On February 17, 2007, the Movement for a Democratic Society held a well attended conferenceat New York City's New School University[7].
The event was held in the Graduate Center, 65 Fifth Avenue, and about 100 participants were in attendance. The meeting featured several speakers who are well known figures on the U.S. Left and an agenda that centered around electing a board of directors for MDS, Incorporated – the non-profit arm of MDS that was founded last August in Chicago, at the national Students for a Democratic Society convention.
Manning Marable was elected as Chair of the new Board.
The new board, elected by acclamation, included: Mark Rudd, David Graeber, Judith Malina, Jesse Zearle, Kate Khatib, Roderick Long, Al Haber, Manning Marable, Muhammed Ahmad, Charlene Mitchell, Starhawk, John O'Brien, Barbara Ehrenreich, Gideon Oliver, Jeff Jones and Bert Garskof.
Elected as officers, in addition to Marable as Chair, were three Vice Chairs: Paul Buhle, Judith Malina and Jesse Zearle[8].
In November 8-11 2007, Movement for a Democratic Society held a "Convergence" in Chicago[9]; Speakers included Manning Marable, Mark Rudd, Marilyn Katz, Mike James, Paul Buhle, Al Haber, Franklin Rosemont, Thomas Good and Muhammad Ahmad;
Carl Davidson, Mike Klonsky and Bill Ayers were also present.
Free Mumia Abu-Jamal
In 2008 Muhammad Ahmad, Assistant Professor, Temple University, Philadelphia, PA signed a statement circulated by the Partisan Defense Committee calling for the release of convicted "cop-killer" Mumia Abu-Jamal.[10]
References