Mohammad Khan
Jump to navigation
Jump to search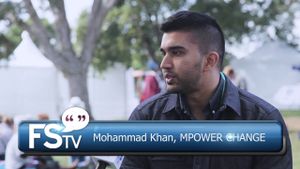 Template:TOCnestleft Mohammad Khan is a campaign director for MPower Change.
"MASSIVE mobilization"
On June 26 2018, Make The Road New York teamed with organizations listed below[1] in rallying against a Supreme Court decision to uphold President Donald Trump's Executive Order 13769, titled "Protecting the Nation from Foreign Terrorist Entry into the United States."[2]
The organization of a "MASSIVE mobilization" was arranged ahead of the Supreme Court decision. In a Google Form requesting information about potential partner organizations, Mohammad Khan and Linda Sarsour of MPower Change were listed as contacts.[3]
From the Facebook Invitation:[4]
"The Supreme Court has ruled in favor of Trump's racist Muslim Ban, so it is time to take to the streets.
"Please join us in Foley Square at 6PM to say #NoMuslimBanEver.
"It's crucial that we have a visible, strong presence across the country of people who care about Muslim and refugee communities and oppose Trump's White Nationalist agenda.
Facebook discussion group
Metro Atlanta Democratic Socialists of America Closed Facebook group, as of September 23, 2017, members included Mohammad Khan.[5]
References