Mitchell Cohen
Jump to navigation
Jump to search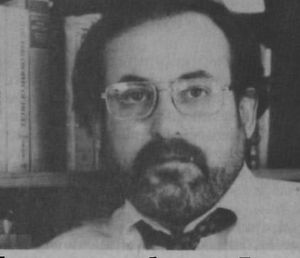 Mitchell Cohen
Socialist Scholars Conference 1990
The Socialist Scholars Conference 1990, held September 6-8, at the Hotel Commodore, New York, included panels such as:[1]
Democratic Movements in Post-Communists Societies
DSA member
In 1990, Mitchell Cohen was a member of Democratic Socialists of America[2].
In 1993 Mitchell Cohen, a longtime DSA member, was co-editor of Dissent magazine and author "Zion and State: Nation, Class, and the Shaping of Modern Israel" and "The Wager of Lucien Goldmann".[3]
Campaign for America's Future
In 1996 Mitchell Cohen, Dissent Magazine, Co-Editor was one of the original 130 founders of Campaign for America's Future.[4]
"Dissent" magazine
In 2009 the Democratic Socialists of America aligned Dissent Magazine masthead[5] Editorial Board members were;
Bernard Avishai, Joanne Barkan, David Bensman, Marshall Berman, Paul Berman , H Brand, David Bromwich, Luther Carpenter , Jean L Cohen, Mitchell Cohen, Bogdan Denitch , Jeff Faux, Cynthia Fuchs Epstein, Todd Gitlin, Murray Hausknecht, Agnes Heller, Jeffrey Isaac, Michael Kazin , Martin Kilson, Erazim Kohak, William Kornblum, Jeremy Larner, Susie Linfield, Kevin Mattson, Deborah Meier, Harold Meyerson, Nicolaus Mills , Jo-Ann Mort, Brian Morton, Carol O'Cleireacain, George Packer, Martin Peretz, Anson Rabinbach, Ruth Rosen, James Rule, Alan Ryan, Patricia Cayo Sexton, Jim Sleeper, Ann Snitow, Cornel West, Sean Wilentz, Dennis Wrong.
References
Template:Reflist Template:Campaign for America's Future co-founders