Missourians Organizing for Reform and Empowerment
Jump to navigation
Jump to search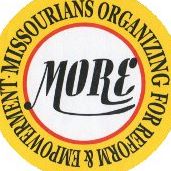 Template:TOCnestleft Missourians Organizing for Reform and Empowerment is a St. Louis Missouri based re-invention of ACORN.
When ACORN was destroyed in 2009, Jeff Ordower stayed in his hometown of St. Louis to help found Missourians Organizing for Reform and Empowerment (MORE), which works on climate and economic justice work.[1]
Staff/activists
Arch blockade
"Seven people, including at least one West Virginian, locked themselves to a 500-pound potted tree inside Arch Coal's headquarters in Creve Coeur, Mo. January 2013, in a protest against strip mining.
A larger group performed songs and dances in the building's lobby, according to the protesters, who are affiliated with the groups Radical Action for Mountain Peoples' Survival, Missourians Organizing for Reform and Empowerment, and Mountain Justice.
'We're here to halt Arch's operations for as long as we can. These coal corporations do not answer to communities, they only consume them. We're here to resist their unchecked power,' Margaret Fetzer, one of the protesters, said in a news release."[2]
I am here at Arch today because a few people here have been making decisions on behalf of all of us and they have been sacrificing the health of communities in Appalachia and across the world for their quarterly profits. Capitalism does not answer to communities, it only consumes them; we must resist this and reclaim our health and freedom. Accountability is only possible when the perpetrators of a crime are answerable to their actions. This is only possible when we come together and listen.[3]
Ferguson report back HangOut
Resistance in Ferguson, led primarily by young Black people, has continued for more than two months, with direct action, organizing, base-building and other forms of resistance. To date, hundreds have been arrested seeking justice—organizers want to make sure there is not only not one more Mike Brown, but also not one more Darren Wilson.
LeftRoots sent a delegation to St. Louis to lend our support to the leaders from organizations like Millennial Activists United, Hands Up United, Organization for Black Struggle, and Missourians Organizing for Reform and Empowerment. We know that to turn this from a moment into a movement, we will need to connect our seemingly isolated fights around gentrification, workers rights, police violence, education justice and more into a strong, resilient and connected movement that can transform our communities, our country and our world.
The program will include reflections from Alicia Garza, Neva Walker, Christine Cordero, Lucia Lin and Steve Williams as well as others who participated in the Weekend of Resistance.[4]
"Black Lives Matter"
Police in St. Louis County say they're expecting a peaceful weekend from protesters marking the anniversary of the fatal police shooting of 18-year-old Michael Brown in Ferguson but that they'll be prepared should events turn violent.
Protest leaders are promising that events scheduled on Friday, Saturday and Sunday, August 2015, in the St. Louis area will be relatively calm. Brown was unarmed when he was killed last Aug. 9 by a Ferguson police officer in a shooting that galvanized the "Black Lives Matter" movement.
"The events we have planned this weekend are intended to show the strength of community, the value of self-empowerment and the power of the people," Nabeehah Azeez, of Missourians Organizing for Reform and Empowerment, said at a Monday news conference, the St. Louis Post-Dispatch reported. Azeez was joined by more than two dozen people from at least nine organizations at St. Louis offices for the Service Employees International Union.
The organizers called upon police to respect demonstrators' free speech rights and to refrain from confronting them in a militarized manner.[5]
References