Minnie Ruffin
From KeyWiki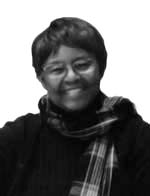 Minnie Ruffin is a Georgia activist. She is active in the Georgia Coalition for the People's Agenda, convened by Dr. Martin Luther King, Jr.'s associate, Dr. Joseph E. Lowery.[1]
Activist roots
Minnie Ruffin hae been a social activist since 1960. She was inspired by the four freshman students at her school, North Carolina A & T State University, who initiated the student sit-ins at a Woolworth lunch counter in downtown Greensboro, North Carolina. In fact, the majority of the student body was inspired.
Many of us joined this movement and others supported it, including many of our teachers.
After lunch counters were integrated, we marched to integrate movie theaters. It was during those demonstrations in 1963 that I participated in my first act of civil disobedience, along with a vast number of other students.
Those were inspirational times. I had been raised as the daughter of sharecroppers, who was always reminded where my "place" was as a human being—a place different from that of the children of the farm owners. It's hard to explain how much it meant to me and other students at my college to be given a glimmer of hope that through our actions perhaps we could change our unprivileged status and become fully equal American citizens.
The seeds of activism planted during those undergraduate days stayed with me through graduate school and I stepped up my social activism again in the anti-Vietnam War demonstrations at the University of California at Berkeley. As a nutrition major, I also volunteered to help in the Black Panther Party's Breakfast for Children Program in Oakland, California. (By the way, their program precede­­d the USDA's breakfast program.)
Ruffin did not participate in the freedom rides and the civil rights demonstrations in Alabama, Mississippi, Georgia, etc., although she did support those actions.
We as Americans made great progress during the 60's and 70's. The Civil Rights Act was passed, the Voting Rights Act was passed, and the war in Vietnam ended. The mistake we made during the succeeding years was that we were not vigilant in making sure we nurtured and strengthened these achievements. So I'm afraid that since the 1980's, hard fought gains have been gradually disappearing. The Voting Rights Act is in limbo; voter suppression is being practiced in over half of the states; the poverty rate is increasing; the homeless rate is increasing; the gap between the very rich and the rest of us is growing; racial, gender, immigrant, and gay discrimination still exists; the environment is being increasingly polluted; and we seem to be at war either openly or secretly in several countries.[2]
MMGA Arrests
Nearly 40 Moral Monday Georgia activists were arrested Tuesday March 18, 2014, for interrupting proceedings throughout the Georgia Capitol in an effort to urge Gov. Nathan Deal to expand Medicaid - and block legislation that would strip him of the authority to do so.
16 Arrests - Senate Gallery: Joe Beasley, 77 Edward Loring, 74, Gary Kennedy, 51, Richard Miles Rustay, 84, Marquerite Casey, 65, Shawn Adelman, 32, female, Lorraine Fontana, 66, Minnie Ruffin, 72, Gladys B. Rustay, 81, Emma Stitt, 23, Morgan Swann, 62, female, Emma French, 22, John Slaughter, 74, Ray Miklethun, 79, Gregory Ames, 65, Robert Goodman, 73.
12 Arrests - at Governor's Office: Shanan Eugene Jones, 39 George F. Watson, Jr., 65, Francys Johnson, Jr., 34, male, Jeffrey Blair Benoit, 55, John Evans, 81, Raphael Warnock, 44, Karen Elaine Reagle, 71, Katherine Acker, 61, George Johnson, 42, Ronald Allen, 38, Fred Douglas Taylor, 71, Donald Bender, 73.
11 Arrests - Outside Senate Doors: Kevin Arthur Morgan, 66, Emilia Sigrid Kaiser, 26, female, Daniel Sean Hanley, 32, Sara Katherine Gregory, 31, Dawn Gibson, 39, Corey A. Hardiman, 22, male, Fred Albert, 67, Jacqueline Rodriquez, 31, Michael Schumm, 51, Neil Yukt Sardana, 32 Misty Novitch, 27.[3]
March on Wall Street
On April 3 2008 Minnie Ruffin of Atlanta Grandmothers for Peace, Atlanta, GA endorsed a Bail Out the People Movement organized "March on Wall Street" ;
Because we must demand that the needs of the people come before the greed of the super rich. Millions are jobless and homeless, and millions more will be living on the streets if the government continues to waste trillions of dollars on saving wealthy bankers instead of saving people.[4]
Atlanta Grandmothers for Peace, 2008 members
Bernice Bass, Doris Benit, Sylvia Carroll, Judy Conder, Grace Hawkins, Ella Ruth Hunnicutt, Susan Keith, Ann Mauney, Betsey Miklethun, Bobbie Paul, Minnie Ruffin, Dot Shaw, Barbara Sherman, Gloria Tatum.[5]
2011 DSA National Conference
Metro Atlanta Democratic Socialists of America delegates attending the November 11-13, 2011 National Convention in the Washington DC area included Barbara Joye, Jorge A. Lawton, Minnie Ruffin, Milt Tambor and Bob Wohlheuter.[6]
DSA meeting
Metro Atlanta Democratic Socialists of America meeting September 2015. With Milt Tambor, Minnie Ruffin and Neil Sardana.
References