Mike Smith (New Zealand)
Jump to navigation
Jump to search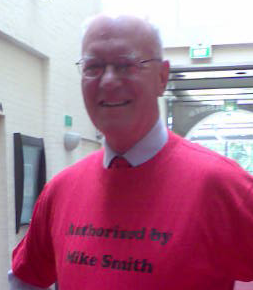 Mike Smith
Workplace Reform
According to Workers Voice No 16, 1992 union officials deeply involved in promoting Workplace Reform at Bluebird, Auck are Warwick Jones, Peter Devlin, Engineers union educator, Mike Smith & Working Womens Resource Centre co-ordinator, Jo Taylor
In December 1999 Smith was one of 8 unionists from Labour Party interest groups who advised Margaret Wilson on her new Industrial Relations legislation.[1]
The Destination: Next Progressive Majority
The New Zealand Fabian Society invites all those interested to join a discussion with Sir Michael Cullen, Peter Harris, Sarah Helm, Tracey Martin MP, Richard Harman and Lyndy McIntyre at St Andrew's on the Terrace, Wellington, on Sunday 10th May at 1pm. Ideas on strategy, economy, party relations, communication and organising will all be canvassed.
The Destination: Next Progressive Majority is a seminar intended for those who wish to see a change of government in 2017 to a more progressive social democratic policy agenda and ethos.
Speakers
Hon Sir Michael Cullen – an overall picture of what needs to be done politically to achieve a change to progressive government Peter Harris – fiscal and economic policy for a progressive government Sarah Helm/Tracey Martin MP – political co-operation for progressive government Richard Harman – political communication in the 21st century Lyndy McIntyre – community organisation for political change
Our MC will be Sandra Grey. The Fabians will be represented by Mike Smith.
Sir Michael Cullen was Labour Deputy Prime Minister from 2002-2008. Peter Harris is an economic consultant and director who has worked in unions and government. Sarah Helm is the General Manager of the Green Party. Tracey Martin MP is the Deputy Leader of NZ First. Richard Harman has had an extensive TV career in political reporting and comment and currently produces Politik. Lyndy McIntyre organises for the Living Wage campaign.[2]
Trade Union Education Authority
In 1989, Smith was an educator for the NZ Engineers Union, Wellington, Trade Union Education Authority.
Electoral Reform Coalition
On September 14, 1992, Smith was a signatory to Electoral Reform Coalition sponsored advert in the Evening Post, promoting MMP.
NZ Labour Party
Smith was the General Secretary of the Labour Party from 2001 - Sept. 2009.[3]
As Secretary of the Labour Party, Smith's name was to appear on all election advertisements at the 2008 Election Campaign following the passing of the Electoral Finance Act.
On April 14, 2001 Listener Magazine stated that Smith was, one of the inner circle of power, kneecappers and gatekeepers in Labour/Alliance Government.
NZ Fabian Society
Smith is on the Board for the NZ Fabian Society.[4]
Young Labour Summer School 2010
Smith is listed in the 2010 Young Labour Summer School Preliminary Programme as being scheduled to speak on Jan 10, 2009 on the subject of the NZ Fabian Society.[5]
References