Mike Michaud
Jump to navigation
Jump to search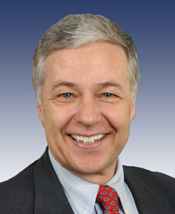 Template:TOCnestleft Michael H. Michaud is a former Democratic member of the United States House of Representatives, representing the 2nd district of Maine.
In 2014 Joseph Schwartz wrote in Democratic Left;
:In Maine, progressive Democrat Mike Michaud has a chance to defeat incumbent independent far-right Governor Angus King. Michaud, who served five terms in the US House, is both openly gay and a former US Steelworker activist.[1]
Background
Mike Michaud is the second of six children. He was raised in Medway and attended Schenck High School in East Millinocket. After graduation, Mike Michaud followed in the footsteps of his father and grandfather, gaining employment at the Great Northern Paper Company. He is a 29 year employee of GNP and is a member of United Steel Workers Local #4-00037 (formerly PACE Local #1-40037).[2]
Education
Mike Michaud attended the John F. Kennedy School of Government Program for Senior Executives in State and Local Government at Harvard University. He has also been awarded an honorary Doctor of Public Service from Unity College, Husson College, and Maine Maritime Academy.[3]
Political career
Michael H. Michaud was sworn in as a United States Congressman in January 2003 to represent the Second Congressional District of Maine in Congress. He is the first recognized Franco-American from Maine to be elected to federal office.
Citing a desire to help clean up the badly polluted Penobscot River near his home, Mike Michaud first ran for and was elected to the Maine House of Representatives in 1980, where he went on to serve seven consecutive terms. In 1994, he defeated a millionaire incumbent in his first bid for the Maine Senate, despite huge Republican victories across the country.
During his first term in the Maine Senate, Mike was appointed to Governor King's Productivity Realization Task Force. In 1996 Mike was appointed Chair of the Senate Appropriations Committee. In 2000, as Chair of the Appropriations Committee, Mike fought to ensure there were funds in the budget for the legal defense of the Maine Rx program, which he cosponsored.
In December 2000, Mike was unanimously elected Maine Senate President. Writing on his time in the Maine Legislature, the Portland Press Herald described Mike "as being the first legislator to come to work in the morning and the last to leave at night."[4]
Congress
In Congress, the first bill Mike Michaud introduced was a national version of the innovative Maine Rx law, called America Rx, which would allow the federal government to negotiate affordable prescriptions for all Americans without coverage. Leaders in Congress recognized that this approach made commonsense. On January 12th, 2007, the House of Representatives passed H.R. 4, the Medicare Prescription Drug Price Negotiation Act, which directs the Secretary of Health and Human Services to negotiate with drug companies for lower drug prices for Medicare beneficiaries.
Through his leadership on the Committee on Veterans' Affairs, "Mike is working to ensure that our veterans receive fair and equal treatment as well as the benefits that they deserve. As the Chairman of the House Veterans' Affairs Subcommittee on Health, he helped pass the largest ever funding increase for the Department of Veterans Affairs". Mike has also successfully passed provisions into law which led to increased access to health care services for rural Maine veterans.
In the U.S. House of Representatives, Mike Michaudserves on the Committee on Transportation and Infrastructure, the Committee on Veterans' Affairs, and the Committee on Small Business.[5]
Supported by Council for a Livable World
The Council for a Livable World, founded in 1962 by long-time socialist activist and alleged Soviet agent, Leo Szilard, is a non-profit advocacy organization that seeks to "reduce the danger of nuclear weapons and increase national security", primarily through supporting progressive, congressional candidates who support their policies. The Council supported Mike Michaud in his successful House of Representatives run as candidate for Maine.[6]
Populist Caucus
The Populist Caucus was founded on February 11, 2009 in the United States House of Representatives by Democrat Bruce Braley of Iowa. The caucus originally included 26 other Democrats in the House, including Mike Michaud .
2006 letter to Condoleezza Rice on Colombia
Alleged Colombian Army killings prompted Fellowship of Reconciliation to work with Representative Sam Farr to forge a response that would impact the 17th Brigade, the unit allegedly responsible for the violence against San José de Apartadó and communities throughout northwestern Colombia.
As a result, Reps. Sam Farr and Jim McGovern, wrote a letter to their colleagues in Congress urging them to join in calling on Secretary Condoleezza Rice to cut funding for the Colombian military.
Letter to Secretary of State Condoleezza Rice
(Deadline for Congressional representatives to sign: February 22)
We applaud the decision, noted in your certification letter of August 2005, that the US "will not consider providing assistance to the 17th Brigade until all significant human rights allegations involving the unit have been credibly addressed." Because the Brigade is a component of the Colombian Armed Forces' command structure and has been implicated in the above referenced human rights violations, we implore you to abide by both the letter of the law and the spirit of the law by withholding human rights certification for Colombia until the following conditions are met:
Signatories included Mike Michaud.[7]
2009 letter on Colombia
From November 6th through December 7th 2009, a letter calling for change in U.S. policy towards Colombia was circulated through the House of Representatives. This letter called for a decrease in U.S. aid for Colombia's military and an increase in support for human rights and humanitarian efforts. The initiators of this letter were —Representatives James McGovern, Jan Schakowsky, Donald Payne, and Mike Honda.
Dear Secretary of State Clinton,
The FY 2011 budget will contain the twelfth year of a major aid package to Colombia—an aid package originally slated to phase out after six years.
After eleven years, it is time to scale down assistance for Colombia's military and more systematically "Colombianize" such programs, within both the State Department and Defense Department budgets.
Signatories included Mike Michaud.[8]
Trade Acts
On June 24th, 2009. Rep. Mike Michaud (D-Maine) introduced the TRADE (Trade Reform Accountability Development and Employment) Act in the House of Representatives with 106 co-sponsers.
The TRADE act called for Congress to reexamine all current Free Trade agreements, evaluate their overall impact on both U.S. and trade-partner citizens, and chart a new path towards trade agreements that benefit workers and the environment.[9]
The "Trade Act of 2008" (HR 6180) was introduced in the U.S. House of Representatives by Representative Michael Michaud of Maine in early June.
It has gathered 63 cosponsors, including Illinois Representatives Danny Davis, Phil Hare, Jesse Jackson, Jr., Daniel Lipinski, Jan Schakowsky. In the Senate, the legislation (S 3083) was introduced by Senator Sherrod Brown of Ohio and gathered 4 cosponsors.[10]
This legislation would:
Require the Government Accountability Office to conduct a comprehensive review of existing trade agreements with an emphasis on economic results, enforcement and compliance, and an analysis of non-tariff provisions in trade agreements;
Spell out standards for labor and environmental protections, food and product safety, national security exceptions, and remedies that must be included in new trade pacts;
Set requirements with respect to public services, farm policy, investment, government procurement, and affordable medicines that have been incorporated in trade agreements;
Require the President to submit renegotiation plans for current trade pacts prior to negotiating new agreements and prior to Congressional consideration of pending agreements;
Create a committee comprised of the chairs and ranking members of each committee whose jurisdiction is affected by trade agreements to review the president's plan for renegotiations; and
Restore Congressional oversight of trade agreements.
Ohio Conference on Fair Trade commendation
On June 5, 2008, the Ohio Conference on Fair Trade, led by president Simone Morgen, of Columbus Jobs with Justice, and Democratic Socialists of Central Ohio, commended Sen. Sherrod Brown and five members of Ohio's congressional delegation for co-sponsoring the Trade Reform, Accountability, Development and Employment (TRADE) Act, introduced by Sen. Brown and Rep. Mike Michaud the day before in Washington D.C.
Representatives Marcy Kaptur, Dennis Kucinich, Tim Ryan, Betty Sutton and Charlie Wilson were among over fifty original House and Senate co-sponsors joining labor, environmental, family farm and faith groups in support of new consensus legislation which offers a positive vision for future U.S. trade policy.
Said OCFT President Simone Morgen.. "We have the opportunity for a new beginning that can spread the benefits of fair trade to the widest possible number of people. This is change we can really believe in!"[11]
Institute for Policy Studies
Mike Michaud is close to the Institute for Policy Studies
IPS award presenter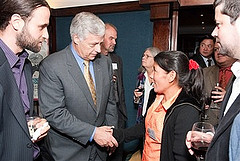 Community leaders from El Salvador received the 2009 Letelier-Moffitt Human Rights Award on behalf of the National Roundtable on Mining. This "broad coalition of environmental, faith-based, and community activists has successfully worked to block permits for potentially environmentally devastating mining in El Salvador".
The coalition will speak about the investor-state suits recently filed under the Central American Free Trade Agreement (CAFTA) by U.S. and Canadian mining companies against El Salvador. They will also discuss their work to oppose mining, and the attacks and threats that they and other members of the National Roundtable have suffered in El Salvador.
Speakers at the event:
Representatives of El Salvador's National Roundtable on Mining: William Castillo, Center for Research on Investment and Trade (CEICOM); Francisco Pineda, Environment Coordinating Committee of Cabañas
Sarah Anderson, Global Economy Project Director at the Institute for Policy Studies. Anderson reported on her recent experience serving on an official advisory committee to the Obama administration on bilateral investment treaties (BITs). The administration is currently reviewing the U.S. Model BIT, which includes rules that are similar to those in the investment chapter of CAFTA and other trade agreements.
Rep. Michael Michaud, Democratic Congressman from and the lead sponsor of the Trade Reform, Accountability, Development and Employment (TRADE) Act. One provision of the TRADE Act would ensure that trade agreements no longer permit foreign investors to sue governments in international tribunals over domestic regulatory policies that protect public health and the environment.
Stephanie Burgos, Oxfam America (moderator)
Contact for the event was Manuel Perez-Rocha, Institute for Policy Studies.
The event was organized by the Institute for Policy Studies, Oxfam America,and the Washington Office on Latin America, and sponsored by Rep. Michael Michaud (D-ME).[12]
Sponsored IPS presentation
Institute for Policy Studies Global Economy Director Sarah Anderson presented a slideshow on the negative impacts of the Korea-U.S. Free Trade Agreement, at a congressional briefing sponsored by Rep. Mike Michaud on July 19, 2010. [13]
Meeting Mexican labor leaders
Mexican labor leaders representing independent unions held a Congressional briefing Sept. 13, 2011, in Washington, D.C., to highlight Mexico's ongoing repression and assault on the rights and wages of Mexican workers.
Workers in Mexico are facing repression from the Mexican government and corporations, say the labor leaders. And more and more working people in Mexico are being driven into poverty through the erosion of their wages and human rights, they added.
U.S. Rep Mike Michaud, D-Maine, on behalf of the Congressional Labor Caucus and the International Worker Rights Caucus, sponsored the briefing.
"More than 15 years ago, we were told that NAFTA would create a thriving middle class in Mexico," said Rep. Michaud. "Economists and government officials said the agreement would lead to growing trade surpluses and that hundreds of thousands of jobs would be gained. As our friends from Mexico can attest, NAFTA did not bring these benefits. Instead, workers' rights are being violated on a regular basis, and both the U.S. and Mexico are worse off."
Three Mexican union leaders - Francisco Hernandez Juarez, general secretary of the Mexican Union of Telephone Workers, Marco del Toro, legal representative of the National Union of Mine, Metal Steel and Allied Workers of the Mexican Republic (known as Los Mineros), and Sergio Beltran Reyes, recording secretary for Los Mineros, - appealed to the U.S. Congress.
"We are going through very difficult time and are on the receiving end of a high level of aggression and anti-unionism by the Mexican government and business leaders," said Juarez. "The attacks on Los Mineros and its elected leader, the dismissal of more than 44,000 electrical workers and the threat of a new labor law are all designed to reverse 100 years of rights for Mexican workers. The Mexican government, through its spokespeople, has been trying to sell the idea that they defend labor and human rights. We'd like to show how they do not."
The labor leaders said they plan to meet with U.S. members of Congress to discuss worker rights and safety standards for Mexican workers. They intend to highlight the repeated efforts by Mexico's government under the "conservative and right-wing President Felipe Calderon". The Calderon administration is trying to strip union members with Los Mineros of its right to exist as the union continues a four-year strike by 1,100 copper miners over safety issues against the company Grupo Mexico.
Del Toro noted, "We are taking this opportunity to paint a picture of the status of worker rights in Mexico and to outline the persecution faced by unions and leaders there. The diminishing of workers rights and very low wages produce an unequal standard between wage levels in Mexico and the U.S. This is affecting the U.S., which is looking to create jobs for workers here," he said.
Leo Gerard, president of the United Steelworkers, joined the Mexican labor officials.[14]
LIBERT-E Act
June 18, Rep. Justin Amash (R-MI), Chairman of the House Liberty Caucus, and Rep. John Conyers, Jr. (D-MI), the Ranking Member on the House Judiciary Committee, announced the introduction of bipartisan legislation to address National Security Agency surveillance.
H.R. 2399, the Limiting Internet and Blanket Electronic Review of Telecommunications and Email Act (LIBERT-E Act), restricts the federal government's ability under the Patriot Act to collect information on Americans who are not connected to an ongoing investigation. The bill also requires that secret Foreign Intelligence Surveillance Act (FISA) court opinions be made available to Congress and summaries of the opinions be made available to the public.
A coalition of 32 Members of Congress joined Conyers and Amash in introducing the bill. After introduction, Conyers and Amash issued the following statement:
The following Members of Congress cosponsored the legislation:
Rep. Paul Broun (R-GA) Rep. Judy Chu (D-CA) Rep. Suzan DelBene (D-WA) Rep. John Duncan (R-TN) Rep. William Enyart (D-IL) Rep. Tulsi Gabbard (D-HI) Rep. Chris Gibson (R-NY) Rep. Paul Gosar (R-AZ) Rep. Morgan Griffith (R-VA) Rep. Raúl Grijalva (D-AZ) Rep. Rush Holt, Jr. (D-NJ) Rep. Sheila Jackson-Lee (D-TX) Rep. Hank Johnson (D-GA) Rep. Walter B. Jones (R-NC) Rep. Barbara Lee (D-CA) Rep. Zoe Lofgren (D-CA) Rep. Thomas Massie (R-KY) Rep. Tom McClintock (R-CA) Rep. Jim McDermott (D-WA) Rep. James McGovern (D-MA) Rep. Mike Michaud (D-ME) Rep. Mick Mulvaney (R-SC) Rep. Jerrold Nadler (D-NY) Rep. Beto O'Rourke (D-TX) Rep. Steve Pearce (R-NM) Rep. Jared Polis (D-CO) Rep. Trey Radel (R-FL) Rep. Matt Salmon (R-AZ) Rep. Mark Sanford (R-SC) Rep. Kyrsten Sinema (D-AZ) Rep. Peter Welch (D-VT) Rep. Ted Yoho (R-FL) [15]
Lifting travel ban on Cuba
A May 03, 2013 Press release from the radical controlled and Institute for Policy Studies affiliated Latin America Working Group's Cuba Team stated:
Due to your action/emails/phone calls we have 59 signatures from House representatives urging President Obama to support travel to Cuba by granting general licenses for ALL current categories of travel.
By eliminating the laborious license application process, especially for people-to-people groups, that is managed by the Office of Foreign Assets Control (OFAC), the majority of the bureaucratic red tape that holds up licensable travel to Cuba would disappear and actually facilitate what the President wanted to see in 2011, liberalized travel regulations.
Signatories included Rep. Michaud .[16]
Maine People's Alliance
Mike Michaud with Maine People's Alliance, 2013.
Congressional Letter for Neutrality, 2014 Salvadoran Elections
On Monday December 16, 2014 Reps. Juan Vargas (D-CA), Mike Honda (D-CA) and Mark Pocan (D-WI) sent a letter to Sec. of State John Kerry – signed by 51 Members of Congress – calling for a public statement of neutrality by the State Department before the first round of El Salvador's presidential elections on February 2, 2014.
The letter, , highlighted several "important steps" that the current government has taken to "strengthen its democratic system and expand the right to vote to all citizens," including those living outside of the country, who will be voting by absentee ballot for the first time in February. Since the election of Mauricio Funes, the first President from the Marxist Farabundo Martí National Liberation Front (FMLN) party, the government has increased the number of polling places four-fold to increase accessibility, especially in rural areas.
"We're glad to see so many Members of Congress expressing respect for the right of the Salvadoran people to determine their own future. That's an attitude that's sorely lacking in much of the US' policy in Central America, especially with regard to economic policy," said Alexis Stoumbelis, Executive Director for the pro-communist Committee in Solidarity with the People of El Salvador (CISPES), in Washington, DC, which has observed every post-war election in El Salvador, starting in 1994.
Signatories included Rep. Mike Michaud.[17].
America Needs a Raise
As the America Needs a Raise bus pulled into Portland Maine, for its second stop on a ten state tour, Mayor Michael Brennan stood at City Hall, flanked by local business owner Anne Rand and minimum wage earner Tabitha Weyland, to welcome the effort.
"I believe the people of Portland need a wage increase to make sure the people who are going to work here can live here," he said. Nearby, one woman held a sign, "Can't Survive on $7.25."
The 18-city tour began in Bangor that morning where Rep. Michael Michaud spoke on behalf of the raise exclaiming that hard working Mainers "should be able to make ends meet."[18]
MPA endorsement
Maine People's Alliance
ARA endorsement
Alliance for Retired Americans endorsed Mike Michaud in 2012.[19]
ARA Medicare birthday
Alliance for Retired Americans Medicare Birthday on Capitol Hill, July 30, 2014.
ARA endorsement, 2014
The Alliance for Retired Americans Political Action Fund endorsed Mike Michaud in his 2014 run for Governor .[20]
Staff
The following are past and present staff:[21]
External links
References