Michelle Alexander
From KeyWiki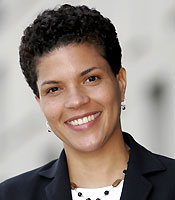 Michelle Alexander...
Rodney King protest
In the first full day of activity following the acquittals in the Rodney King beating case, students rallied at the Law School, petitioned in White Plaza and planned future actions to promote civil rights, including a rally today. News of the hastily organized Law School rally spread by word of mouth. One organizer, Maya Harris, said the only preparation for the spontaneous rally was getting a microphone. "There was a large number of people, much more than we expected," law student Michelle Alexander said. At the rally, Harris said, "We have to all wake up, stay awake, get up next morning and the morning after and face reality .... We won't let tomorrow go by without doing something."
During the rally, petitions were circulated in White Plaza as one facet of the organized campus protest movement. Graduate student Anthony Clark said petitions would be circulated "as long as it takes," adding that more than 2,000 signatures had been gathered in less than 24 hours. However, not everyone was ready to sign their name. Graduate student John Hornbrook said he felt the students were "attacking innocent people walking by." He said he did not know enough about the situation to judge whether the verdict was supported by evidence other than the videotape, and therefore would not sign a petition. Hornbrook's refusal drew response from students standing nearby. "I don't think kicking and beating a man with bully clubs is ever justified. That's why I have a problem with you," junior Tanya Van Court told Hornbrook. Freshman Jomo Graham, one of the leaders of a campus letterwriting campaign, called on students to send individual letters to prominent politicians as well as sign petitions, and bought an advertisement in The Daily to print a model letter. Multicultural educator Greg Ricks, an adviser to the loose organization of student leaders, said students should "take time and think about what's going on" by writing a letter. In a late-night organizational meeting held in the Lagunita dining hall, at least 200 students, faculty and staff planned today's rally and further actions.
The rally, which had originally been scheduled for White Plaza, was moved to the courtyard between the Law School and Meyer library because it conflicted with the Spring Faire, according to sophomore organizer Tracy Clay. 'This is not a black thing. It is a coalition which is not limited by race, gender or politics.
At the meeting, some students advocated civil disobedience, and leaders hinted at agreement. When a community member said students should block local streets, Clay suggested everyone wear "comfortable clothing and walking shoes" to the rally. When the same person asked "to what end are we wearing these walking shoes," Clay replied that the organizers have a plan but are "not capable of sharing it right now."
Ujamaa Resident Assistant Bacardi Jackson said members of the coalition contacted groups at other schools for the rally. Clay said the rally would begin with a singing of the Black National Anthem and a series of student speakers on the history of law and the civil rights movement. In addition, many community leaders from Stanford and the Bay Area will speak. Stanford speakers include Tony Burciaga, a resident fellow at Casa Zapata, Keith Archuleta, the director of the Black Community Services Center, Mary Edmonds, the vice president for student resources, and Ricks, according to Clay. Dressed in black and holding up two red candles, graduate student Francisca James-Hernandez said at the meeting that she is "ready to do something." Many students wore black as a "symbol of mourning for justice" in America, Clay said. Senior Alma Medena, the co- chair of MEChA, a Chicano/Latino student group, said people should also wear black to mourn those killed in Los Angeles in the violent aftermath of the verdict.
Clay and Jackson emphasized that activities against the Kingbeating verdict have had racially diverse participants. "This is not a black thing. It is a coalition which is not limited by race, gender or politics," Ricks said. There has also been a "strong reaction by faculty," he said, adding that Political Science Prof. Lucius Barker and Latin American Studies Prof. Terry Karl have organized a meeting for faculty response today (see related story, page 3). Other events currently being planned include a discussion with Janet Wells, the president of the Palo Alto chapter of the NAACP, and Stanford Police Chief Marvin Herrington on Sunday; a meeting with black community leaders of East Palo Alto on Tuesday; a teach-in on Wednesday; and a Mother's Day vigil organized in conjunction with groups from other campuses, according to Jackson. [1]
War Times
In January 2002, a group of San Francisco leftists, mainly involved with STORM or Committees of Correspondence, founded a national anti-Iraq War newspaper[2] War Times.
Endorsers of the project included Michelle Alexander - a member of ACLU, Northern California.
Brown v. Board of Education symposium
Designed to both celebrate the 50th anniversary of Brown v. Board of Education and analyze the decision's legacy, an April 2004 symposium hosted at Stanford presented panel discussions and showcased the varied opinions of legal scholars. Considered one of the most consequential decisions ever handed down by the United States Supreme Court, Brown v. Board was intended to prohibit segregation in public schools. Today, legal analysts and academics continue to question the decision's success.
Organized by Stanford's Program in American Studies, the symposium opened with a keynote lecture by legal scholar and activist Derrick Bell, who played a prominent role in southern school segregation cases in the l960s. He became the first tenured black professor at Harvard University in 1971. He left in 1992 to demonstrate against the dearth of female faculty members of color. He is currently a visiting professor at New York University Law School. The first of the discussion panels, titled "Brown v. Board of Education and the Unfulfilled Hopes for Racial Reform," featured University of Michigan law Prof. James Jackson, University of Southern California Prof. Mary Dudziak, Stanford Vice Provost LaDoris Cordell and Daryl Michael Scott, assistant professor of history at Columbia University.
While the first panel dissected the shortcomings and pitfalls of the landmark court decision, the second, titled "The Promise of Brown," examined the more profound impact the case may have had on the greater civil rights movement and even current affirmative action disputes. During the second panel, Stanford associate law Prof. Michelle Alexander, education Prof. Linda Darling-Hammond, associate law Prof. William Koski and Associate Vice Provost Sally Dickson voiced their opinions on the case's long-term influence as well as what it meant for them on a personal level. "My love affair with Brown started at an early age," Alexander said. "Our nation is still gripped by a romantic notion of the decision, but in many ways its influence has been understated and misunderstood." Alexander added that 50 years is a very short time historically speaking, but that it can be successfully argued that the Brown decision has failed from the perspective of educational equity. Public school systems fail to provide adequate opportunities to 80 to 90 percent of students of color, she said. "If you ask whether Brown was extremely valuable for the cause of racial advancement, I would say yes," Alexander said, adding that many believe the civil rights movement might never have succeeded without the precedent set by Brown that separate is inherently unequal. According to Alexander, the activisits and students participating in protests and sit-ins were battling for the legal principle established by Brown. "There would have been no legal foundation for any argument to sit at the front of a bus or at the same lunch counters," she said. "The precedent of Brown is extremely important. Without it, it's quite possible the civil rights movement may never have occurred." [3]
"END MASS INCARCERATION"
Friday, SEPT 14. 2012, 7PM. RIVERSIDE CHURCH NYC.
On the day following the 41st anniversary of the Attica ¬massacre of courageous prisoners rising up against intolerable oppression, we come together to fight mass ¬incarceration and to demand the closing of Attica as a symbolic commitment to this larger goal. We build on the powerful commemoration that took place last September 9, 2011 at Riverside Church.
Join with us to hear a special panel on building a movement to end mass incarceration with: Michelle Alexander, Angela Davis, Jazz Hayden, Marc Lamont Hill, and Cornel West.
Speakers: Soffiya Elijah, Pam Africa, video message from Special UN Rapporteur on Torture, Juan Mendez, and audio message from Mumia Abu-Jamal.
MC: Asha Bandele.
Panel moderator: Suzanne Ross.[4] ·
Rainbow PUSH Coalition
The Rainbow PUSH Coalition & Citizenship Education Fund held its 42nd Annual International Convention "A More Perfect Union: 150 Years Later Beyond Freedom – Reconstruction" July 6 - 10, 2013 Chicago Hilton & Towers. The Saturday morning Forum key issues we face today: access to health care, achieving high quality public education for all students, home and church foreclosures, urban violence, unemployment, economic recovery, and more, was moderated by Professor Charles Ogletree, Harvard University School of Law.
Panelists were: Rep. Marcia Fudge, Chair, Congressional Black Caucus, Michelle Alexander, Attorney and Author of "The New Jim Crow", Barbara Arnwine, Attorney & Executive Director, Lawyers' Committee For Civil Rights Under Law, David Slane, Attorney, Robert Borosage, Founder & President, Campaign for America's Future, Cliff Kelly, Talk Show Host, WVON Radio, Chicago, Willie Gary, Attorney, Jonathan Jackson, Rainbow PUSH Coalition National Spokesman, Fred Gray, Civil Rights Attorney, Danny Davis, Congressman, Bobby Rush, Congressman.[5]
Dream Defenders Advisory Board
As of 2016;
References