Michele Tingling-Clemmons
Jump to navigation
Jump to search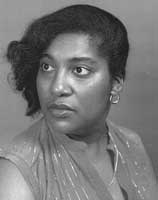 Template:TOCnestleft Michele Tingling-Clemmons is a lifelong activist for social justice. Living in Washington, DC, Tingling-Clemmons is a member of the DC Statehood Green Party and co-chair of the Black Party of the Green Party. She, her husband Rick Tingling-Clemmons, and three of their eight children work to achieve the just society they all desire. They are currently fighting to restore prescription drug coverage for low-income seniors. Tingling-Clemmons has expertise in the fields of occupational health, environmental health and community health care, and is a national expert on federal nutrition programs. A prolific public speaker, she brings clarity to examinations of the struggles that we face in securing affordable health care and economic justice in the face of an economic system that is controlled by the rich, and in examining the linkages that strengthen our common efforts.[1]
Speakers for a New America
Circa 2015 Michele Tingling-Clemmons was part of Speakers for a New America, the speakers bureau for League of Revolutionaries for a New America.
Founding conference/Leadership
By Allen Harris CHICAGO– With tremendous enthusiasm, fighting spirit and unity, the League of Revolutionaries for a New America was established during a convention held in Chicago on April 29 and 1995.
Attending were 73 delegates and 67 observers, as well as representatives of 30 areas and the national office. They came from 22 states, the District of Columbia and the Lakota Nation.
The meeting was the second national convention of the organization founded in Chicago in April, 1993 and originally called the National Organizing Committee.
Ranging in age from 17 to 80, the participants were Native American, white, black, Latino, Asian and Arab. They were urban, suburban and rural. They were secular and Christian, Muslim, Jewish and people of other faiths.
On the National Committee are Theresa Allison, Michelle Tingling-Clemmons, Leona Smith, Willie Baptist, Ted Quant, Jerome Scott, Gloria Sandoval, Ronald Casanova, John Slaughter, Timothy Sandoval, Richard Monje, Jackie Gage, Alma Ornelas, Maria Martinez, Larry Regan, Rose Sanders, Nitza Vera and Luis Rodriguez.
National Welfare Rights Union
Michele Tingling-Clemmons was a founding board member of the National Welfare Rights Union.[2]
1993 NCIPA National Steering Committee
As of Spring 1993, the National Committee for Independent Political Action Steering Committee included Michele Tingling-Clemmons.
Black Radical Congress
In March 1998 "Endorsers of the Call" to found a Black Radical Congress included Michele Tingling-Clemmons, National Welfare Rights Union, Washington, DC[3].
National Health Insurance Conference
Congressman John Conyers (D-Mich.) hosted a National Health Insurance Conference, April 16-17, 2004 to kick off a 50-state campaign for passage of national health insurance legislation, HR 676 – the "Expanded and Improved Medicare for All Act." Conyers introduced HR 676 in the House in 2003.
Dr. Quentin Young, national coordinator of Physicians for a National Health Program, keynoted the conference, speaking on "The State of Health Care – The Case for National Health Insurance." Conyers spoke on "Launching a National Movement for HR 676," followed by a session on "Getting the Message Out – Working the Media."
Dean Baker, of the Center for Economic and Policy Research, and Joel Segal, senior assistant to Conyers, presented the details of HR 676 in a session titled, "What Is It and How Do We Pay For It?" They will seek to arm the participants to take the message back to the neighborhoods. There was also a session on strategies to promote single-payer legislation on the state level. Activists were working on state single-payer bills in a number of states, including Massachusetts, California, and Pennsylvania. The agenda includes nuts-and-bolts workshops on working with unions, faith communities, educators, and health workers.
Ron Gettelfinger, United Auto Workers president, and Leo Gerard, Steelworkers president, both advocates of single-payer health care, were invited to address the conference. The conference also extended invitations to Rep. Barbara Lee (D-Calif.) and Democratic presidential candidate Dennis Kucinich of Ohio, two of the co-sponsors of HR 676.
Conference organizers intended to establish a national health insurance citizens' network to begin implementing a campaign to pass HR 676 or its equivalent. They also hoped to open a national health insurance coordination office in Washington.
Dozens of health care and social justice organizations endorsed the conference including Physicians for a National Health Program, the Gray Panthers, Jobs with Justice of Washington, D.C., the National Coalition for the Homeless, the American Medical Students Association, Universal Health Care Action Network, and the National Welfare Rights Union.
"We believe that the leadership should come from the people that do the work, and now is the time to build a serious movement for national health insurance for all in America," asserted conference organizers Michelle Tingling-Clemmons and Rick Tingling-Clemmons. The conference was held at Howard University Hospital and Towers Auditorium, 2041 Georgia Ave. NW, Washington, D. C.[4]
National Organization of Women
Tingling-Clemmons is listed as a speaker with the Women with Disabilities and Allies Forum project of the National Organization of Women.[5]
References
Template:Reflist Template:Black Radical Congress endorsers