Michael Zweig
Jump to navigation
Jump to search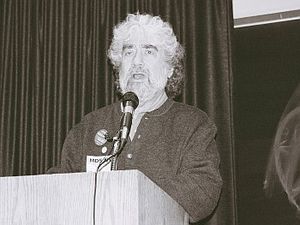 Template:TOCnestleft Michael Zweig is a Marxist academic.
He is the partner of Kathy Chamberlain.
Webinar to commemorate Jack O'Dell
We invite you to celebrate and learn about the life of Jack O'Dell, one of the great radical strategists and thinkers of the last seventy-five years. Jack recently passed away at the age of 96 and has left a legacy of activism that few can match.
Monday, February 24, 2020 - The webinar will begin at 6 pm Pacific Time.
Bill Fletcher, Jr. will lead a round table conversation with people who worked with Jack: Jane Power, Nikhil Singh, James Campbell, Leslie Cagan, Sharon Maeda, Gene Bruskin and Michael Zweig.[1]
URPE/Economics Society of the New School Conference on Soviet Union
A "Conference on the Nature of the Soviet Union and Its Role in the World Today" was scheduled for March 17, 1979 in New York City, and was co-sponsored by the Union for Radical Political Economics URPE andthe Economics Society of the New School.
It was divided into both a Morning Session and Afternoon Workshops, to be held at the Washington Irving High School and then the New School for Social Research respectively. The notice appeared in the March 14, 1979 issue of the "Guardian", the U.S. maoist-oriented radical weekly.
Morning Session Speakers:
Socialist Scholars Conference
Michael Zweig; Michael Lerner, Editor, Tikkun; Pamela Brubaker and Larry Rasmussen, Union Theological Seminary were speakers on the Religion and Economic Justice panel at the Tenth Annual Socialist Scholars Conference. The conference was held April 24-26, 1992 at the Borough of Manhattan Community College, New York City.[2]
How Class Works
The "How Class Works - 2002" conference: panels included;
"Middle Class? Working Class? What's the Difference and Why Does It Matter"

4.7 Film
Golden Lands, Working Hands (excerpts)
Class Counts

7.0 Class, Race, and the Struggle for Freedom in South Africa
General Secretary, Congress of South African Trade Unions (COSATU)

8.1 Continuing to Build Working Class Studies

The "How Class Works 2008" conference held at Stony Brook, New York, June 5 - 7, 2008 Conference organiser was Michael Zweig Director, Center for Study of Working Class Life, Department of Economics State University of New York, Stony Brook, NY[4].
Open letter to Andy Stern
On May 1 2008, Michael Zweig of SUNY at Stony Brook signed an open letter to SEIU president Andy Stern in protest at SEIU moves force its local United Healthcare Workers into trusteeship.
"We are writing to express our deep concern about SEIU's threatened trusteeship over its third largest local, United Healthcare Workers (UHW). We believe that there must always be room within organized labor for legitimate and principled dissent, if our movement is to survive and grow. Putting UHW under trusteeship would send a very troubling message and be viewed, by many, as a sign that internal democracy is not valued or tolerated within SEIU. In our view, this would have negative consequences for the workers directly affected, the SEIU itself, and the labor movement as a whole. We strongly urge you to avoid such a tragedy."
Left Forum 2009
Looking Back and Moving Forward: A Roundtable on Ending Imperialist Projects in Iraq, the Middle East and South Asia: Andor Skotnes, and David Applebaum, (Co-chairs)
Left Forum 2010
Why Are We in Afghanistan?:
Thanked by Zweig
"The Working Class Majority: America's Best Kept Secret, Second Edition By Michael Zweig acknowledged Joe Berry, Ron Blackwell, Jim Borbely, Ross Borden, Gene Bruskin, Jeff Crosby, Fernando Gapasin, Penny Lewis, Stephanie Luce, Maria Maisto, Jack Metzgar, Rachel Micah-Jones, Dennis O'Neil, Jay D. Mazur, Steven Pitts, Warren Sanderson, Heidi Shierholz, Craig Smith, Megan Smith, Ralph Trioche, Luis Valenzuela, Victor Wallis, Kris Warner, Devon Whitham, Anne Weigard, and Robert Saute for their help.
USLAW Officers
U.S. Labor Against the War Officers, 2018.
South Korea
Report on a May 2018 delegation of US trade unionists, Black Lives Matter, and other social movement activists to trade unions in Korea, sponsored by US Labor Against the War and the Korean Trade Union Confederation.
Labor Network for Sustainability (LNS) executive director Michael Leon Guererro reports on a delegation of US trade unionists, Black Lives Matter, and other social movement activists to trade unions in Korea, sponsored by US Labor Against the War and the Korean Trade Union Confederation.
Delegates included Michael Zweig.
References