Michael Hirsch
From KeyWiki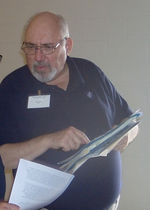 Michael Hirsch is a labor journalist and union staffer in New York City. A member of the national political committee of the Democratic Socialists of America from 2003 to 2009, he is also on the editorial boards of New Politics and Democratic Left.[1]
Hirsh is a New York-based labor and politics writer and a moderator with the Portside news service. An erstwhile sociologist, steelworker, labor educator and union staffer, his work has appeared in The New Statesman, the NY Observer, Village Voice, Labor Notes, New Labor Forum, Crain's New York Business, The Indypendent and other venues. He is a member of the Lower Manhattan and Labor branches of New York DSA.[2]
DSA's Cuba Letter
Michael Hirsch signed an April 2003 Open Letter, initiated andcirculated[3] by prominent Democratic Socialists of America (DSA) member Leo Casey, calling for the lifting of trade sanctions against Cuba.
"a statement circulating among democratic left/socialist folks, largely by members of Democratic Socialists of America, condemning the recent trials and convictions of non-violent dissenters in Cuba".
The petition criticized Cuba's poor human rights record, but shared the blame for Cuba's problems with reactionary elements of the U.S. administration...
The democratic left worldwide has opposed the U.S. embargo on Cuba as counterproductive, more harmful to the interests of the Cuban people than helpful to political democratization. The Cuban state's current repression of political dissidents amounts to collaboration with the most reactionary elements of the U.S. administration in their efforts to maintain sanctions and to institute even more punitive measures against Cuba.
Many of the petition's 120 odd signatories were known members of DSA.
Boston DSA post election 2004 forum
On November 19, 2004 Boston DSA held a post election 2004 forum at the Community Church, 565 Boylston St. Speakers were;
Holly Sklar, a long time activist and author whose works include Raise The Floor: Wages and Policies That Work For All of Us; Streets of Hope The Fall and Rise of an Urban Neighborhood (about Roxbury's Dudley Street Initiative); and Trilateralism: The Trilateral Commission and Elite Planning for World Management,which foretold the global corporate economy long before globalization was a buzzword. She has also written for Z Magazine, The Nation and USA Today,and is a consultant for United for a Fair Economy.
Michael Hirsch, a labor journalist and union staffer who is a member of the National Political Committee of Democratic Socialists of America, the editorial committee of Democratic Left, and the editorial board of the journal New Politics. In the 1970s he was a member of International Socialists and active with the United Steelworkers Union in Gary, Indiana through 1985.
Harris Gruman, has headed DSA locals in Boulder, CO, Baltimore, MD, and Boston, MA. He is now Director of Massachusetts Neighbor to Neighbor, which organizes low income urban neighborhoods on economic justice issues and has focused its electoral work on the state legislature and , since August, pro-Kerry swing state phone banking.[4]
Kucinich delegate
In 2004 Hirsch ran as a Dennis Kucinich delegate in the March primary, outpolling the Ohio congressman in New York's 14th C.D. by some 200 votes. "Dennis ran on my coattails," Hirsch says.[5]
Left Forum
Michael Hirsch of Democratic Socialists of America, Mark Levinson of the Economic Policy Institute, Washington D.C. and Michele Rossi were speakers on the An Agenda for America: Demands for this Congress, and the Next panel at the Left Forum. The forum was held March 9 - 11, 2007 at Cooper Union College, New York City.[6]
Left Forum 2011
The Left Debates the Democratic Party: Sponsored by: New Politics and Socialist Worker
Open Letter to Obama on Iran
In 2008 Michael Hirsch of Democratic Socialists of America, New York signed an online petition "A Open Letter to Barack Obama on Iran".[7]
DSA Economic Crisis Group
In 2009 DSA member Rob Saute was the primary mover behind the establishment of NYC DSA Economic Crisis Group, which has since attracted the active participation of Karie Gubbins, Jason Schulman, Michael Hirsch, Itzhak Epstein, Peter Frase, and Chris Maisano[8].
The NYC DSA Economic Crisis Group seeks to study the reasons why the current economic crisis happened and possible ways in which the local, national, global economies can be restructured along more democratic and egalitarian lines.
It will attempt to use such understandings to conduct economic organizing in New York City, produce a small number of short pieces of popular literature on the crisis, and conduct public educational fora that will advance an analysis and program of action that reflects the ideological and political orientation of DSA in the broad left, which could use an infusion of the kind of visionary yet pragmatic radicalism that is our organization's hallmark. Such activities will also be aimed at recruiting new members who are interested in gaining a deeper understanding of the causes and consequences of the crisis and who are open to embracing the particular intellectual and political contribution DSA can make. We believe that these goals are achievable, and that any socialist organization worth its salt should have a theoretical and practical program concerning the deepest crisis of capitalism in 80 years.
New Politics
As of 2009 Michael Hirsch served on the Editorial Board of New Politics, magazine almost completely staffed and run by members of Democratic Socialists of America[9].
Campaign for Peace and Democracy
Hirsch is listed as an endorser of the Campaign for Peace and Democracy, as of March 15, 2010.[10]
"Ithaca Democratic Socialists of America Presents #485"
"Tax, Then Spend in New York State" Ithaca Democratic Socialists of America member Charles Dunaway draws on information presented in 2010 by James Parrott of the Fiscal Policy Institute, DSAers Michael Hirsch, Maria Svart and Assemblywoman Barbara Lifton to show that New York State could easily afford to pay for what it needs, if only people would demand a return to earlier income tax rates on top incomes or a return to the stock sales tax that the state once had. Recorded Feb. 16, 2010, March 20, 2010, and February 7, 2011.[11]
Left Forum 2012
Party Building and Organizing on the Left
This is a round table dialogue with various parties on the Left. It is a discussion that will look at the rewards and challenges of building a party of the Left, areas of common experience and difference with other Leftists, and how future action may be structured to assist our party building efforts.
Chair: Stephon Boatwright
Speakers: Billy Wharton, Socialist Party USA, Peter Ikeler, Socialist Alternative, Libero Della Piana, Communist Party USA Michael Hirsch, Democratic Socialists of America, Larry Holmes, Workers World Party, Ahmed Shawki, International Socialist Organization, Juliet Ucelli, Freedom Road Socialist Organization.
Convention delegate
Michael Hirsch was a New York Democratic Socialists of America delegate to the DSA 2015 National Convention.[12]
NYC DSA
In 2016 Michael Hirsch was a member of NYC Democratic Socialists of America. He signed the Give The People What They Want: DSA Members on 2016 and Beyond letter.[13]
Endorsing Cynthia Nixon and Jumaane Williams
The Case for Endorsing Cynthia Nixon and Jumaane Williams (And How To Do It Strategically) was a letter Drafted by: Danya Lagos (CBK/Labor), and circulated among New York Democratic Socialists of America members in July 2018.[1]
CoSigners, as of July 23 2018 were: Michael Hirsch.
References
External links
References