Michael Albert
From KeyWiki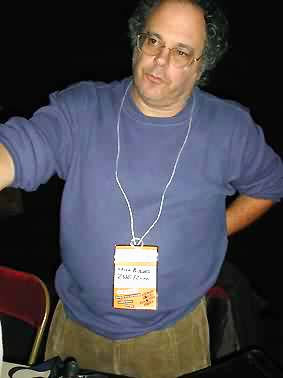 Michael Albert...
South End Press
Workers at South End Press included Carl Conetta, Michael Albert, Todd Jailer, Mary Lea, Cynthia Peters, Lydia Sargent, John Schall, Pat Walker.[1]
War Times
In January 2002, a group of San Francisco leftists, mainly involved with STORM or Committees of Correspondence, founded a national anti-Iraq War newspaper[2] War Times.
Endorsers of the project included Michael Albert - co-editor of ZNet
Supporting Bolivian revolution
In September 2007 a statement was circulated by the blog Bolivia Rising in support of the revolutionary government of Bolivia;[3]
The democratically elected government of Bolivia's first indigenous president Evo Morales Ayma, which is heading a process of democratic change, is Washington's immediate target in Latin America today. Bolivia is in Washington's sight, not only because it is viewed as the weakest link of the growing axis of hope in the region, but because of its role as a catalyst for inspiring the struggles of indigenous peoples, regionally and internationally, for real social justice...
Now is the time for all intellectuals, union militants, solidarity activists, political parties and progressive minded individuals who believe in real justice and equality to raise their voices in defense of the Bolivian government and its people. No to US interference in Bolivia!
Signatories included;
United for Peace and Justice Affiliation
In July 2007 Michael Albert representing Z Magazine and ZNET was affiliated to United for Peace and Justice.[4]
UFPJ rally
On October 27th 2007, United for Peace and Justice held an Anti-war National Mobilization, near Orlando, Florida at Lake Eola.[5]
Speakers Included:
Left Forum 2008
Real Utopia: Participatory Society For the 21st Century:
This panel engages visions for what a future participatory society may look like while looking at real world examples in the US, Asia and Latin America, and the strategy and activism needed to take us there.
Michael Albert, Znet, "Participatory Society for the 21st Century"
Jessica Azulay, WebRoot Solutions, "Parecon in Practice"
Brian Dominick, WebRoot Solutions, ìOrganizing for a Participatory Societyî
Richard W. Franke, Montclair State University, New Jersey, "Kerala. India"
Marie Trigona, ZMag, "Argentina"
Gregory Wilpert, Venezuelanalysis.com, "Socialism for the 21st Century/Venezuela"
Open letter to Andy Stern
On May 1 2008, Michael Albert, co-founder of South End Press and Z Magazine signed an open letter to SEIU president Andy Stern in protest at SEIU moves force its local United Healthcare Workers into trusteeship.
"We are writing to express our deep concern about SEIU's threatened trusteeship over its third largest local, United Healthcare Workers (UHW). We believe that there must always be room within organized labor for legitimate and principled dissent, if our movement is to survive and grow. Putting UHW under trusteeship would send a very troubling message and be viewed, by many, as a sign that internal democracy is not valued or tolerated within SEIU. In our view, this would have negative consequences for the workers directly affected, the SEIU itself, and the labor movement as a whole. We strongly urge you to avoid such a tragedy."
Campaign for Peace and Democracy
Albert is listed as an endorser of the Campaign for Peace and Democracy, as of March 15, 2010.[6]
Dump Trump
DUMP TRUMP, DEFEAT RACISM AND MISOGYNY, BUILD THE LEFT was an open letter to the left from 47 grassroots organizers. October 17, 2016.
A lot of us see something really clearly, but few of us—radical and revolutionary organizers—are willing to say it out loud.
So we're going to say it. Defeating Trump in the presidential election is a top priority for the left. And at a minimum, that means mobilizing voters for Hillary Clinton in swing states even if you vote for another candidate in a safe state. We've got to beat Trump and Trumpism while building movements that will fight, resist and disrupt a Clinton administration that will be militaristic and pro-corporate...
As we mentioned at the beginning, defeating Trump is not enough. We need movements strong enough to fight a Clinton administration on several fronts—whether Israel/Palestine, free trade agreements, climate change, a $15 minimum wage, or the prison-industrial complex. And neutralizing the appeal of the far right means we need to both strengthen our movements for racial justice and win over white workers to a progressive class politics as an alternative to Trump's racist economic nationalism. Finally, we need to build a left that can help anchor a visionary alternative to corporate Democrats. It won't be easy, but we've come this far. Let's defend what we've got in this election, and keep our eye on collective liberation.
Signatories included Michael Albert, Z Communications.
External links
References