Mi Familia Vota
Jump to navigation
Jump to search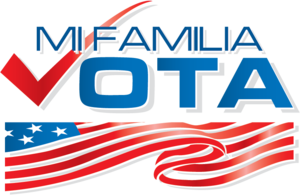 Mi Familia Vota was co-founded by Eliseo Medina and Ben Monterroso in 2000. They describe themselves as "a national civic engagement organization that unites Latino, immigrant, and allied communities to promote social and economic justice through citizenship workshops, voter registration, and voter participation. Mi Familia Vota has operations in Arizona, California, Colorado, Florida, Nevada, and Texas."[1] Medina stepped down from the Board of Directors in 2018.
Marcelo Gaete was listed as president of the board as of March 21 2021.[2]
Tom Steyer 2020 presidential campaign
Jocelyn Sida, Nevada State director, Mi Familia Vota served on the Tom Steyer 2020 presidential campaign.[3]
Tribute to Eliseo Medina
In 2018, Mi Familia Vota paid "Tribute To Co-Founder and Latino Leader Eliseo Medina"[4]
WASHINGTON, D.C. — Mi Familia Vota (MFV), a national civic engagement organization, will pay tribute to its co-founder and renowned Latino leader Eliseo Medina at a reception in Washington, D.C. on Monday, September 10, 2018. MFV also will present its inaugural Advocacy Award to Lee Gelernt, the deputy director of the Immigrants' Rights Project at the American Civil Liberties Union (ACLU).
The Advocacy Awards will be presented at a reception Monday, September 10th, from 5pm to 7pm, at the rooftop terrace of the National Urban League, 1805 7th St. NW, Washington, DC.
MFV, begun in 2000, was the product of Medina, who was then serving as Service Employees International Union International Vice President (the first Mexican-American on the executive board), and then-union organizer Ben Monterroso. MFV was created with the vision of growing Latino political power to improve economic and social justice for Latino and immigrant communities. Medina oversaw the growth of MFV, which now operates in 15 cities in six states. This year, MFV reached a milestone of 450,000 voter registrations. Medina stepped down from the MFV board this year.
"Under Eliseo's leadership, MFV helped grow the culture of voting in the Latino community in order to help build political power. MFV also increased the engagement of immigrants, regardless of status, in the non-voting civic process. Because of his vision, we are prepared to meet the challenges we now face, including mounting attacks against voting rights and immigrants' rights," Monterroso said.
Mi Familia Vota recognizes the importance of efforts outside of the field that sustain the community work, including the work being done to defend our communities through legal means. The litigation performed to promote social justice has not gone overlooked, "While Eliseo has championed immigrants' rights in the courts of public opinion, Lee Gelernt has championed immigrants' rights in the courts of law, and we are very grateful for his service," Monterroso said of the Advocacy Award honoree.
Among the cases Gelernt has led are opposition to the Trump administration's separation of children and parents at the U.S.-Mexico border; challenging Texas SB 4, anti-sanctuary city law; and litigating the Trump administration's travel ban.
Gelernt has been an attorney with the American Civil Liberties Union since 1992, and works on immigration and national security issues. In addition to serving as deputy director of the Immigrants' Rights Project, he heads the project's Access to the Courts program. He has argued several groundbreaking civil rights cases at all levels of the federal court system, including in the United States Supreme Court and the Courts of Appeals for the First, Second, Third, Fourth, Fifth, Sixth, Eighth, Ninth, and Eleventh Circuits.
Monterroso added, "We come closer to fulfilling our mission through our united efforts. The work that these leaders have committed to our communities merits acknowledgement and we are proud to be honoring them."
Texas Organizing Project
In 2017, Mi Familia Vota was described as "a nonprofit that worked alongside the Texas Organizing Project in Harris County".[5]
"We were trying to get the vote out, and we would engage voters in the presidential election conversation and they were fed up—'Yeah, I don't want to vote, both candidates are terrible,' that type of thing. And this was the Latino community," said Carlos Duarte, state director of Mi Familia Vota, a nonprofit that worked alongside the TOP in Harris County. Then he would tell them about the sheriff race. "People were saying, 'Okay, so who's running?' They would grab a piece of paper, grab a pen, and then write the names of the candidates." On Election Day, Democrats swept most Harris County offices, all the way down to tax assessor."
Senator Cortez Masto
In December 2017, Mi Familia Vota tweeted that they "are honored to join Catherine Cortez Masto and stand in solidarity with DREAMers."[6]
Here to stay rally
2017 Rally Posted on Facebook:[7]
Rally and musical and art performances on Saturday, January 14, 2017, starting at 11 a.m. at 501 North Main St, 90012, LA Plaza de Cultura y Artes next to La Placita, Los Angeles.
Join us to stand up for the values of love, compassion and family as we begin a campaign of righteous resistance. We will join hands and stand together to oppose criminalization, mass deportations, and hate crimes. We are #HereToStay and we shall not be moved.
Speakers include: California State Controller Betty Yee; Assemblymember Jimmy Gomez; Miguel Santana, City Administrative Officer, City of Los Angeles; Angelica Salas, CHIRLA; Rusty Hicks, LAC Federation of Labor, AFL-CIO, Laphonza Butler, SEIU; Arlene Inouye, UTLA; and Tom Steyer, Next Gen Climate.
Hosted by (partial list):
African Coalition, Black Immigrant Network (BIN), Bend the Arc, California Dream Network (CDN), Coalition for Humane Immigrant Rights (CHIRLA), Center for Community Change (CCC), Fair Immigration Reform Movement (FIRM), Human Rights Campaign, Korean Resource Center (KRC), Los Angeles County Federation of Labor, AFL-CIO, Mi Familia Vota, National Immigration Law Center, NextGen California, SEIU California, SEIU 721, SEIU 2015, SEIU UHWW, SEIU USWW, UCLA Dream Center, UNITE HERE, UTLA
Movement Voter Project
The Movement Voter Project supports Mi Familia Vota.[8]
Caravan Against Fear
Mi Familia Vota was listed as a "sponsor" for the Caravan Against Fear, affiliated with the National Day Laborer Organizing Network, a "3,500 mile Trek to Defend Immigrants, Build Resistance to Trump Agenda, and Promote May 1 Strike."[9],[10],[11]
Carlos Duarte
Carlos Duarte was Texas director for Mi Familia Vota in 2016.[12]
2013 Orlando Immigration Rally
Portion of a 2013 article posted[13] at People's World:
In May 2013, a broad range of representatives from immigrant and farm worker groups, labor, the faith-based community, and allied groups addressed the crowd from a podium behind which hung a large banner that read, "RIGHT TO WORK--RIGHT TO LIVE--RIGHT TO STAY TOGETHER." U.S. Rep. Alan Grayson, D-Fla., was the final speaker; he was preceded by a representative of U.S. Rep. Luis Gutierrez, D-Ill., who shared a message from the congressman with the pumped-up crowd.
One of the largest contingents at the event came from UNITE HERE Locals 737 and 362, which represent 19,000 hospitality and tourism workers in central Florida, including many who are immigrants. Other sponsors included the Florida AFL-CIO, SEIU, AFSCME, LCLAA, Mi Familia Vota, the Student Labor Action Project at the University of Central Florida, and Orlando YAYA (Youth and Young Adult Network of the National Farmworker Ministry).
References