Metro Detroit Democratic Socialists of America
Jump to navigation
Jump to search
Metro Detroit Democratic Socialists of America is a Detroit affiliate of Democratic Socialists of America. Formerly known as Greater Detroit Democratic Socialists of America.
Detroit DSA Canvasses for Bernie
In February/ March 2020 Greater Detroit Democratic Socialists of America members Caleb Lalinsky, Anthony Dellicolli, Gary Walker, Amanda Matyas, Peter Landon and new member Lizzie DePentu canvassed for Bernie Sanders in Detroit.
z;In February alone we knocked over 1,400 doors in Woodbridge, Southwest Detroit, Hamtramck, Royal Oak and Dearborn, with literature promoting the shared positions of Bernie and DSA in Spanish, Arabic, Bengali/Bangla and English.[1]
Leadership
As of July 1st, our Steering Committee until June 30, 2023 will be (* = new SC member):
Co-chairs: Melina Herrera & Aaron B.*
Secretary: Matt Cummings*
Treasurer: Liam McCormick (third year in a row! thank you comrade!)
Membership Engagement Coordinator: Gary Walker
Campaigns Coordinator: Gavin Buckley
At-Large: Frances R.*, Lauren Trendler, and Anthony Dellicolli
Black and Brown Alliance Rep: Zori M.*(Zori will be BBAs co-chair along with Ricardo C.)
Local members
Key Metro Detroit Democratic Socialists of America members in 2020 included Regina Weiss, Abraham Aiyash, Jess Newman, Lauren Trendler, Nada Daher, Landis Spencer, Jason Krzyslak, John Zettner, Melissa Luberti, Gavin Buckley, Gary Walker, Adam Ezell, Susan Steigerwalt, Ryan Riske, Peter Landon, Greg Sollish, Jane Slaughter, Lisa Worley, Sam Stark, Caleb Lalinsky, Arv Reddy, Liam McCormick, Michael Stepaniak, Jonathan Flatley, Dana Martinez-Ocker, Amanda Matyas, Nicolas Tedesco .[2]
DSA co-chair
Circa June 2 2020 Nada Daher and Hussein Beydoun were elected co-chairs of Greater Detroit Democratic Socialists of America.
They replaced David Green and Natasha Fernandez-Silber.
DSA for Bernie Panel: Our Fight Beyond Bernie
Join DSA for Bernie on Tuesday, April 21st 2020 for a panel featuring Jacobin's Meagan Day and Micah Uetricht, NPC members Megan Svoboda and Kristen Cervero, and former Bernie staffer and Detroit DSA electoral co-chair Jess Newman for a discussion about our lessons from the Bernie campaign, how we bring Bernie supporters into our movement, and what we can do not to "demobilize" in the wake of Bernie dropping out.[3]
Comrades
Greater Detroit Democratic Socialists of America October 29 2019·
2019 Detroit DSA Douglass Debs Dinner Throwback Dana Martinez.
With Dana Catherine Hoffman, Abdul El-Sayed, Rashida Tlaib, David Green, Natasha Fernandez-Silber
Green New Deal
Greater Detroit Democratic Socialists of America's mobilization around the Green New Deal started November 2018, when GM announced that despite earning record profits in 2018, it would be closing five plants in North America (including two in Michigan) and laying off 14,000 workers.
In December, Detroit DSA organized a screening of the 1983 documentary Poletown Lives!, which tells how Poletown residents valiantly fought to save their neighborhood. Some 250 outraged Detroiters attended, including newly-minted U.S. Representative Rashida Tlaib, who is a member of Detroit DSA. Tlaib spoke on a panel alongside the film's director and Sean Crawford, a Detroit DSAer who until this February worked at the Poletown Plant.
Encouraged by our success, we set out to organize a mass action at the annual Auto Show Charity Preview, a ritzy event commonly called "Auto Prom." We planned to protest GM's criminal incompetence, its degradation of the environment, and its ceaseless efforts to roll back domestic auto production. But we also wanted to make clear that the problem wasn't just GM and its "greed"—it was that the fates of countless people are in the hands of profit-seeking corporations.
In collaboration with local labor, environmental, and racial justice groups, we developed three demands: for GM to honor its labor contract and keep the plants open; for any idled plants to be seized via eminent domain and put to green, public use; and for a Green New Deal, which would include a federal union jobs guarantee, rapid decarbonization of the economy, and a just transition. Our rallying cry was "Make Detroit the Engine of a Green New Deal."
On January 18, over 400 protesters carried bright yellow and green signs (all designed and hand-printed by DSAers) that read, "Detroit Demands a Green New Deal," "Seize the Plant, Save the Planet," "Justice for Poletown," "Green Union Jobs Now," and "Eminent Domain: Take Over GM."
As elites in tuxedos and cocktail dresses attempted to enter the gala (without making eye contact), they were confronted by protesters shouting, "Make better life choices!" and "Which side are you on?" The chants were buoyed by DSA's newly assembled Detroit People's Marching Band, which provided a joyous sonic background. DSA members marched alongside rank-and-file UAW and Unifor (Canadian auto) workers, radical Brazilian unionists, students, and activists from a wide swath of community groups. Protesters wore yellow vests in solidarity with the gilets jaunes in France.
"Let's not forget what happened to Poletown," said Rashida Tlaib over the megaphone. "Let's not forget every single person that gave up so much for that plant in Hamtramck to be built—and for them to [just] walk away. So I am telling you, I stand with our UAW leaders, but I am for accountability today. If you [GM] leave, I want our money back. If you leave, I want our plant back. I want every single thing we ever gave you back. Because that's what we deserve."
Using the GM plant closures as a springboard to call for radical economic reforms in the form of a Green New Deal has struck a nerve in Detroit and around the nation. At least 20 articles were written about the Auto Show rally. The action not only saw DSA strengthened as a force in Detroit politics, it gave rise to the Detroit Coalition for a Green New Deal, which is seeking public hearings around our demands.
Detroit DSA will continue to organize around bold initiatives to "Make the Rust Belt Green" and put Michiganders back to work. We believe centering the Rust Belt—and Michigan and Detroit in particular—is essential to any package of green federal legislation.
To that end, Detroit DSA, in collaboration with local elected officials and our coalition partners, is developing a proposal for a new federal agency called the Great Lakes Authority—modeled after the Depression-era Tennessee Valley Authority—tasked with building a just, regenerative, sustainable economy here in the Rust Belt. Such an agency would funnel federal resources (under local control) to large-scale green manufacturing, retooling of idled factories, generation of renewable energy, green infrastructure, environmental assessment and remediation, sustainable agriculture, protection of fresh water sources and ecosystems, and ecotourism.[4]
Detroit DSA electoral strategy
Greater Detroit Democratic Socialists of America has a "simple but effective electoral strategy. We endorse progressive candidates in competitive races where the focused efforts of a small group such as ours can tip the balance in favor of the progressive candidate. This strategy has served us well in electing state representatives such as Steve Bieda, Alma Wheeler Smith, John Espinoza, Aldo Vagnozzi, and Fred Miller, and state senators such as Gilda Jacobs and Hansen Clarke."
We have expanded our efforts in 2008 by endorsing four candidates instead of two candidates as we traditionally do.
In 2008 Greater Detroit Democratic Socialists of Americaendorsed state representative candidates Sarah Roberts (St. Clair Shores-Harrison Township), Vicki Barnett (Farmington-Farmington Hills), Lisa Brown (West Bloomfield-Harrison Township), and Jonathan Switalski (Warren-Sterling Heights). As a result, DSA members have been canvassing, phone banking, and stuffing envelopes for one of these four candidates almost every weekend since the late summer. To date, the following members have participated in at least one (and usually several) campaign dates: Brandon Moss, Selma Goode, Michelle Fecteau, Bob Alpert, Lon Herman, Maurice Geary, Helen Samberg, Bob Frumkin, Charlie Rooney, Julie Barton, David Elsila, David Green, Dave Ivers, Michael Dover, Bill Helwig, Bob Denoweth, and Marylyn Schmidt.[5]
2018 electoral successes
According to Dick Olson the "2018 midterm elections were incredibly momentous for DSA nationally, as well as here in the Detroit area. We scored critical wins from coast to coast — getting leftists elected to office and pushing through key ballot measures".
Most critically, two DSA members were elected to Congress — Alexandria Ocasio-Cortez from New York's 14th district and Rashida Tlaib from Michigan's 13th district. These victories have shaken things up in D.C., and put DSA on the national political map.
Detroit DSA's marquee endorsement of this election cycle was Rashida Tlaib, who is a card-carrying DSA members. During a hard-fought Democratic primary for the 13th Congressional district, Detroit DSA members knocked on hundreds of doors for Tlaib and helped her win 27,803 to 26,916 over her nearest competitor, a member of Detroit's city council. Tlaib, a Palestinian-American who has served in the Michigan legislature, then went on to win an overwhelming 85% victory in the general election.
Detroit DSA was also involved in AOC's win in New York. Indeed, her historic victory was propelled by a viral campaign ad produced by Means of Production, a leftist production cooperative created by three Detroit DSA members: Naomi Burton, Natasha Fernandez-Silber and Nick Hayes.
DSA-endorsed Andy Levin, a close ally of the Michigan labor movement, easily won his race in the 9th Congressional district. DSA member Beau Perry won a write-in campaign for Ferndale Library Board. Three other Detroit DSA members who received our Chapter's endorsement also ran for office but fell short: Michele Oberholtzer and Mike McDermott for state rep, and Joel Batterman for Wayne County commissioner. Detroit DSA members also knocked on hundreds of doors for Padma Kuppa, Democrat for the 41st Michigan house seat in the Troy. With DSA's help, Kuppa flipped a Republican seat 22,317 to 21,170.
As part of a grassroots army across Michigan, Detroit DSA members knocked on hundreds of doors for Proposal 2, the state constitution amendment to set up a citizen's committee of 4 Democrats, 4 Republicans and 5 independent voters to draw legislative and Congressional boundaries. Michigan voters approved this change 2.5 million to 1.6 million.
Democrats ran the table in state-wide elections ending 8 years of Republican control during which the GOP rammed through a right-to-work law, the emergency management system which led to the Flint water disaster, and reactionary changes to Michigan taxes. The list goes on.
Even though Michigan voters statewide cast a majority of their votes for Democratic candidates, because of partisan gerrymandering the Republicans will control the state house 58–52 and the state senate 22–16. We should not forget that in Michigan we represent the majority of voters and the Republicans and their reactionary agenda have been rejected.
But political work doesn't stop with an election. Newly elected governor Gretchen Whitmer's decision to include BCBS CEO Dan Loepp on her transition team sparked a DSA petition of protest. It's obtained thousands of signatures so far.[6]
Election view from the ground
According to Kyle Minton Michigan activists were the real winners in the Nov 6 election.
Haley Stevens and Elissa Slotkin won by very close margins to flip Red Congressional districts Blue. Both were exciting candidates to the extent that their opponents were repellent, but their political views are unlikely to inspire much socialist enthusiasm. Both ran slightly to the right in districts heavily gerrymandered to favor conservatives. Democrats will most likely try to use these two slim victories as proof that you need to move to "the center" in order to win. This is bullshit. These candidates won because progressive activists looked past their centrist positions in order to turn out people who would not have voted otherwise. Slotkin should personally thank the NextGen youth organizers for doing such a great job to get out the vote in northern Oakland County.
Unfortunately, liberal legal scholar Sam Bagenstos didn't win his bid for a Supreme Court seat, but Megan Cavanagh did. We still have a mostly conservative court but it could be worse.
In another exciting turn, Rosemary Bayer won her race for State Senate and Padma Kuppa won her race for state house. These were nail-bitingly close races in typically conservative districts. Detroit DSA has organized against for-profit charter schools with these two candidates and they have been excellent allies. Having these two education advocates in Lansing is going to make education activism a lot easier. We should be proud of Detroit DSA for the work they did with Padma Kuppa. We are looking forward to a continued partnership with her.
The Detroit DSA Medicare for All working group and other healthcare activists are excited about Laurie Pohutsky's victory as well. Thanks to the hard work of Michigan for Single Payer Healthcare, whose members were out knocking on doors all season, we now have an important healthcare ally in the Michigan House. There were a lot of other impressive victories including several members of the People's Slate making it onto the city charter revision committee.
Even with these victories, there is a lot of work to do, especially when it comes to holding our newly elected democrats accountable. Above all, I hope these races prove that nothing beats energetic and organized activism when it comes to making change.[7]
In 2018, tt the state and local level, Roger Robinson and other Greater Detroit chapter leaders say they were able to have some influence during the "bleak" years by using their small numbers strategically. The chapter credits itself for the passage of living wage ordinances in various cities before the Michigan legislature rendered them void, and says it has helped elect about 20 candidates who shared some of their ideals to mostly state level offices. All but two of those candidates were Democrats who did not openly identify as socialists.
"We try to put people in office who meet some minimal threshold of what we consider broad coalition progressive politics, if not explicitly socialist politics," explains Robinson, who oversees the group's electoral efforts.[8]
DSA endorsement?
From Greater Detroit Democratic Socialists of America.
Please join us for our next meeting! This Saturday, July 7th, 10 am to noon, at the Royal Oak Community/Senior Center (3500 Marais)
We will also be voting on whether or not to endorse two candidates running in the August primary: Michele Oberholtzer (state house district #4) and Joel Batterman (Wayne County Commission district #2). Both candidates are DSA members. .
Detroit DSA Members Facebook group
Admins October 2020:
Adam Ezell, Hussein Beydoun, Dana Martinez, Amenda Matyasova, Casees Martin, Diana Hussein, Nada Daher, Natasha Fernandez-Silber.
Greater Detroit Democratic Socialists of America closed Facebook group, accessed April 22 2018.
This is a closed group for members of Detroit DSA where we can share information specific to our chapter. Help us grow this group by adding other DSA people you may be friends with on Facebook! [9]
Admins and Moderators
Members
More names were added by June 3, 2018;
Working with the Democrats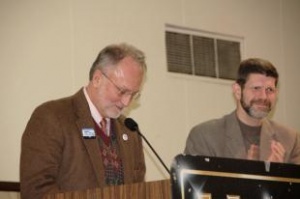 Democratic socialists in southeastern Michigan possess a level of influence within the Michigan Democratic Party of which many American leftists dream. And "they've done it all without compromising their beliefs or values".
Their success has come from working with, instead of against, local Democrats.
"It starts out with relationships," says David Green, the chair of the Greater Detroit Democratic Socialists of America (DSA). "Mark Brewer, the chair of the Michigan Democratic Party, has a very good relationship with us. He's spoken to our local several times. The chairs of the county parties, several of them are close friends as well."
Since 1998, Detroit DSA, with about 250 members, has successfully partnered with local county chairs and other Democratic Party officials to promote and elect several progressive candidates to the Michigan state legislature. One of these candidates, State Rep. John Espinoza, was even elected in the heavily conservative "Thumb" region of the state. In 2004, with the backing of Detroit DSA, Espinoza became the first Democrat and the first Latino ever elected to represent Michigan's 83rd District.
The secret to their success, says Green, is thinking strategically.
"As a small organization, how can we make a difference? We leverage our forces. We put our efforts towards a progressive Democrat challenging a Republican, or a progressive Democrat challenging a centrist Democrat [in a primary]. "
"We don't pick symbolic victories," Green says, "We pick things we can win."
After deciding whom to support, Detroit DSA carefully chooses tactics that will have the greatest impact, all of which are based on the leftist tradition of on-the-ground, grassroots action.
Green holds initial fundraisers for progressive Democratic candidates in his own home, where he invites friends and allies to come meet the candidates and contribute to their campaigns. These fundraisers bring in several thousand dollars, which, according to Green, is more than enough to get a fledgling statehouse race off the ground, providing crucial support to underfunded progressive candidates entering politics for the first time.
To build on the initial fundraising push, a core of Detroit DSA goes door-to-door to distribute literature and answer questions about their candidates. These activists also participate in phone banking and email campaigns. As part of this effort, Green instructs his members not to identify themselves as DSA members, to "avoid the knee-jerk reaction" many still have toward people who self-identify as "socialists."
Detroit DSA has come under fire from Republicans and Democrats for being a "socialist" organization. Earlier in 2009, the pro-free-market, Michigan-based Mackinac Center for Public Policy asked the question, "Are socialists deciding close state house races?" In addition, in previous elections, Detroit DSA candidates have been "red-baited" by both Republican opponents and mainstream newspapers. Detroit DSA's support became an issue in another statehouse race, in which the Republican candidate commissioned robo calls that accused her opponent, Democrat Vicki Barnett, of being a socialist.
Such red-baiting, has prevented Detroit DSA from getting involved in higher profile races. The group offered to support progressive Democratic candidates in two congressional races in 2008: Gary Peters (9th district) and Mark Schauer (7th district), both of whom went on to victory. Green says that the candidates themselves were happy to have Detroit DSA's involvement, but that "handlers" from the Democratic National Committee (DNC) refused the support, for fear that the candidates would be red-baited or branded as socialists.
Green is confident that the DNC's rejection of his organization's support will change. In the 2008 cycle, support from Detroit DSA helped to push progressive candidates over the top in close races, in traditionally Republican regions, and in races where their candidates were red-baited. They continue to lead living-wage campaigns and other social movements that mainstream Democrats can support without controversy.
The upcoming 2010 elections are particularly important for Detroit DSA. Three-quarters of Michigan's state senators are up for re-election, and the new census numbers will mean the legislature (where Republicans in the senate have a thin majority) has to redistrict the state. With Detroit DSA's support, Green says, the Democrats can help avoid Republican dominance and gerrymandering.
Through it all, though, he says, the democratic socialists will stick to their guns and stay committed to long-term progressive change.
"We have to continue to be progressive so people will say, you know, it's worth working with these people. And we can handle any flack that comes from the right wing. That takes a little backbone, a little experience … and it doesn't happen overnight."[10]
Central Committee
At the Michigan Democratic Convention in February 2017, the DSA elected several members to the Democratic Party state central committee. David Green, DSA Detroit chapter leader and National Political Committee member said, "We need a party that's open to progressive forces, and that's why we have to elect progressive leadership within the party..."[11]
Instigated "Progressive Caucus"
In 2000 Detroit DSA's energy was directed at electing progressives to the State legislature. The local negotiated directly with these candidates to canvass for them if they agreed to support Living Wage Initiatives and Universal Health Care 2000, as well as to co-sponsor the Single Payer Health Insurance Bill. Also, DSAers got their agreement to help form a Progressive Caucus in the State Legislature. The caucus was named The Justice Caucus. The local worked continually on their campaigns and hosted a "highly successful fundraiser" for one of the candidates. [12]
2000 elections
In 2000, the local was committed to retaking the state legislature from Republicans. "We targeted five races in which the efforts of a small group might prove decisive. One race was a primary, and the left candidate lost, but DSA made good contacts that will probably result in a future successful living wage campaign in Westland".
The remaining four were general elections. In return for the local's assistance with phone banking, door-to-door campaigning, and mailings, the Democratic candidates in these races agreed to the following demands: 1) endorsement of the Universal Health Care 2000 campaign, 2) co-sponsorship of the state single-payer health insurance bill in the next state legislature, 3) support for Living Wage and raising the state minimum wage, and 4) help in establishing a Progressive Caucus in the next state legislature.[13]
DSA Democrat endorsements
At the July 8, 2006 Greater Detroit Democratic Socialists of America membership meeting, Ed Bruley, the Macomb County Democratic Party Chairman, presented "Lay of the Land in Michigan Politics: Where are our Best Chances in Retaking the Michigan House and Senate." Ed Bruley was David Bonior's Chief of Staff during Bonior's tenure in Congress.[14]
He has a well-earned reputation as one of the best strategic thinkers in Michigan politics. His advice has often informed DSA's decisions regarding political endorsements.
2010 Democratic Party conference
In April 2010 Detroit DSA had a room at the Michigan Democratic Party endorsement convention, which was attended by approximately 2000 delegates. DSA was introduced to various candidates who were seeking endorsements and lobbied and voted for their two endorsed candidates – one for secretary of state (who won) and one for attorney general (who lost by a narrow margin). They distributed DSA literature (the Economic Justice Agenda and pieces on the financial crisis) to "a large and receptive audience". [15]
2006 "DSA" candidates
Under the heading "DSAers work for Andy Levin, Lisa Brown" a Greater Detroit Democratic Socialists of America 2006 newsletter report on a Detroit DSA meeting Nov. 4 2006 stated;[16]
DSA's goal this election cycle is to help the Democrats take control of both the state house and state senate. We do this work, not because we are sycophants of the Democratic Party, but because only in the context of a Democratic majority do we have the political space necessary to pursue our agenda (.e.g., fixing the flawed minimum wage legislation, pursuing universal health care).
Our strategy is to choose races in which the focused efforts of a small, but determined, group such as ours can play a decisive role in electing a progressive candidate.
We have endorsed two candidates in this election cycle: Andy Levin who is running for the state senate seat in District 13 (Royal Oak/Troy/Birmingham/Clawson/Bloomfield Hills) and Lisa Brown who is running for the state house seat in District 39 (West Bloomfield/Commerce Township).
DSA members Adam Sokol, Catherine Hoffman, Brandon Moss, Lon Herman, Earl Mandel, Helen Samberg, Bob Frumkin, David Green, Frank Goeddeke, David Ivers, Gary Benjamin, Al Benchich, Eric Ebel, David Elsila, Bill Helwig, Paul and Garie Bass, Selma Goode, and Mo Geary have come out for several campaign dates in September and October. Our volunteers canvass door-to-door, make phone calls, and stuff envelopes with campaign literature for our endorsed candidates.
Our last campaign date is on Saturday, November 4 (immediately following our general membership meeting) when we will be canvassing and phone banking for Andy Levin.
We will meet at his campaign headquarters (located at25 W. Fourteen Mile Rd.—near the intersection of Fourteen Mile andMain Street inClawson) at12:45 p.m. and will work from1-3 p.m. To volunteer for this activity, call David Green...
We are also looking for volunteers to work on getting out the vote in Lisa Brown's district on election day (Tuesday, November 7). Volunteers will be collecting names of voters as they register at the polling places, matching them against a list of Lisa Brown supporters, and calling those supporters who have not yet voted to urge them to do so.
Social movements
Detroit DSA has not given up on its commitment to social movements.
Over the past decade, the group has successfully waged six local living-wage campaigns in southeastern Michigan, utilizing many of the same methods they use to get out the vote. In 1998, thanks partly to the work of Detroit DSA, a living-wage ordinance passed on the ballot in Detroit with 80 percent support. Since then, the group has led other successful campaigns to establish a living wage in the cities of Warren, Eastpointe and Ferndale, and in the counties of Wayne and Macomb.
In 2006, Detroit DSA also led a successful anti-sweatshop campaign at Wayne State University, which thanks to the group's efforts, no longer sells merchandise made in sweatshops.
Green insists that the social movement activism is as important as Detroit DSA's electoral work.
"If all we did was work on electing progressive Democrats, we'd be guilty of some of the accusations our opponents give us, that the DSA is just an appendage of the Democratic Party … that we're political hacks. If all we do is movement work, that's kind of naïve. The way change happens in this country is by winning elections. That's how you gain power and make change. You have to have both." .[17]
MichUHCAN
In 1998, according to Democratic Left, Greater Detroit Democratic Socialists of America "are also active in the Michigan Universal Health Care Access Network (MichUHCAN), a single-payer coalition. Through the coalition the local helped block the acquisition of Michigan Capitol Medical Center by Columbia HCA".[18]
2010 endorsements
Greater Detroit Democratic Socialists of America was largely successful in its summer electoral 2010 work. "We endorsed three state senate candidates in the August 3rd primary: State Representative Vincent Gregory (District 14-Southfield/Farmington Hills), Macomb County Board of Commissioners Chairman Paul Gieleghem (District 10-Clinton Township/Roseville), and Isaac Robinson (District 3-Detroit/Dearborn). Our strategy was to intervene in primaries where, due to low voter turnout, the disciplined efforts of a small organization can have a disproportionate effect. We chose the state senate because 26 of the 37 races were for open seats. Due to term limits, there were very few incumbents seeking re-election. Since the Republicans presently hold the state senate by a one seat majority, there is a significant opportunity for the Democrats to recapture the state senate. Finally, with redistricting scheduled to take place in 2011 based on the 2010 Census, control of the state senate could have an enduring impact on the results of federal elections in Michigan."
Detroit DSA held a fundraising house party for the endorsed candidates on July 9th. 35 donors contributed over $6800 to the candidates. "This fundraiser occurred at a critical time when the candidates needed the money to cover the costs of mailings to absentee voters."
DSA volunteers canvassed twice for each of the candidates during the months of June and July. "We knocked on doors, distributed campaign literature, stuffed envelopes, and put up lawn signs for the candidates."
Two out of three of the endorsed candidates won their respective primaries. Vincent Gregory won his race comfortably, "though the result was closer than anyone had expected". Paul Gieleghem defeated a better known opponent by only 200 votes. DSA support was critical in this victory. Isaac Robinson came in second in a three person race—losing by only 848 votes.[19]
DSA will continue its electoral work this fall as we canvass and phone bank for Paul Gieleghem. He will need our support in what is expected to be a tough general election. continued
2000 Frederick Douglass-Eugene V. Debs Dinner
The annual Frederick Douglass-Eugene V. Debs fundraising dinner honored Detroit City Council member (and DSAer) Maryann Mahaffey and UAW Vice President Richard Shoemaker. The keynote speaker was Representative David Bonior.[20]
2003 Debs Dinner/DSA nat'l conv.
Detroit proved to be a superb site for DSA's 2003 National Convention, "both for its civic history and for the hard work and broad political connections of its DSA local".
On Friday evening, the Convention delegates attended Detroit DSA's annual Frederick Douglass-Eugene V. Debs Dinner. The event was held at the union hall of historic United Auto Workers Local 600, which represents the workers at River Rouge.
The event honored four people: Julie Hurwitz, the Executive Director of the National Lawyers Guild/Maurice & Jane Sugar Law Center for Economic & Social Justice; Phillip Schloop, the business manager of the International Union of Operating Engineers, who, along with the AFT's David Hecker, brought Detroit DSA into the Metro AFL-CIO Labor Council-led living wage campaign; longtime DSA member and union activist Carl Shier, who helped found the Democratic Socialist Organizing Committee, one of the forerunners of DSA; and life-long socialist Oskar Paskal, who worked for much of his life in labor education through the UAW and is an activist in the fight for single-payer healthcare.
The keynote speaker was journalist, political commentator and DSA Vice Chair Harold Meyerson.UAW International Vice President Dick Shoemaker, a DSA member and awards presenter, noted that "without the socialist movement and people like Carl Shier and Oskar Paskal, labor and social justice progress would never have happened."
The Saturday afternoon plenary session was devoted to a panel on the global economy featuring author Holly Sklar, former Congressman David Bonior (now a professor of labor studies at Wayne State University) and Canadian Joe CoMartin, member of Parliament from the Windsor area from the New Democratic Party. The panel was moderated by Wayne State University professor of labor history Linda Housch Collins.
Bonior outlined the proposal for a North American Parliamentary Union with a parliamentary body elected by all citizens in NAFTA countries—a project he has been promoting along with Mexican legislator Carlos Heredia.
Maryann Mahaffey, President of Detroit City Council and longtime DSA member, welcomed the delegates to the city. She said that "socialism—what the world, the earth, gives to us being equallyavailable to everybody—just makes sense."
Congressman John Conyers spoke at the Saturday night outreach event. Speaking on "Progressive Politics, the Left and the 2004 Elections." Conyers opened by saying that "with a crypto- fascist administration, there's no singular purpose more important than unelecting the unelected president"— a point that formed the focus of much of the discussion over the weekend as well as that evening.
The Convention's final plenary session on Sunday morning on "The Quest for American Empire" featured Greater Philadelphia DSA Co-chair Kathy Quinn along with professors Fran Shor from Wayne State University and Prasad Venugopal from the Physics Department of the University of Detroit.[21]
2006 Frederick Douglass-Eugene V. Debs Dinner
The 2006 Frederick Douglass-Eugene V. Debs Dinner was held Saturday, November 18, 2006 from 6-9 p.m. at UAW Local 600, 10550 Dix Avenue in Dearborn. The honorees were Michigan AFL-CIO Secretary-Treasurer Tina Abbott and inventors Stan Ovshinsky and Iris Ovshinsky. The keynote speaker was noted labor and globalization expert Harley Shaiken.[22]
The co-chairs for this event were UAW Secretary-Treasurer Elizabeth Bunn and Father John Nowlan, chair of the Interfaith Committee on Workers Issues. [23]
2007 Frederick Douglass-Eugene V. Debs Dinner
Over 250 people attended the Greater Detroit Democratic Socialists of America 2007 Frederick Douglass-Eugene V. Debs Dinner held at UAW Local 600 in Dearborn on Saturday, November 17. The dinner honored State Representative Alma Wheeler Smith and American Federation of Teachers-Michigan President David Hecker. Michigan State AFL-CIO President Mark Gaffney delivered the keynote address—a PowerPoint presentation on the threat of Right-to-Work (for less) legislation in Michigan. The dinner co-chairs were Metropolitan Detroit AFL-CIO President Saundra Williams and retired UAW Vice-President Richard Shoemaker. The Bill Meyer Group provided entertainment.
David Hecker captured the mood of the evening in his acceptance speech:[24]
"Alice and I are proud lifetime members of DSA and have been so for about the past twenty years.We both go back to the days of the Democratic Socialist Organizing Committee (DSOC). I realize merger with the New American Movement (NAM) some twenty-five years ago demanded a name change, but I much prefer the name DSOC. Why? Because it says 'Organizing Committee.' Our ability tobe effective is based on our power. We build power through organizing. You all know that. You do it every day. In fact, if Ethel Schwartz, Selma Goode, and Helen Samberg haven't talked with you tonight and persuaded twenty of you to attend yet another event, I would be disappointed..."
2009 10th Annual Douglass-Debs Dinner
Over 125 DSA members, progressives, and trade unionists gathered to celebrate our recent electoral success at the 10th annual Frederick Douglass-Eugene V. Debs Dinner. The dinner was held at historic UAW Local 600 on Saturday, November 8th 2009 . Local 600 was the home local of the participants in the Hunger March of 1933 and is adjacent to the Miller Road Overpass (site of the Battle of the Overpass in 1937 at which UAW organizers were savagely beaten by Henry Ford's security personnel while attempting to distribute literature to workers at the Ford Rouge Complex). The dinner is the sole fundraising event each year for Detroit DSA.
The co-chairs for the 2009 Douglass-Debs Dinner were UAW Region 1A Director Rory Gamble and International Union of Operating Engineers Local 547 Business Manager Phillip Schloop. The Douglass-Debs Award winners were David Bonior and Judy Bonior and Judge Claudia Morcom. The keynote speaker was In These Times senior editor David Moberg.[25]
2010 10th Annual Douglass-Debs Dinner
Over 200 people attended the eleventh annual Frederick Douglass-Eugene V. Debs Dinner at UAW Local 600 in Dearborn on May 8th, 2010. Local 600 was the home local of the hunger marchers of the 1930s and is adjacent to the site of the "Battle of the Overpass" which launched Walter Reuther into national prominence.
The Douglass-Debs Dinner is the annual fundraising event for Greater Detroit Democratic Socialists of America . 2010 honorees were UAW Vice President James Settles, Jr. and Metropolitan Detroit AFL-CIO President Saundra Williams. The dinner co-chairs were UAW Region 1A Director Rory Gamble and American Federation of Teachers-Michigan President David Hecker.
In his acceptance speech, Settles promised that the new UAW leadership which is expected to be elected at their convention in June, would be more progressive in its political orientation.
Bill Fletcher, Jr., the Director of Field Services and Education for the American Federation of Government Employees , delivered the keynote address. His topic was "Right-Wing Populism." Fletcher warned that progressives ignore the threat of right-wing populism at their own peril. He traced the history of this phenomenon from the Andrew Jackson administration . He mentioned the "Birthers," the "Oathers," and the Tea Party movement as manifestations of right-wing populism. He challenged the Left to confront right-wing populism and expose the fatuousness of their ideas. Failure to do so may be self-defeating as some of the ideas of the right-wing populists (e.g., conspiracy theories, condemnation of political and media elites) could prove seductive to a portion of our base.[26]
UAW Local 600 President Bernie Ricke welcomed guests to the 11th annual Douglass-Debs Dinner.[27]
2011 11th Annual Douglass-Debs Dinner
Over 200 people attended the 12th annual Frederick Douglass-Eugene V. Debs Dinner on October 1st at UAW Local 600 in Dearborn. The dinner honored Reverend Ed Rowe, senior pastor at Central United Methodist Church, and the Restaurant Opportunities Center of Michigan (ROC-Michigan). Reverend Rowe was honored for his lifetime commitment to social justice, civil rights, and workers' rights. The event honored ROC-Michigan for its recent successful campaign to improve wages and working conditions at Andiamo Restaurant. Congressman Hansen Clarke presented congressional citations to both awardees.
The dinner co-chairs were Metropolitan Detroit AFL-CIO President Saundra Williams and UAW Vice-President James Settles, Jr. The Bill Meyer Group provided entertainment and led the audience in singing "Solidarity Forever" and "The Internationale." Keynote speaker was William Greider, national affairs correspondent at The Nation.
Greider charmed the audience with his anecdotes. At one point, when queried as to whether he was a socialist, Greider replied, "Not yet, but if you folks get your act together, I may become one." In his prepared remarks, Greider emphasized the importance of the housing crisis in dragging down the nation's economy. He described a "death spiral" in which home foreclosures depress the prices of surrounding homes thereby causing the owners of those homes to go "underwater" on their mortgages leading to a cascade of new foreclosures. He advocated that the Obama administration issue an executive order to Fannie Mae and Freddie Mac instructing them to write down the principal on mortgages they hold in order to allow people to remain in their homes. By lowering homeowners' monthly mortgage payments in this way, not only would the "death spiral" be halted, but people would have more disposable income, thereby stimulating the economy.
DSA National Director Maria Svart also addressed the Douglass-Debs Dinner.[28]
2012 13th Annual Douglass-Debs Dinner
Over 180 people attended the thirteenth annual Frederick Douglass-Eugene V. Debs Dinner at UAW Local 600 in Dearborn on November 10th, 2012, . Honorees were Steve Babson/People Before Banks Coalition and Marjorie Mitchell, the Executive Director of the Michigan Universal Health Care Access Network.
The dinner co-chairs were Metropolitan Detroit AFL-CIO President Chris Michalakis and Tony Trupiano, host of "First Shift," the morning talk show on WDTW. The Bill Meyer Group provided the entertainment.
The highlight of the evening was John Nichols' keynote speech. The theme of his speech was that socialism is not a bizarre European ideology, incompatible with the American experience. Rather, socialism has been an intrinsic part of American politics since the founding of the nation.[29]
2013 14th Annual Douglass-Debs Dinner
167 people attended the fourteenth annual Frederick Douglass-Eugene V. Debs Dinner at UAW Local 600 in Dearborn on Saturday, October 19, 2013. Honorees were retired Michigan Supreme Court Justice Marilyn Kelly and Reverend Charles Williams, II, Pastor of King Solomon Baptist Church. Keynote speaker was Joel Bleifuss, publisher of In These Times magazine.
Dinner co-chairs were Rory Gamble, Director of UAW Region IA, and David Hecker, President of the American Federation of Teachers-Michigan. Entertainment was provided by actress Karen Kron who performed a selection from Emma, an upcoming Matrix Theater production on the life of radical activist Emma Goldman and by folksinger Julie Beutel.
Justice Kelly received the Douglass-Debs Award for her strong defense of workers' rights and consumers' rights during her tenure on the court. She has also worked to expand ordinary citizens' access to the courts. In addition, Justice Kelly has been an advocate of public education. She served for twelve years on the State Board of Education.
Reverend Williams is a local labor, civil rights, and social justice advocate. He is the local leader of the [[National Action Network]] which organized last summer's commemoration of Reverend Martin Luther King, Jr.'s 1963 Civil Rights March through downtown Detroit. He has been one of the leading voices protesting against the Detroit bankruptcy.
In his keynote address, Joel Bleifuss emphasized the importance of electoral work in promoting progressive change.[30]
2018 19th Annual Douglass-Debs Dinner
Detroit DSA Douglass Debs Dinner with Nina Turner
Public Hosted by Greater Detroit Democratic Socialists of America
Saturday, May 5 at 5 PM - 8 PM EDT
UAW Local 600, 10550 Dix, Dearborn, Michigan 48120.[31]
Invited on Facebook
Interested
Went
Officers
In 2009;[32]
DSA fundraisers for Mark Schauer
Greater Detroit Democratic Socialists of America held its first in a series of proposed fundraising house parties for Democratic gubernatorial candidate Mark Schauer on November 13, 2013 at the home of Chris Talwar and Gillian Talwar. The party raised over $5000 from 48 donors.
The guests of honor at the event were State Representative Vicki Barnett and Metropolitan Detroit AFL-CIO President Chris Michalakis.
Mark Schauer shares DSA's values. He has made raising the state minimum wage the centerpiece of his campaign. He is the son of a teacher who supports restoring funding for public education as well as restoring collective bargaining rights for teachers. He believes in universal health care. In fact, his courageous vote in favor of the Affordable Care Act in 2010 was probably responsible for his losing his Congressional seat in 2012.
Detroit DSA proposed to organize a series of fundraising house parties for Schauer in 2013-2014 in Oakland, Wayne, Macomb, and Washtenaw Counties.
The next house party was scheduled for the home of Detroit DSA Executive Board member Ken Jenkins. [33]
References