Merika Coleman
From KeyWiki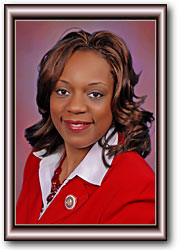 Merika Coleman is a State Representative from Alabama.
She was first was elected to the Alabama House of Representatives in 2002.
Background
Representative Coleman received her Bachelor of Arts Degree in Mass Communication and her Master of Public Administration Degree from the University of Alabama at Birmingham.
Representative Coleman was a 2004 Fleming Fellow with the Center for Policy Alternatives, a nonpartisan, nonprofit organization working to strengthen the capacity of "Citizen Legislators." She was also selected as an American Council of Young Political Leaders delegate to Japan in 2003.
Professionally, Representative Coleman has held several positions with nonprofit organizations as a public policy analyst and strategist were she championed issues such as tax reform, constitutional reform, public transit funding, affordable housing and environmental justice.
She transitioned to become the Director of Community and Economic Development for Lawson State Community College where she also served as an Adjunct Instructor of Government and then became Director of Economic and Community Development for the City of Bessemer where some of her responsibilities included business recruitment and retention, downtown revitalization as well as neighborhood revitalization and land use planning.
Representative Coleman is currently an Assistant Professor of Political Science at Miles College.
Representative Coleman also serves as a Board member of Greater Birmingham Ministries, WiLL, which is the Women Legislators' Lobby and is an organization which equips legislators with information on the impact of federal policy and the federal budget on state programs.
Additionally, she is a founding member of the Midfield Voter's League, an organization which elected the first African American Mayor of the City of Midfield.[1]
Supported Progressive Health Care Reform
In late 2009, Merika Coleman was one of more than 1,000 state legislators to sign a letter entitled "State Legislators for Progressive Health Care Reform". The letter was a project of the Progressive States Network and was developed in consultation with national health care reform advocates, including the AFL-CIO, AFSCME, Community Catalyst, Families USA, Herndon Alliance, National Women's Law Center, Northeast Action, SEIU, and Universal Health Care Action Network. The letter reads in part,[2]
"Failure to pass national comprehensive health reform now will further jeopardize state and local budgets, undermining public services like education, public safety, and transportation infrastructure... We, the undersigned, call on President Obama and the Congress to enact bold and comprehensive health care reform this year – based on these principles and a strong federal-state collaboration – and pledge our support as state legislators and allies in pursuit of guaranteed, high quality, affordable health care for all."
References