Megan Marshall
Jump to navigation
Jump to search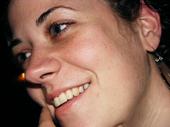 Megan Marshall is an Illinois activist. She is the daughter of Scott Marshall. She is married to Fifo Moreno.
She is the Owner/ President ·Lango Chicago, Illinois · May 2010 to present.
YCL member
In 1998 Megan Marshall was Coordinator[1] of the Chicago Young Communist League USA club.
Saluting workers everywhere!
In 2009 the Peoples Weekly World carried an article "Saluting workers everywhere!"
Our unity makes Wall Street tremble
Employee Free Choice and universal health care!
A 'green', demilitarized, democratized economy that works for all!
Illinois Readers of the PWW signed the article.
Terrie Albano & John Bachtell - Jon Allen - Sijisfredo Aviles - Eric Robert Berdell - Carolyn Black & Bill Appelhans - Owen Brill - Helen Boothe - John Bradley - Docia Buffington & Abdul-Aziz Hassan - Cathy Campo & Kevin Lindeman - Cristobal Cavazos, Tania Brown & Anita Naoli - Andrew Chebuhar - Dean Christ & Joan Phillips - Ben Cline - Carmen Cohn & Lance Cohn - Alison Cooper - Clarice Durham - Joan Elbert - Thomas Fineberg & Maxine Fineberg - Oscar Forsman - Connie Hall - Ahmad Hassan - Harold Hill - Dajiang Hu - Marge Gamboa - Mike Giocondo & Carroll Krois - Luster Jackson - Ed Jenks & Mary Jenks - Earl R. Jones - Kenneth Kapel - Molly Kelly & Dallas Brown - Angela Larson & Bamshad Mobasher - Jim Lange - Joyce Lightfoot - Stephen Livingston - Guadalupe Lozano - Pepe Lozano - Bea Lumpkin & Frank Lumpkin - Megan Marshall - Scott Marshall & Roberta Wood -Bill Mackovich - Damien Matthews - Donn Miller - Stanley Moe - Ken Nelson - Tom Pace - Ted Pearson & Kathy Pearson - Martha Pedroza - Hector Pedroza - Shelby Richardson – Mark Rogovin & Michelle Rogovin - Barbara Russum -Armando Santos - Tom Shepherd - Evelyn Swan - Ruth Tregay -Kevin Tyson - John Wojcik.[2]
National Party Building Conference
National Party Building Conference Hosted by Communist Party USA and People's World.
Saturday, November 11, 2017 at 12 PM – 6 PM EST
Join Communist Party activists and members in a national conference. You can register here https://tinyurl.com/ycdouk3y
The conference will take place November 11th to 12th to plan our work in the fight against the Trump Administration and its white supremacist ruling class backers. Find information here about how to participate. http://www.cpusa.org/2017-national-party-building-conference-resist-organize-vote-grow/
The conference will be streamed from Chicago to regional meetings in New Haven, Los Angeles, and Orlando. Whether you're on the East Coast, West Coast, in the MIdwest or the South, you'll be able to participate.[3]
Those invited on Facebook included Megan Marshall.
PWW supporter
The Bud Billiken parade, this city's biggest parade and the largest gathering of African Americans in the country, has been held every year since 1929. It was started by the late Robert S. Abbott, founding publisher of the Chicago Defender newspaper, as a tribute to youth and the struggle against racism.
The 2003 parade on Aug. 9 featured hundreds of floats, marching bands, baton-twirlers, elected officials, and an enthusiastic audience of over one million people on Chicago's south side.
Carolyn Black was among them. Black, a member of the Illinois bureau of the People's Weekly World, was helping staff a table sponsored by the PWW, the Communist Party of Illinois, and the Young Communist League.
YCL members helped distribute the newspaper, too. Celica Vasquez said that she was encouraged by seeing "a lot of people working together." Megan Marshall commented, "This is where the youth can have fun." Brandi and Neil also worked hard to get the papers into the hands of the crowd.[4]
References