Mass Alliance
From KeyWiki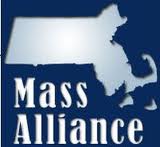 Mass Alliance was formerly known as the Commonwealth Coalition.
Mission
Mass Alliance is a coalition for political and advocacy organizations that work together to build a progressive Massachusetts.
Its member organizations have a diverse range of priorities, including:
Civic Participation
Civil Rights
Economic Justice
Education
Environmental Protection
Healthcare
Reproductive Rights
Workers' Rights
"We collectively endorse candidates who support this progressive agenda".[1]
Mass Alliance provides leadership for the progressive community, cultivates and empowers new progressive leaders, seeks out progressive champions for legislative office, and, with our PAC, makes the difference between progressives winning or losing their elections. Our victories are making Massachusetts more progressive.
Member Organizations
As of September 2012;[2]
DSA connection
In 2006, Carl Nilsson was Campaigns Director for Neighbor to Neighbor-Mass Alliance.[3]
According to Nilsson, Mass Alliance, the state-wide progressive electoral coalition, split in two recent special elections on February 7th. In Gardner, liberal Democrat Robert Rice defeated conservative Republican Jonathan Dennehy by 700 votes. In Foxboro, progressive Democrat Claire Naughton lost to Republican Ginny Coppola, widow of former Representative Michael Coppola, by 500 votes.
Mass Alliance members, including Boston Democratic Socialists of America, devoted significant fundraising, membership communication, field assistance, and direct mail resources to the Naughton campaign, but it proved too difficult to elect a progressive in such a conservative district, especially "with us having to go against the sympathy factor".[4]
The Mass Alliance is also moving forward with hiring a political director. We have received resumes from some very promising candidates and will have a full-time staffer in place by next month. The Alliance will then be able to make an even bigger difference for leftist candidates running for state office!
According to Boston Democratic Socialists of America newsletter, The Yankee Radical, March 2006.[5]
We (Boston Democratic Socialists of America) continued our electoral work with the Massachusetts Alliance (formerly the Commonwealth Coalition), a grouping of unions, civil rights groups and other progressive forces who strive to provide effective support in a targeted number of state legislative races. Through the Alliance we strengthened our relationship with key allies and, by door-knocking, phone-banking and mailings, helped elect Linda Dorcena Forry, Chris Speranzo and Pat Jehlen to the State House. Boston DSA also supported (on our own) the successful City Council re-election races of Felix Arroyo in Boston and Denise Provost in Somerville.
Our plans for 2006 include projects voted as priorities by DSA's recent National Convention, especially focusing on the low-wage economy (i.e., Wal-Mart, healthcare). And we'll maintain our involvement with the Alliance—currently we're working on the State Rep. races of Claire Naughton in Foxboro and (again on our own) Denise Provost in Somerville.
Progressive gains
According to Georgia Hollister Isman, Director of Mass Alliance, 2008 saw a net gain of 5 progressive seats in the MA legislature. The insurgents generally replaced more conservative Democrats, and all credited the Alliance with helping them to victory .[6]
Also according to Isman;[7]
In 2008, champions for economic and environmental justice and civil and workers rights ran in nine of the thirteen open seats in the Massachusetts House. They won in eight. There was nothing inherently more conservative about the districts where no progressive ran, their just wasn't one ready and willing to run. We are held back in our ability to win a progressive majority not because we can't win, but because too often we don't try.
In preparation for 2010 and beyond, Mass Alliance has decided to invest in inspiring, training, and preparing progressive activists to become candidates. We especially hope that grassroots mem-bers and leaders from our member organizations—including DSA—will think about becoming candidates and preparing themselves for that task.
The first step in our new program is a one day introductory workshop—"Getting Ready to Run"—on Saturday June 13th. It is designed for people who are thinking about running, who might run, or who are preparing to run for any office somewhere down the line. The focus will be on deciding what and when is the right race for you, and on steps you can take now to prepare yourself to be a stronger candidate when the time comes.
If you have ever thought of or wondered about running for political office, please join us. And also think of your friends who would be good progressive champions in the legislature, and ask them too.
DSA funders
A House Party to benefit Mass Alliance was held Thursday, June 11, 2009 5:30 to 7:30 pm at the home of DSA member John Maher and Ellen Sarkisian, 8 Dunstable Road, Cambridge.[8]
On October 1 2009, DSA member Jeff Knudsen, hosted a fund raising reception for Mass Alliance at his Mission Hill house. [9]
The Alliance is the electoral coalition (including DSA) working to elect more progressives to the State House. This reception takes place at the home of DSA member Jeff Knudsen... Mission Hill, Boston.
Eat, drink, and meet some of our previously endorsed candidates and elected officials. Sponsored by Clean Water Action, Boston Teachers Union, American Federation of Teachers, NARAL Pro-Choice MA, DSA, and MA NOW.
In 2010 Boston Democratic Socialists of America co-sponsored Jeff Knudsen's annual fundraising reception for Mass Alliance.[10]
Endorsements
2008 endorsements
2009 endorsement
2010 endorsement
2012 Endorsed Candidates
Mass Alliance endorses candidates who request our endorsement and who have a clear record of supporting our values. We are proud to endorse these progressive champions:[14]
Open Seats:
House:
Senate:
Challengers:
Candidates for Re-Election to the Senate:
Candidates for Re-Election to the House:
References