Maryann Mahaffey
From KeyWiki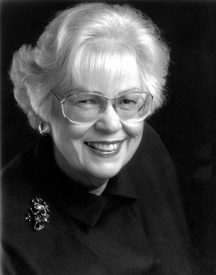 Maryann Mahaffey (1925 - 2006), was a long time time Detroit City Councillor and prominent socialist activist. She was married to Hy Dooha and died in 2006 age 81.
Background
Maryann Mahaffey has been a social warrior for the improvement of women's status for the majority of her life. A former social work professor, she served as President of the Detroit City Council (1990-98).
Mahaffey "became aware of the power behind discrimination in 1945, shortly before her graduation from Iowa's Cornell University. Volunteering to serve as a recreation director at a Japanese Relocation Center in Arizona, she soon discovered its real purpose was as a concentration camp where American citizens were incarcerated not for committing crimes, but for their ancestry. The experience left a lasting impression and led to her desire to serve the needs of others. That service has taken many forms."
As a social worker, Mahaffey has been an advocate for issues such as improving conditions for racial and ethnic minorities, hunger, at risk children's welfare, urban issues, social work, peace issues, employment, and disabilities. She has also worked on international human rights, senior issues, physical and mental health, the environment, and social services for the poor. When the first African-American families moved into northwest Detroit, Mahaffey walked black children to school each morning until the atmosphere of racial tension eased. As chair of the Coalition for Better Health Care, she worked to restore health care services for poor people. As chair and one of the founders of the Michigan Statewide Nutrition Commission, she helped achieve a Michigan law mandating School Breakfast programs. Working mothers have benefited from Mahaffey's efforts with the Michigan Legislature to enact laws establishing child care facilities in neighborhoods, thus giving them expanded options in child care services and employment opportunities.
MIn the field of politics she filed the precedent-setting lawsuit which established a woman's right to run for office using her birth name. While in public office, Mahaffey led the fight to open the doors of the Detroit Athletic Club to women and she enacted an ordinance explaining and prohibiting sexual harassment of city employees. She was co-chair of the Detroit Women in AIDS Project; and she was instrumental in the founding of the Detroit Sexual Assault Center. In 1994-95 she chaired the Michigan delegation to the Non-governmental Organizations section of the United Nations' Fourth World Conference for Women held in Beijing.[1]
Communist front activism
During the 1950s Mahaffey worked for Communist Party USA causes such as the Stockholm Peace Appeal. In the 1970s she was active in the Detroit area committee to free Angela Davis.
Life of activism
According to Mahaffey's Peoples Weekly World[2]obituary;
One of the first experiences that taught Mahaffey that injustice must be fought was when, in 1945, she served as the recreation director at a Japanese internment camp in Arizona. She said she was "forever haunted by what could not be done, by the irreparable damage inflicted on an innocent, helpless, defenseless population
Her husband, Hy Dooha, told the World that Mahaffey, in addition to all of her humane concerns for people in Detroit, had a political awareness of issues in the world. She thought our social system was not working for the people, that too many people suffered from ills created by the system and that socialism should be considered, he said.
She was a peace activist who went to international peace meetings in Moscow, Prague and Mexico City, among other world cities. She went to socialist Cuba at the invitation of the mayor of Havana. She was arrested at the South African Embassy in Washington, D.C., for protesting apartheid.
During Augusto Pinochet's brutal rule in Chile, she went to that country representing the National Association of Social Workers and smuggled money, hidden in her clothing, to give to Chilean social workers.
Just two weeks before her death, and very weak from her illness, she participated in a rally against the Iraq war, holding her sign while leaning against a mailbox for support.
World Peace Council
In the mid 1970's U.S. members of the Soviet front World Peace Council were;[3]
Detroit City Council
Maryann Mahaffey served on the Detroit City Council from 1974 to 2002.[4]
Palestine Human Rights Campaign
A brochure came out in early 1978 announcing "A National Organizing Conference" sponsored by the Palestine Human Rights Campaign to be held on May 20-21, 1978, at American University, with the theme of "Palestinian Human Rights and Peace".
The list of "Sponsors" was a mix of a several groupings including the Communist Party USA and its sympathizers, the World Peace Council, the Hanoi Lobby, black extremists, mainly marxists, radical Christians, and Arab/Arab-American organizations, plus a few phone-booth sized pro-Palestinian Christian groups.
Individual sponsors of the event included Maryann Mahaffey president pro-tem Detroit City Council.
World Peace Council host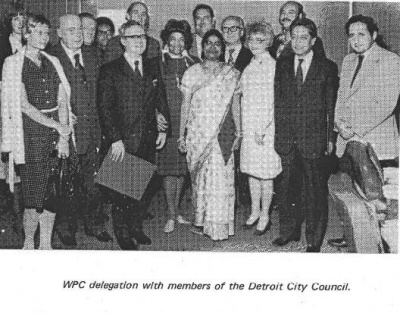 From September 29, to October 12, 1975 the Soviet front World Peace Council sent a delegation on a ten-day tour of the United States of America, where it was "warmly and enthusiastically received". In six of the ten cities visited, the delegation was officially welcomed by the mayors' offices and presented with "keys to the city", medals and proclamations.
The delegation was composed of Romesh Chandra, Secretary General of the World Peace Council; Josef Cyrankiewicz, former Premier of Poland, for many years a prisoner at the infamous Auschwitz prison camp, "outstanding anti-fascist fighter", and Chairman of the Polish Peace Committee; Ambassador Harald Edelstam, Swedish Ambassador to Algeria, formerly Ambassador to Chile during the Allende Presidency,"renowned for his rescue of hundreds of Chileans from the fascist junta"; Purabhi Mukherji, General Secretary of the Congress Party of India, member of Parliament and formerly a minister of the Indian government ~ for 15 years; James Lamond, Labour member of British Parliament, former Mayor of Aberdeen, Scotland, and active member of the Engineering Workers Union; Yacov Lomko, Editor-in-Chief of the Moscow News, leading member of the Soviet Peace Committee, and Communist Party USA member Karen Talbot, US member of the WPC Secretariat.
At Detroit's airport, the group was met by representatives of local peace organisations and trade unions. A sheriff's escort accompanied the delegates into Detroit where the "keys to the city" were presented to the delegation by Deputy Mayor Malcolm Dade, representing Mayor Coleman Young, and by Councilwoman Erma Henderson, member of the Detroit Common (City). Council.
The press, which was present during the presentation of the "keys", interviewed members of the delegation following the ceremony. The delegation was then taken to a meeting of the Detroit Common Council where the "Spirit of Detroit Award", signed by each member of the Council, was presented to each delegate by Council members Erma Henderson, Maryann Mahaffey and Clyde Cleveland. In addition to these Council members, the Michigan sponsors numbered 60 prominent local, state and national legislators, a Detroit judge, the presidents or vice presidents of 12 union locals including the United Auto Workers, Amalgamated Meatcutters, Transportation Employees and the American Federation of State, County and Municipal Employees.
The sponsors also included the Bishop of the Catholic Archdiocese of Michigan, among other prominent members of the clergy, the Women's International League for Peace and Freedom, Women for Peace, and representatives of peace, political and Black organisations.[5]
U. S. Peace Council sponsor
As at March, 1982, the published list of U.S. Peace Council sponsors included:[6]
Peace Links
During the 1980's JoAnn Watson co-founded Peace Links in Detroit (with the Hon. Erma Henderson and the Hon. Maryann Mahaffey)..[7]
DSA Elected Representatives, 1990

As of January 1990, Democratic Socialists of America members holding elected public office included;[8]
Ron Dellums, US Rep., California
Major Owens, US Rep., California
David Dinkins, NY Mayor
Jim Scheibel, St Paul, Minnesota Mayor
Ben Nichols, Ithaca (NY) Mayor
Larry Agran, Irvine (CA) Mayor
Jim Conn, Santa Monica Mayor
Niilo Koponen, Alaska State Legislator, Fairbanks
Beverly Stein, Oregon State Rep., Portland
Perry Bullard, Michigan State Rep., Lansing
Babette Josephs, Pennsylvania State Rep., Philadelphia
Ruth Messinger, Manhattan Borough President
Harry Britt, President, San Francisco Board of Supervisors
Maryann Mahaffey, President, Detroit City Council
Hilda Mason, Washington DC, City Councilor
David B. Sullivan, Cambridge (MA) City Councilor
David Scondras, Boston (MA) City Councilor
Anne Chandler, Berkeley (CA) City Councilor
Mildred Jeffrey, Wayne State University (Detroit) Governor
Memorial to Coleman Young
On December 20 1997 the Communist Party USA's Peoples Weekly World published on page 18, a memorial to late Detroit mayor Coleman Young.
Signatories to the memorial included Maryann Mahaffey.
Honoring Eve Neidelman
On September 4, 1999, Maryann Mahaffey added her name to the below greeting, in the September 4, 1999, Labor Day Supplement of People's Weekly World, Page F.
Eve Neidelman 1902-1999 - "We honor a life devoted to the American Working Class and its Trade Unions. A promoter of Art and Artists, and a strong believer in Socialism. May her memory serve as an inspiration.
WWP connections
In the mid 200s the pro Cuban/North Korean Workers World Party developed a relationship with Detroit City Council members JoAnn Watson and Maryann Mahaffey.
According to a report "MWM national conference in Detroit, May 14-15, 2005: What happened to this split in the labor bureaucracy?" by Pete Brown (Communist Voice #36, Sept. 2005). [9]
Next speaker was Clarence Thomas, another leader of ILWU Local 10. Thomas cashed out Holmes' general theme of "protect our leaders who are under attack" by citing the specific case of JoAnn Watson. Watson is a liberal Detroit city council member with whom WWP has been trying to build a coalition. WWP has concocted a new organization, the National Conference to Reclaim Our Cities (NCRC), based on an alliance with Watson and Maryann Mahaffey, the Detroit city council president. Thomas cited Watson as a leader to whom MWM activists should rally in support, saying she is under attack because of her solidarity with the working class...
Clarence Thomas mentioned that Watson has been a prominent leader of the NAACP, as if this were some kind of credential for a working class radical. But when was the last time the NAACP took a radical stand on anything? No, the talk about "attacks" on Watson was just a smokescreen to obscure the real import of Thomas' remarks, which was that he wants MWM activists to take a friendly attitude to Democratic political climbers like Watson. Thomas mentioned a meeting he had with Watson the day before, a meeting arranged by Detroit WWP leader David Sole. And he gave some friendly words of endorsement to Sole's special project, the NCRC coalition with Watson and Mahaffey.
National Conference to Reclaim Our Cities
The Workers World Party instigated National Conference to Reclaim Our Cities was held Friday, November 11 thru Sunday, November 13 in Detroit in the Wayne State University Student Center Ballroom.
People from the throughout the state of Michigan and delegations from New Orleans, Cleveland, Baltimore, New York and other cities will converge on the Wayne State University campus to develop strategies for the rebuilding of urban areas around the country. Under the theme: "Money to Rebuild New Orleans and all U.S. Cities, Not for War," this national meeting of grassroots, labor and peace activists will call for the feeding of the cities and the starving of the Pentagon.
Demanding funds for jobs, housing, Social Security, schools, healthcare and the environment, the conference will focus on the Bush administration's budget which slashed 150 domestic programs while it pushes the spending for war to over half a trillion dollars a year. Organizers of the event say that it is time to launch a struggle to win the right to healthcare, quality education, decent housing, food, utilities, and jobs at living wages.
A partial list of endorsers for this event includes: Maryann Mahaffey, President of the Detroit City Council, JoAnn Watson, member of the Detroit City Council, Donald Boggs, President of the Metro-Detroit AFL-CIO, Nathan Head, President of the Metro-Detroit Coalition of Black Trade Unionists, Ed Rowe, Pastor of Central United Methodist Church, Marian Kramer, Co-President of the National Welfare Rights Organization, the Gray Panthers of Metro-Detroit and Workers World Party members David Sole, President of UAW Local 2334and Abayomi Azikiwe, Editor of the Pan-African News Wire.
All day Saturday, November 12, there will be plenary sessions and workshops to discuss solutions to the urban crises across the United States and the role of the increasing militarization of both domestic and foreign policy of the national government.
This conference was open to the general public and was sponsored by the WSU student chapter of the the Workers World Party front Michigan Emergency Committee Against War & Injustice.[10]
DSA membership
Maryann Mahaffey was a long time member[11]of Democratic Socialists of America.
Maryann remained active in DSA until the end. She worked on our first successful living wage campaign in Detroit in 1998. She received DSA's Douglass-Debs Award in 2001. She attended our fundraiser for Bernie Sanders one month before her death.
References