Mary Cal Hollis
From KeyWiki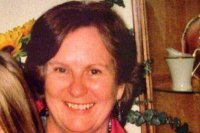 Mary Cal Hollis is a self-described "stay-at-home mom" and former special education teacher. A former Democrat, she has also been active for many years on behalf of various leftist, peace and vegetarian causes.[1]
Socialist Party Involvement
Hollis has served on the Socialist Party USA National Committee since 1994 and served as the party's National Co-Chair in 1994-98. She was the party's presidential candidate in the 1996.At its national convention in mid-October,1999 the Socialist Party USA nominated David McReynolds for U.S. President and Mary Cal Hollis for Vice-President.[2] In 2000, she was the party's nominee for Vice President alongside David McReynolds who had been nominated for President.
Green Party USA Involvement
Hollis stated on her website that she has been a member of the Green Party USA for many years, also stating that she believes the two parties have a very similar platform.[3]
References