Martin Deppe
Jump to navigation
Jump to search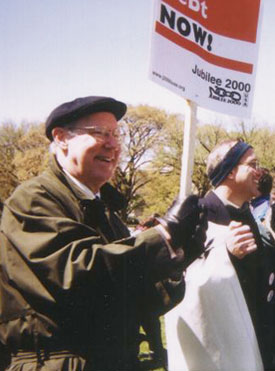 Template:TOCnestleft Rev. Martin L. Deppe is an Illinois activist.
Education
Martin Deppe was educated at Lawrence University, Appleton Wisconsin[1].
MLK
In 1967, Deppe stood behind Dr. Martin Luther King, Jr., at the signing of a covenant between the Southern Christian Leadership Conference's Operation Breadbasket and the Jewel Tea Company. Having helped negotiate the agreement, Deppe was "midwife" to an event that led this major Chicago chain store to move from 4 percent to 12 percent black employment in only three years[2].
Chicago Committee to Defend the Bill of Rights
In 1970, the Advisory Council of the then Communist Party USA front Chicago Committee to Defend the Bill of Rights consisted of Timuel Black, Rev. Edwin Buehrer, Prof. Carl W. Condit, Rev. Martin Deppe, Joseph Engel, Abe Feinglass, Rev. Gerard G. Grant, Very Rev. Samuel J. Martin, Rabbi Robert J. Marx, Rev. Jules L. Moreau, Al Raby, Rev. Joseph Sattler, Jack Sullivan.[3].
Paris "peace" talks
In 1971, Deppe was part of a Clergy and Laity Concerned peace mission to Paris that met with the North Vietnamese delegation to the peace talks[4].
Anti War activism
In 1972 Rev. Martin L. Deppe, was one of 95 members of Clergy and Laity Concerned arrested during a demonstration in the Capital Rotunda in Washington DC. He was situated a few cells down from the Rev. William Sloane Coffin[5].
"My fondest memory of Bill Coffin," Deppe says, "is listening to him, in jail, leading the singing of old-favorite hymns, spirituals, and freedom songs with his booming, cheerful baritone and incredible memory. He knew the words of every verse of every hymn; after the first verse, the rest of us hummed along as he belted out the words."
Deppe also worked closely with Rabbi Abraham Heschel[6].
Claude Lightfoot Reception
A partial list of sponsors for a January 19, 1973 Reception in Chicago for Communist Party USA leader Claude Lightfoot included;
Linda Appelhans, Margaret Appelhans, Arnold Becchetti, Leon Beverly, Richard Criley, Reverend Martin Deppe, Ishmael Flory, Frances Gabow, Ben Green, Bill Hampton, FatherJohn Hill, Mrs. Christine Johnson, Jack Kling, Attorney Max Maiman, Margaret Palmer, John Pappademos, Ted Pearson, A. A. Rayner, Jr., Harold Rogers, Norman Roth, Attorney Irving Steinberg, Gil Terry, Robbylee Terry, Charles Wilson and Sylvia Woods[7].
Alliance to End Repression
Deppe headed the Alliance to End Repression in its 11-year effort that culminated in a consent decree from a federal district court eliminating the Chicago Police Department's Subversive Activities Unit, the infamous "Red Squad."
Church activism
In 1980,Deppe served on the strategy team for the Rev. Marjorie Matthews in her successful bid for election as the first woman bishop in the United Methodist Church[8].
As a pastor, Deppe served six United Methodist parishes in the Chicago area between his ordination in 1961 and retirement in 1999. In one instance, he built a predominately black congregation following the moving-away of some 500 white members; in another, he integrated the congregation and founded an ecumenical food pantry. A clergy colleague has said, "He has a genius for taking churches that are not going anywhere and making them work."
Clergy and Laity Concerned, Chicago Chapter
In 1983, Martin Deppe, Morgan Park, United Methodist Church, served on the Board of Directors for the Clergy and Laity Concerned, Chicago Chapter. [9]
Richard Criley Memorial
In 2000, Martin Deppe served on the welcoming committee for the Chicago Memorial Service for Richard Criley, a long-time activist with the Communist Party USA and a leader of the Chicago Committee to Defend the Bill of Rights.[10]
Retirement activism
In retirement, he is an inveterate writer of letters to the editor. As of December 2006, he had written 125 post-9/11 letters to various publications, of which 65 had been published. His wife, Peg, calls this his "retirement pulpit.[11]"
Honoring Frank Wilkinson
Chicago Committee to Defend the Bill of Rights organized a "Celebration of the The Dynamic Life of Frank Wilkinson (1914-2006)" on Sunday October 29, 2006. Wilkinson had been a leader of the Communist Party USA, the New American Movement and Democratic Socialists of America[12].
Honoring Committee members included Martin Deppe.
Open Letter to Obama on Iran
In 2008 Martin Deppe, United Methodist Church, Chicago, IL signed an online petition "A Open Letter to Barack Obama on Iran".[13]
References