Martha Grevatt
From KeyWiki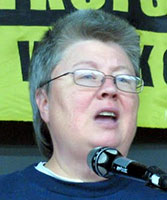 Martha Grevatt is a Detroit Workers World Party member. She was a leading member of the Cleveland, Ohio, branch for many years.[1]
Education
Cleveland Heights High School, School year 1975.
Bail Out The People Movement
Martha Grevatt of the UAW and the Bail Out The People Movement spoke to the poor people's march in Cleveland on August 21st, 2009.
Latin American Labor Leaders tour
The Latin American Labor Leaders tour kicked off March 21, 2010, in Cleveland demanding an end to the U.S. blockade of Cuba and its trade and travel ban that prevents workers from exchanging views and direct understanding.
The participation of Gilda Chacón Bravo from the Confederation of Cuban Workers (Central de Trabajadores de Cuba) and the World Federation of Trade Unions was stalled by the U.S. State Department. Although approved for a visa, "her passport is currently held by the U.S. Interests Section in Havana, making it impossible for her to travel and take part in the tour".
A wide cross section of Cleveland unions and the community warmly engaged Ronald Quesada, a national directorate member of the National Union of Social Security Fund Employees in Costa Rica . Quesada was one of many union leaders who applied to the U.S. State Department for a visa to join the tour, but the only one to date who has been approved.
Protest letters to Secretary of State Hillary Clinton were signed by participants. Martha Grevatt, chair of the Civil and Human Rights Committee of UAW Local 122 and Peoples Fightback Center organizer, chaired the meeting and declared that workers' solidarity could not be stopped and neither would this tour.
Quesada discussed labor conditions in Costa Rican shipyards, health care and mining; immigration, the imperialist-sponsored free trade agreements and the development of the Bolivarian Alliance for the Americas (ALBA). Quesada's union is a member of ALBA, although Costa Rica is not.
Ignacio Meneses from the U.S./Cuba Labor Exchange spoke and translated. Greetings were given by meeting organizers including Deb Kline, Cleveland Jobs with Justice organizer; Brian Stefan-Szittai, director of the Inter Religious Task Force on Central America; Harold Wilson, president of the Cuyahoga-Medina Community Action Program Council of the United Auto Workers; and Tito Boneta, president of UAW Local 1005.
Also present were members of the Amalgamated Transit Union, the Teamsters, the Steelworkers, AFSCME, North Shore Labor Federation Retirees and a representative from the office of Congressperson Dennis Kucinich.[2] Mar 28, 2010
2010 WWP National Conference
The 2010 National Workers World Party Conference was held on Saturday and Sunday, Nov. 13 - 14, 2010, and had the tagline, "2010 National Workers World Party Conference".[3]
Second Plenary: First Panel-- The Capitalist Crisis and Role of the Working Class
Chair: Andre Powell; Speakers: Sharon Black, Phebe Eckfeldt, Martha Grevatt, Monica Moorehead, John Parker, Betsey Piette and Dante Strobino
Nicaragua visit
On Aug. 25, 2011 while attending ESNA IV (Encuentro Sindical Nuestra América Union Meeting of Our America) in Managua, Nicaragua, Martha Grevatt and Ignacio Meneses of the U.S./Cuba Labor Exchange interviewed Humberto Montes de Oca, secretary of external affairs of the Mexican Union of Electrical Workers/Sindicato Mexicano de Electricistas, which for several years has been fighting privatization and the loss of their jobs.[4]
Occupy Detroit
UAW and AFL-CIO members joined Occupy Detroit protestors during a Nov. 6 march and rally to collect winter supplies. The demonstration highlighted a continuing alliance between the region's labor unions and Occupy Detroit activists.
According to organizers, more than 500 union members and protesters participated in the rally at Hart Plaza and march to Grand Circus Park. Occupy Detroit Labor Work Group member, Writer L. Bush, told the Michigan Citizen that monetary donations reached almost $5,000. He said a truckload of donated supplies — blankets, gloves, batteries, tarps, flashlights, etc. — allow occupiers to consider continuing their protests through the winter months.
Martha Grevatt, member of UAW Local 869, says considering the anemic job market, there is very little distinction between the labor and Occupy movements. She says autoworkers have responded accordingly.
"I work on the auto shop floor, and working people really identify with the fact that people are standing up to the banks," Grevatt said at the Nov. 6 rally. "They're standing up to the bosses, they're saying no more cutbacks, no more givebacks. We demand jobs."
Grevatt, who also works with Michigan Emergency Committee Against War and Injustice, says union participation has graduated beyond pronouncements and vocal support.
"It means everything that labor is involved. There are people who are union members, and union leaders who have been camping out, who have been here every day," Grevatt said.[5]
8th U.S./Cuba/Mexico Latin American Labor Conference
The 8th U.S./Cuba/Mexico Latin American Labor Conference took place in Tijuana, Baja California, within sight of the U.S. border, December 2-4, 2011.
Some 80 participants attended from the U.S., Mexico, Cuba, Brazil and Uruguay.
It was preceded by a three-day Worker's School for some 26 intercontinental labor activists, taught by Heriberto González del Valle, a youthful professor at the Lázaro Peña National School for Union Cadres in Havana, Cuba.
For U.S. attendees the conference offered a rare opportunity to interact with Cuban counterparts.
The opening panel featured Dr. Raymundo Navarro Fernández, member of the Secretariat of the Central de Trabajadores de Cuba, who spoke on the effect of the global economic crisis in his country.
With some 8 million affiliated members, the Central dos Trabalhadores e Trabalhadoras do Brasil is but one of six trade union councils in South America's economic powerhouse, Brazil. The Tijuana conference also heard from João Batista, an officer of the CTB and of the Encuentro Sindical Nuestra América.
According to participant Eric Gordon of Los Angeles;
For those of us in the U.S., it was gratifying to hear Batista confirm that the Occupy movement has brilliantly shown the world that "U.S. imperialism" also affects the 99 percent at home. Latin American growth rates in the last decade are directly tied to greater autonomy from U.S. banks and financial institutions.
A UAW member from Detroit, Martha Grevatt, spoke movingly about the U.S. domestic crisis, citing her hometown as "the poster child for a sick capitalist society that puts profit before human needs."
Other presenters, including the Cananea miners' strike in Mexico and the Mexican electricians union, both now under heavy attack, filled out the program. Cuba's Gilda Chacón, represented the CTC and the World Federation of Trade Unions.[6]
References