Marshall Berman
Jump to navigation
Jump to search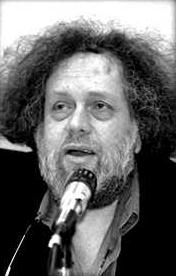 Marshall Berman is a Professor of Political Science at CUNY, teaching Political Philosophy and Urbanism and is on the editorial board of Dissent and is a regular contributor to The Nation, TheNew York TimesBook Review, Bennington Review, New Left Review, New Politics and the Village Voice Literary Supplement[1].
Marxist revelation
Berman's main works are The Politics of Authenticity, All That is Solid Melts in Air, One Hundred Years of Spectacle and Adventures in Marxism. In Adventures in Marxism Berman tells of how while a student at Columbia University in 1959, the chance discovery of the 1844 Manuscripts proved a revelation and inspiration, and became the foundation for all his future work[2].
Education
BermanCocmpleted his Ph.D. at Harvard in 1968[3].
Socialist Scholars Conference 1990
The Socialist Scholars Conference 1990, held September 6-8, at the Hotel Commodore, New York, included panels such as:[4]
The Politics of Post-Modernism
Communist "Manifestivity"
On October 30 and 31, 1998 the Brecht Forum presented the "Communist Manifestivity -150th Anniversary of the Communist Manifesto" at at Cooper Union's Great Hall, New York.
One of the many workshops at the Manifestivity was;
The Communist Manifesto--Now; with Mary Boger, Lynne Chancer, Bogdan Denitch, August Nimtz, Vijay Prashad, Marshall Berman. Moderator: Randy Martin
Socialist Scholars
At the 2000 eighteenth annual Socialist Scholars Conference in New York, Monthly Review sponsored a well attended panel on culture and contemporary capitalism with Marshall Berman and Robert McChesney[5].
DSA's Cuba Letter
Marshall Berman signed an April 2003 Statement on Cuba, initiated and circulated[6] by prominent Democratic Socialists of America (DSA) member Leo Casey, calling for the lifting of trade sanctions against Cuba.
"a statement circulating among democratic left/socialist folks, largely by members of Democratic Socialists of America, condemning the recent trials and convictions of non-violent dissenters in Cuba".
The petition criticized Cuba's poor human rights record, but shared the blame for Cuba's problems with reactionary elements of the U.S. administration...
The democratic left worldwide has opposed the U.S. embargo on Cuba as counterproductive, more harmful to the interests of the Cuban people than helpful to political democratization. The Cuban state's current repression of political dissidents amounts to collaboration with the most reactionary elements of the U.S. administration in their efforts to maintain sanctions and to institute even more punitive measures against Cuba.
Many of the petition's 120 odd signatories were known members of DSA.
"Dissent" magazine
In 2009 the Democratic Socialists of America aligned Dissent Magazine masthead[7] Editorial Board members were;
Bernard Avishai, Joanne Barkan, David Bensman, Marshall Berman, Paul Berman , H Brand, David Bromwich, Luther Carpenter , Jean L Cohen, Mitchell Cohen, Bogdan Denitch , Jeff Faux, Cynthia Fuchs Epstein, Todd Gitlin, Murray Hausknecht, Agnes Heller, Jeffrey Isaac, Michael Kazin , Martin Kilson, Erazim Kohak, William Kornblum, Jeremy Larner, Susie Linfield, Kevin Mattson, Deborah Meier, Harold Meyerson, Nicolaus Mills , Jo-Ann Mort, Brian Morton, Carol O'Cleireacain, George Packer, Martin Peretz, Anson Rabinbach, Ruth Rosen, James Rule, Alan Ryan, Patricia Cayo Sexton, Jim Sleeper, Ann Snitow, Cornel West, Sean Wilentz, Dennis Wrong.
References