Mark Lloyd
From KeyWiki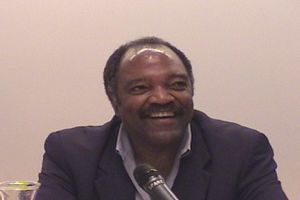 Mark Lloyd is the associate general counsel and Chief Diversity Officer at the Federal Communications Commission of the United States. He has been a senior fellow at the Center for American Progress focusing on communications policy issues, including universal service, advanced telecommunications deployment, media concentration and diversity.
Education
Mark Lloyd received his undergraduate degree from the University of Michigan and his law degree from the Georgetown University Law Center.
Career
Mark Lloyd worked as general counsel to the Benton Foundation and as a communications attorney at Dow, Lohnes & Albertson in Washington, D.C. representing both commercial and non-commercial companies. He also has nearly 20 years of experience as a print and broadcast journalist, including work as a reporter and producer at NBC and CNN, and is the recipient of several awards including an Emmy and a Cine Golden Eagle.
From the fall of 2002 until the summer of 2004, Mr. Lloyd was a Martin Luther King, Jr. visiting scholar at the Massachusetts Institute of Technology, where he taught communications policy and wrote and conducted research on the relationship between communications policy and strong democratic communities.
Media Democracy Legal Project
Advisors to the Media Democracy Legal Project, circa 2006, included:[1]
Praise for Hugo Chavez
Following are comments made by Lloyd in a conference on media reform and racial justice in 2008:
"In Venezuela, with Chavez, really an incredible revolution, a democratic revolution to begin to put in place things that were going to have an impact on the people in Venezuela. The property owners and the folks who were then controlling the media in Venezuela rebelled, worked, frankly, with the folks here in the U.S. government, worked to oust him. But he came back in another revolution, and then Chavez began to take very seriously the media in his country."
Boards/consultancies
Mark Lloyd has served[2]as the executive director of the Civil Rights Forum on Communications Policy, a non-profit, non-partisan project he co-founded in 1997 to bring civil rights principles and advocacy to the communications policy debate.
Lloyd has also served as a consultant to the Clinton White House, the John D. and Catherine T. MacArthur Foundation, the Open Society Institute and the Smithsonian Institution, Independent Television Service, OMB Watch, the Center for Democracy and Technology, and the Leadership Conference on Civil Rights Education Fund.
References