Mark Leno
From KeyWiki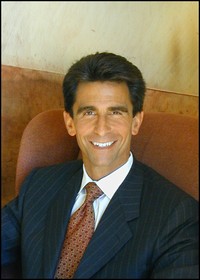 Mark Leno is a State Senator from California. He ran against London Breed for mayor of San Francisco and lost in June 2018.
Background
A native of Wisconsin, Senator Leno attended the University of Colorado at Boulder, then went on to become valedictorian of his graduating class at the American College of Jerusalem, where he earned his Bachelor of Arts Degree. He also spent two years in Rabbinical Studies at The Hebrew Union College in New York. Senator Leno is the owner of Budget Signs, Inc., a small business he founded in 1978 and operated with his life partner, Douglas Jackson. Together, the two entrepreneurs steadily grew their sign business until Jackson passed away from complications relating to HIV/AIDS in 1990.[1]
Supporting Dean Preston
Dean Preston for Supervisor March 2 2019:
With Graham Lewis, David Woo, Arthur Barry Persyko, Gabriel Markoff, Bryce Peppers, Jennifer Bolen, Seamus McGeever, Tom Gallagher, Norman Degelman, Buck Bagot, Rhonda Smith, Gail Packwood-Seagraves, Ilica Mocha, Kyle Smeallie, Debby Rovine, Julian LaRosa, MacKenzie Ewing, Brace Belden, Leslie Gray, Brenden Shucart, Kaylah Paige Williams, Tom Ammiano, Thompson Darcy, Dean Preston, Maya Chupkov, Sunnylyn Ballard Thibodeaux, Otto Pippenger, Jason Barrett Prado, Jen Snyder, Gabriel Medina, Larry-bob Roberts, Sara Shortt, Will Rostov, Theresa Imperial, Riel Fuller, Mark Leno, Jackie Fielder, Ellisa Beth, Avery Yu, Zhihan Zou, Jack LR, Brian Haagsman, Lisa Awbrey, Jackie Prager and Democratic Socialists of America: San Francisco in San Francisco, California.
2002 Assembly run
In March 2002 District 13 winner is poised -- along with Democrat John Laird of Santa Cruz, who won his primary yesterday -- to become the first gay man in the California Legislature.
Whether Mark Leno or Harry Britt wins, the district sends another liberal gay Democrat to the Assembly to replace Carole Migden, who was termed out and ran for the state Board of Equalization.
Migden, who used to be Leno's mentor, backed Britt, setting up a hot and vituperative race in San Francisco's liberal and diverse eastern half.
Britt challenged Leno from the left, attempting to push forward the progressive insurgency that captured a majority on the Board of Supervisors last November. While the more moderate Leno had the support of most of San Francisco's Democratic elected officials, from Sen. Dianne Feinstein on down, Britt commanded the backing of big labor and tenant groups.
The race split the gay community, which has long supported both men, and gave an opening to Holli Thier, a progressive lesbian and former Democratic Central Committee member, and former school board member Steve Phillips. With Mayor Willie Brown backing Phillips, the race tested old loyalties and new alliances.
Britt had to struggle to overcome the perception that in coming out of retirement from elective politics he was an honored but out-of-touch relic from the pioneering days of the gay rights struggle. He retired as a supervisor in 1992 after 14 years.
Leno had to overcome anger that he had changed long-held positions to curry progressive favor and move out of the shadow of the increasingly unpopular mayor.
Both Phillips and Thier were running far behind in early returns.[2]
California legislature
In 2008, Mark Leno was elected to the State Senate, representing California's 3rd Senate District encompassing all of Marin County, and parts of Sonoma and San Francisco Counties. Senator Leno chairs the Senate Budget and Fiscal Review Committee.
From 2002-2008, Senator Leno served in the California State Assembly, representing the 13th District, which encompasses the eastern portion of San Francisco. Prior to his election to the Assembly, he served for four and a half years on the San Francisco Board of Supervisors. [3]
World Can't Wait
The 2008 Advisory Board of the Revolutionary Communist Party front World Can't Wait, anti war organization consisted of:[4]
James Abourezk, former U.S. Senator, South Dakota
Rosemary Candelario, pro-choice activist
Warren Hern MD, Physician and pro-choice activist
Mark Leno, CA State Assembly
Mark Crispin Miller, professor & writer
Tomas Olmos, attorney
Boots Riley, hip hop performer
Lynne Stewart, attorney
Gore Vidal, writer
Sunsara Taylor, writer
Howard Zinn, historian
Cynthia McKinney, former U.S. Congressional Representative, Georgia
Supported Progressive Health Care Reform
In late 2009, Mark Leno was one of more than 1,000 state legislators to sign a letter entitled "State Legislators for Progressive Health Care Reform". The letter was a project of the Progressive States Network and was developed in consultation with national health care reform advocates, including the AFL-CIO, AFSCME, Community Catalyst, Families USA, Herndon Alliance, National Women's Law Center, Northeast Action, SEIU, and Universal Health Care Action Network. The letter reads in part,[5]
"Failure to pass national comprehensive health reform now will further jeopardize state and local budgets, undermining public services like education, public safety, and transportation infrastructure... We, the undersigned, call on President Obama and the Congress to enact bold and comprehensive health care reform this year – based on these principles and a strong federal-state collaboration – and pledge our support as state legislators and allies in pursuit of guaranteed, high quality, affordable health care for all."
California Single Payer conference
July 17, 2010, at the UCLA Faculty Center, Physicians for a National Health Program held The Summer Conference, "our first annual conference for the California single payer community". The conference was a collaborative effort of many organizations from the State Strategy Group and included presentations from state and national leaders in the single payer movement: Walter Tsou, Don McCanne, Margaret Flowers, Mark Leno, Sheila Kuehl, Michael Lighty, Paul Song, Andrew McGuire, Paul Hochfeld and more.[6]
LGBT Bill
As of April, 2011, a bill to make sure the historical contributions of lesbian, gay, bisexual and transgendered people are accurately portrayed in public school teaching materials was wending its way through the California legislature.
The Fair, Accurate, Inclusive and Respectful Education Act, Senate Bill 48, written by state Senator Mark Leno, D-San Francisco, passed the Democrat-led state Senate on a party-line vote in mid-April, just before the legislature's spring recess. When the legislature returns next week, the bill will be heard in Assembly Committees.
Leno's bill would add the LGBT community to the underrepresented cultural and ethnic groups already listed in the state's inclusionary education requirements. It would also add sexual orientation and gender identity to existing bans on bias in school activities, instruction, and instructional materials...
If the Assembly passes the FAIR Education Act and Governor Jerry Brown signs it into law, California will become the first state to require teaching gay history in public schools.
"Most textbooks don't include any information about LGBT historical figures or the LGBT civil rights movement, which has great significance to both California and U.S. history," Leno said. "We can't tell our youth that it's OK to be yourself and expect them to treat their peers with dignity and respect while we deny them accurate information about the historical contributions of Americans who happened to be LGBT."
The bill is co-sponsored by Equality California and the Gay-Straight Alliance Network.
"We're thrilled the Senate approved SB 48, recognizing that inclusion of LGBT Americans in instructional materials will teach all students to respect each other's differences, reduce bullying and increase safety for all students," Carolyn Laub, executive director of the Gay-Straight Alliance Network, said in a statement.
Jim Carroll, interim executive director of Equality California, said the measure "will ensure all students understand the diversity of our state and its history, and it will foster greater awareness, respect and safer schools for all students."
Elkarra connection
References