Mark DeSaulnier
From KeyWiki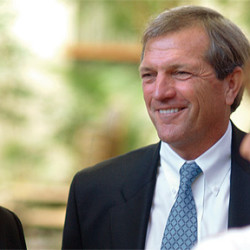 Mark DeSaulnier, born March 31, 1952) is an American politician and a Democratic member of the California Legislature representing California's 7th State Senate district since December 2008. From 2006 to 2008, DeSaulnier represented California's 11th State Assembly district. Previously, he served as a Contra Costa County supervisor (district 4, 1994–2006) and on the Concord City Council (1991–1994).
In March 2009, DeSaulnier announced his candidacy for the United States House of Representatives in the special election for the 10th congressional district after the resignation of the incumbent Ellen Tauscher. DeSaulnier received endorsements from Congresswoman Tauscher and Congressman George Miller for the seat. In the September 1 primary election, DeSaulnier came in second, after John Garamendi.
In 2014 after George Miller announced his retirement, DeSaulnier announced his candidacy for California's 11th congressional district. [1]After winning the general election, he became member-elect for the district. [1]
Background
Mark DeSaulnier represents the 7th State Senate District which includes 70% of the 11th Congressional district. DeSaulnier has served at the local level on the Concord City Council, as Mayor of Concord and as a three term Contra Costa County Supervisor. As Supervisor, he served on the California Air Resources Board, the Association of Bay Area Governments, the Bay Area Air Quality Management District, and the Metropolitan Transportation Commission. He was elected to the State Assembly in 2006 where he served one term and received the distinction of being the first freshman in history to chair the Assembly Transportation Committee. DeSaulnier was elected to the California State Senate in 2008.
In the Senate, DeSaulnier Chairs the Transportation and Housing Committee. He has previously chaired the Labor and Industrial Relations Committee and the Subcommittee No. 3 of Budget and Fiscal Review Committee pertaining to Health and Human Service. In addition he sits on the Senate Committees on Health; Energy, Utilities & Communications; Governance & Finance; Insurance as well as the Joint Legislative Audit Committee.
In his time in office, he has taken a leadership role on a variety of key issues including government reform, labor, transportation, the environment, health care, local government, and public safety. In the Senate, DeSaulnier's top legislative priorities include: working to reform state governance; safe and efficient roads and highways; allowing companies to organize as more community-active corporate citizens; protecting public health; reducing Californians' exposure to tobacco; protecting homeowners from foreclosure; tightening up the parole system and oversight of sex offenders; making it easier for people to donate life-saving bone marrow and organs; and fighting abuse of prescription narcotics.
Locally, DeSaulnier has championed the Expansion of Highway 4, BART to eastern Contra Costa County, and the development of a fourth bore of the Caldecott Tunnel.
DeSaulnier was born in Lowell, Massachusetts, and earned his BA in History from the College of the Holy Cross. As a young man in Massachusetts, DeSaulnier worked as a probation officer, a truck driver, and a hotel services employee. He moved to California in the early 1970's. DeSaulnier was a member of both the Teamsters International Union and the Hotel Employees and Restaurant Employees International Union.
For most of his career, DeSaulnier has been a small business owner of several successful Bay Area restaurants. He has served the Bay Area in public office for more than 20 years.
DeSaulnier resides in Concord where he raised his two adult sons, Tristan and Tucker. [2]
Elected to Congress
According to the Peoples World;
While the outcome was never in doubt, supporters celebrated the victory of progressive state Senator Mark DeSaulnier to succeed longtime Congressman George Miller, who in 40 years in Congress, championed progressive positions on labor, education and environmental issues.[3]
Peace Action
Peace Action endorsed Mark DeSaulnier in the 2018 election cycle.[4]
Support for the Council on American Islamic Relations
Mark DeSaulnier wrote a letter of support to the Council on American-Islamic Relations (CAIR) on the occasion of their 24th anniversary in September 2018.[5]
Labor Caucus
The Labor Caucus is an official caucus in the U.S. House of Representatives. In 2021 members included Mark DeSaulnier .[6]
Congressional Progressive Caucus
In March 2015, Mark DeSaulnier was listed as a new member of the Congressional Progressive Caucus.[7]
Ultimate Women's Power Luncheon and Issues Conference
Tom Steyer, Anna Eshoo, Mark DeSaulnier.
Indivisible East Bay's Governance Committee member and co-lead of Indivisible CA-11 United, Kristen Law was invited by Representative Mark DeSaulnier (CA-11) to join him at the Ultimate Women's Power Luncheon and Issues Conference on October 19, 2017 at the Fairmont Hotel in San Francisco. The event was hosted by Nancy Pelosi and paid for by the DCCC.[8]
"A Townhall Conversation on Race"
Vanessa Moses April 27 at 4:11 PM:
This afternoon, I had the great honor of representing Causa Justa/Just Cause on the panel for "A Townhall Conversation on Race," hosted by Congresswoman Barbara Lee and Congressman Mark DeSaulnier at the Black Repertory Group Theater.
Among many gems, some of my favorite moments were:
Congresswoman Lee (rep for CA 13th District) name the link between the inequities and disparities we see today to the history of chattel slavery and the need for #Reparations.
Chinyere Oparah, Dean of the Faculty, Mills College remind us that we're not only on the land that "used to be" Ohlone, but that the fights by Ohlone people continue today (e.g. in defense of sacred land).
Congressman Mark DeSaulnier (rep for CA 11th District) talking about the importance of taking the lead from impacted communities and the costs when decision makers fail to do so.
According to Barbara Lee:
There was incredible turn out at yesterday's town hall in Berkeley on race in America. Thank you to everyone who came out to this crucial discussion. A special thank you also to our amazing panelists – Professor John A. Powell, Dr. Chinyere Oparah, and Vanessa Moses – to Rep. Mark DeSaulnier for co-sponsoring the event, and to Berkeley mayor Jesse Arreguin for joining us as well.
Yesterday we tackled important questions about issues like gentrification, mass incarceration, and immigration. Even in a community as progressive as the East Bay, we recognize that we've still got work to do to achieve racial equity and fairness for everyone. I left yesterday's town hall even more committed to continuing the fight for racial justice in the East Bay and around the country. [9]
Alameda County Supervisor Keith Carson, moderated the discussion.
Anti-TPP letters
The proposed Trans-Pacific Partnership trade deal "could only lead to the offshoring of U.S. jobs, especially in the service sector, and the erosion of America wages, nine newly-elected Democrats said in a letter to the president. Overall, 13 of 17 newly-elected Democrats are opposing Fast Track".
Rep. Ruben Gallego (D-AZ) led the efforts of a group of the letter writers and his version was signed by Brendan Boyle of Pennsylvania's 13th District; Mark DeSaulnier of California's 11th District; Debbie Dingell of Michigan's 12th District; Brenda Lawrence of Michigan's 14th District; Ted Lieu of California's 33rd District; Kathleen Rice of New York's 4th District; Mark Takai of Hawaii's 1st District; and Bonnie Watson Coleman of New Jersey's 12th District.
"[W]e believe this legislation lacked sufficient guarantees to ensure Congress' voice in shaping the substance of international trade agreements negotiated by the Administration," another group of freshman Democratic legislators wrote. "Our concern is that previous versions of TPA legislation did not ensure sufficient input of our constituents' concerns about labor, environmental, and human rights protections that must be essential in the trade deals you are currently negotiating."
Reps. Seth Moulton of Massachusetts' 6th District, Pete Aguilar of California's 31st District and Norma Torres of California's 35th District a the second letter.[10]
Funding for Colombia
March 28, 2016 Washington, D.C. Rep. Ruben Gallego (D-AZ), Rep. Bradley Byrne (R-AL), and 14 of their House colleagues sent a letter to key House Appropriations Committee members asking them to fully fund President Barack Obama's budget request for aid to Colombia.
Last month, President Obama announced a new aid package totaling $450 million for FY 2017 to assist the Colombian government in implementing a potential peace deal with the FARC guerillas after more than fifty years of violent conflict in the country. The funding would also support Colombia's efforts to address security challenges including the threat of violent drug cartels.
"Now, just as the peace process is beginning to bear fruit, is not the time to reduce our financial assistance to our ally and partner," the group wrote in a letter to Rep. Kay Granger (R-TX), chair of the House Appropriations Committee's Subcommittee on State, Foreign Operations and Related Programs, and Rep. Nita Lowey (D-NY), who serves as the subcommittee's ranking member. "After decades of equipping Colombia to fight, we have a vested interest in helping the Colombian people to rebuild. We must continue the robust, bipartisan support which, at long last, has brought Colombia to the precipice of peace."
Signers include, Rep. James McGovern, Rep. Sam Farr, Rep. Hank Johnson, Rep. John Lewis, Rep. Linda Sanchez, Rep. Charles B. Rangel, Rep. Jim Himes, Rep. Eric Swalwell, Rep. Filemon Vela, Rep. Tony Cardenas, Rep. Dutch Ruppersberger, Rep. Mark DeSaulnier, Rep. Keith Ellison, and Rep. Mark Pocan.[11]
On CAIR
"CAIR works hard to challenge Islamophobic rhetoric, mobilize the Muslim community and combatting the unprecedented spike in anti-Muslim hate incidents occurring nationwide. [. . .] I stand by the work done by CAIR in this regard."
-Rep. Mark DeSaulnier (D-Calif.) (October 2017).
Letter with NIAC
Washington, D.C. – December 208, National Iranian American Council worked with Rep. Jared Huffman and a group of 13 lawmakers who sent a letter to the the State Department regarding the dire humanitarian impact of U.S. sanctions on the Iranian people. On February 15, the State Department sent its response to the lawmakers. Rep. Huffman's letter requested responses on the following questions:
Is it a deliberate strategy of the Trump administration to starve the Iranian people or deprive them of basic medicines? If not, what substantive steps has the administration taken to ensure the Iranian people have continued access to life-saving medicines?
Which foreign nations have expressed concern about the humanitarian impact of U.S. sanctions on Iran, and what have they asked the administration to do to ensure the free flow of humanitarian goods to Iran?
According to a report in The Guardian, the United Kingdom, France and Germany have pushed both the State and Treasury Departments to produce a "white list" that would "give clear guidelines about what channels European banks and companies should follow to conduct legitimate transactions with Iran without fear of future penalties." Has the State or Treasury Departments acted upon this proposal to establish a white channel to ensure the flow of humanitarian goods? If not, why not?
What additional measures have been contemplated to ensure the free flow of humanitarian goods to the Iranian people? If these were rejected, why were they rejected?
Are broader license authorizations or exemptions necessary to ensure the flow of humanitarian goods to Iran? If not, what is the evidence for this assessment?[12]
Other signatories included Reps Barbara Lee, Mark Pocan, Bobby Rush, Ro Khanna, Jim McGovern, Tulsi Gabbard, Zoe Lofgren, Don Beyer, Mark DeSaulnier, Jan Schakowsky, Matt Cartwright, Earl Blumenauer, Anna Eshoo.[13]
HR 109 endorser
By February 20 2019 endorsers of Alexandria Ocasio-Cortez's HR 109 (Green New Deal) included Mark DeSaulnier.
Medicare for All Act
In February 2019 Rep. Pramila Jayapal introduced H.R.1384 - Medicare for All Act of 2019. By May 29 she had 110 co-sponsors including Rep. Mark DeSaulnier.
References