Mark Crain
Jump to navigation
Jump to search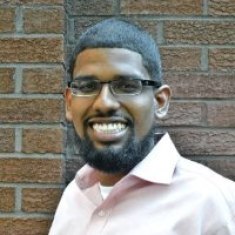 Template:TOCnestleft Mark Crain is a founder and Strategic Director for MPower Change, "the largest Muslim led social and racial justice organization in the United States."[1] Dustin Craun and Linda Sarsour are co-founders. Mark Crain converted to Islam in his senior year at Northwestern University.
According to Mark Crain's LinkedIn[2] page, he works for MoveOn.org, and previously worked for Obama for America, Inner-City Muslim Action Network (IMAN), and DeCrain Web Solutions.
Mark Crain graduated Northwestern University with a Bachelor of Arts, Political Science, African-American Studies in 2009.
Biography
In 2016, Hazel Gomez wrote an article about Mark Crain for Sapelo Square, a self-described "Online Resource on Black Muslims."[3]
Here is an excerpt:
"As a high schooler, Crain became interested in Black-Brown solidarity and protested against Coca Cola's anti-union practices in South America. As president of his high school's Black student union, he organized to remove a statue of Confederate General Robert E. Lee in the center of campus. He carried this activist spirit and determination to improve the Black student experience to Northwestern University where he studied Political Science and African-American Studies. While at Northwestern, Crain served as president of the Black student Union and pledged Alpha Phi Alpha (ΑΦΑ), the first African-American fraternity in the nation, eventually serving on the group's national board of directors."
"While deeply entrenched in student life and activism on campus, it was during his senior year that Crain made a life-changing decision. The words of a fellow Alpha brother, "If I had been living the way I was supposed to, all of you brothers would be Muslim by now," caught Crain's attention and he began a process of studying Islam. For years, Crain had considered himself a student of the life of Malcolm X, but he'd failed to see the centrality of Malcolm's faith to his life's work. Studying more, Crain realized that the framework of social justice embedded in the Islamic faith resonated deeply with his vision of how the world could be — and he took his shahada within months of that first conversation. Shortly after graduation, Crain joined Chicago's Inner-City Muslim Action Network (IMAN) — a nonprofit rooted in an Islamic social justice framework.
"Crain is a native Detroiter — and like most Detroiters — he reps his city wherever he goes. Yet even while making an impact in Chicago, at the back of his mind was, "How can I take this all back to Detroit? What can I do to contribute to its comeback?" Crain was determined to be a part of his beloved city's revival — and today, he is trying to do just that.
"Three years ago, a 50-year strategic framework for land use in the city of Detroit was released. Among its plans was the creation of an "ecological innovation zone" that would, in plain terms, uproot one of the oldest African-American Muslim congregations in the city. It would replace the neighborhood around the Muslim Center of Detroit and its free health clinic, HUDA, with shallow pools to collect rainwater runoff, and fields of controlled overgrowth. The plan was accepted by practically every major foundation supporting community development across the city and, while well intentioned, it had the potential to lead to a sort of de facto redlining. In response, Dream of Detroit was born.
"Dream of Detroit (DREAM) is a nonprofit combining community organizing with strategic housing and land development to build a healthy community and revitalize the neighborhood around the Muslim Center. As the Project Director, Crain wanted to ensure that this neighborhood would not become a nostalgic memory of what was — but would become a dream of what could be and, eventually, a lived reality. With Islam running deep in Detroit's historic fabric, it only made sense to Crain that Muslims needed to be a part of Detroit's revival. That is what DREAM stands for — "Detroit Revival Engaging American Muslims."
"DREAM has completed its first two homes and brought new families who are now living just steps away from the mosque. Two more homes are underway today. Abandoned and dilapidated buildings in the surrounding area have been boarded up with signs warning potential vandals "Dream of Detroit is Watching this Property." Last fall, more than 100 trees were planted in the neighborhood to not only beautify it but as a symbol that residents, potential residents, and the mosque goers care.
"Crain's visions for Dream of Detroit include: neighbors and friends participating in a timebank where services and skills are exchanged without the exchange of money; a Michigan Muslim Entrepreneurship Center that can be an incubator and accelerator of the next generation of transformative businesses and inventions; and sidewalks full of people walking over to the mosque from their homes for the five daily prayers.
"With all the work that DREAM requires, people are often surprised to learn that it's not Crain's full-time job. In addition to being a father and husband, Crain is a Campaign Director at MoveOn.org, where he focuses on running powerful advocacy campaigns on issues like expanding access to healthcare and dismantling racism. He also recently co-founded MPower Change, a digital grassroots movement rooted in diverse Muslim communities throughout the U.S. who are working together to build social, spiritual, racial, and economic justice for all people. Already, the group is fighting anti-Muslim racism in the presidential election and standing with allies like Dr. Larycia Hawkins, who was suspended by her college for showing solidarity with Muslim women.
National Leading From the Inside Out Alum
Mark Crain, Mobile Innovation Director & Senior Strategist, MoveOn was a 2019 Rockwood Leadership Institute National Leading From the Inside Out Alum.[4]
References