Mark Begich
From KeyWiki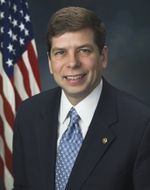 Mark Begich was a Democratic member of the United States Senate, representing Alaska. Begich was elected to his seat in 2008 after serving as the Mayor of Anchorage since April 2003.
Begich was born and raised in Anchorage. He is a lifetime member of the NRA. When he was 26, in 1988, Begich was the youngest person ever elected to the Anchorage Assembly. He served as an assemblyman for nearly 10 years.
Mark's parents, Pegge and the late Nick Begich, came to the territory of Alaska in 1957 as teachers. Nick was elected Alaska's third U.S. Congressman.
Begich is married to Deborah Bonito, a successful businesswoman. The two have a son, Jacob.[1]
McHugh Pierre filed a complaint against Begich in 2008 on behalf of the Republican Party. Begich had to pay a $1,420 fine for failing to properly fill out state financial disclosure forms.[2]
Staffer's trip to Cuba
Sen. Begich sent David Ramseur to Cuba for three days in July 2007. The trip was courtesy of a $1,681.70 grant from the Institute for Policy Studies connected Center for Democracy in the Americas... "As chief of staff, traveler advises Sen. Begich on foreign policy issues, including policy on Cuba" .[3]
Staffer's trip to Venezuela
Sen. Begich sent Diane DiSanto, to Venezuela for 3 days in September 2009. The trip was courtesy of a $810.71 grant from the Institute for Policy Studies connected Center for Democracy in the Americas... "To attend meetings and events to understand the importance of U.S. policies toward Venezuela " .[4]
Niilo Koponen was honored at Democratic State Central Committee gala October 15, 2009.
Niilo, Fred Brown and Barry Jackson were honored at the Democratic State Central Committee gala held at the Morris Thompson Center. There was a good turnout, including Sen. Mark Begich.[5]
On Dec. 6, 2013, U.S. Senator Mark Begich issued a statement about the passing of former state legislator and Democratic Socialists of America member Niilo Koponen.
"Niilo was a one-of-a-kind true Alaska pioneer whose contributions to our state will be long-lasting. After helping World War II refugees at a Finnish work camp, Niilo and his life partner and wife Joan, drove to Alaska in the winter of 1952. Like many Alaskans, he worked many jobs but perhaps the most important was teaching Fairbanks elementary school students. Niilo often served as the conscience of the Alaska Legislature during his nearly 10 years in Juneau, where he advocated for the most challenged Alaskans. Niilo was a fierce champion for his beloved community of Fairbanks and his entire state. His selfless public service to the Alaska that he loved will be sorely missed."[6]
Socialist backing Begich
Michael Patterson in the Juneau Empire, Friday, September 14, 2018:[7]
As an Alaskan, a parent, an Iraq War Veteran, a person of color and a Democratic socialist I will be voting for Begich and Call. Because not only do they represent the values I want to see in government, they also are part of a larger breaking story about the state of politics in Alaska. There is a progressive revolution unfolding, rippling through Alaska's working class as candidates like Begich and Call speak to the issues that matter to the majority of Alaskans. It's just starting and the foundation of this movement is only beginning to take shape but it's there and it will only get bigger. I believe that Begich and Call are a part of this movement.
Kern connection
Kyle Kern, Field Organizer, Alaska Victory '14, June 2014 – November 2014, Sitka, Alaska Mark Begich for US Senate.[8]
Committees
Senate Committee on Science, Commerce and Transportation
Subcommittee on Aviation
Subcommittee on Communications
Subcommittee on Competiveness, Innovation, and U.S. export Promotion
Subcommittee on Oceans, Fisheries, and Coast Guard
Subcommittee on Surface Transportation
Senate Committee on Armed Services
Subcommittee on AirLand
Subcommittee on Personnel
Subcommittee on Strategic Forces
Senate Committee on Veterans Affairs.[1]
Planned Parenthood
Begich received $7500 in lobbying funds from Planned Parenthood in 2008.
External links
References