Mario Brito
From KeyWiki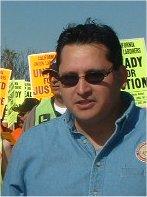 Mario Gonzalez-Brito is a Los Angeles activist. In 2011 he was Labor Relations Rep/Community Outreach Northern California Coordinator, Laborers Pacific Soutwest Regional Organizing Council.[1]
Mario Brito, is also a Lincoln Heights Neighborhood Councilmember.[2]
Mario Brito is married to Paulina Gonzalez-Brito.
CPUSA National Board
Mario Brito, attended a meeting of the National Board of the Communist Party USA in South Chicago, on the last weekend of January, 2003.[3]
Latinos for Peace
On October 31 2009, Latinos For Peace issued a statement calling for "no escalation of the war in Afghanistan and for expedited withdrawal of U.S. troops from Iraq and Afghanistan as well as an end to the coup government in Honduras".
More than 100 activists endorsed the call, including Mario Brito.[4]
"Occupy L.A."
In October 2011, Mario Brito, Occupy Los Angeles' city liaison, summed up the occupation cause's raison d'etre as "economic justice," and told fellow Communist Party USA supporter Ed Rampell of Back Page Magazine: "This is an international movement – it's not only happening in Wall Street, it's happening in 170 cities in the U.S., and cities in Europe and Latin America."
Mario Brito asserted: "The vast majority of Americans actually believe income inequality is a major problem. They only reason they haven't acted upon it is because there hasn't been a mass movement."[5]
Demonstrators in Los Angeles camped out in front of City Hall and said they would remain camped at the site 'indefinitely'.
" We have no time limit, this camp will remain until we achieve what we want: the population's right to employment, education and health services; immigrants' right to employment and no companies influence on politics", Mario Brito declared.[6]
The group also decided to work with the Los Angeles Police Department to obtain permits and cooperation, hoping to avoid altercations with police.
"If we have an adversarial relationship with the cops, it's not going to work," said Mario Brito, moderator of a September 25 meeting .
Occupy LA is an offshoot of "Occupy Wall Street," a demonstration that is now in its ninth day. An "occupy" movement is also growing Chicago.
The LA group intends to stay autonomous of any political parties, and deciding to organize under the banner "We are the 99 percent," which calls attention to America's wealth and power disparity.
It is one percent of Americans who own 40 percent of the country's wealth and earns 25 percent of the income. The fact that the super-rich have been obtaining more wealth since the Great Recession is a point of frustration for many who face high unemployment, growing poverty and austerity measures.
on September 26 , Occupy LA made an appearance in West Hollywood for President Barack Obama's fundraising visit. The plan was not to protest the president, but to reach out to other activist groups, something that has been missing from LA's occupation movement.
After a sometimes frustrating organizing process that is filled with many diverse points of view, Bitro said protesters are unified.
"We agree on one thing, that the economic inequalities in this country have to stop," he said. "We have to fight back on this issue. We have to hold corporate America responsible, and the politicians that support them."
The group holds meetings every night and is leaderless. Bitro was tonight's moderator, and after the meeting, another moderator was voted in for the next day. Although people of all ages are present, the majority are youths.
"I think that politicians who ignore these young people, and the bureaucrats who just feel they are kids and hippies, are really missing the whole concept," said Bitro. "They are actually hitting on an issue that is becoming more and more apparent for a lot people."[7]
Alarcon Supports "Occupy" and Mario Brito
The following memo was transcribed in Daily Kos, December 22, 2011, by Committees of Correspondence for Democracy and Socialism activist Clay Claiborne. It was from Los Angeles City Council member Richard Alarcon, supporting Occupy Los Angeles, and Communist Party USA member Mario Brito.[8]
From: Councilmember Richard Alarcon
To: Hon. Carmen Trutanich, City Attorney
Chief Charlie Beck, Los Angeles Police Department
Tony Royster, General Manager, General Services Department
CC: Mario Brito, "Occupy Los Angeles"
Date: Friday, September 30th, 2011
Re: Providing Occupy LA Event - Tomorrow Saturday, Oct. 1st at City Hall- with Reasonable Accommodations to Peacefully Exercise 1st Amendment Rights
I'm writing to urge you to provide a reasonable accommodation to "Occupy Los Angeles" in order to both protect the City's interests and to allow this group to peacefully exercise it's First Amendment rights.
It will benefit neither the City nor "Occupy Los Angeles" if peaceful protesters are arrested at or near City Hall tomorrow night...It would be unwise for our City to be overly aggressive and change the story from what it is--a protest against financial institutions--into a story about the City being inhospitable to peaceful demonstrations of civil rights.
I recommend that "Occupy Los Angeles" demonstrators be allowed to sleep near City Hall tomorrow night...
CC: Mario Brito, "Occupy Los Angeles"Ten years ago he was organizing meat packing employees in Ventura County. More recently he is a Lincoln Heights Neighborhood Council member and endorsed the call of Latinos for Peace. Early on he got involved in building Occupy Los Angeles and it became the focus of his work. After the encampment began he slept there almost every night.

Arturo Cambron September 29, 2011:
Occupy LA starts this Sat. at 12 noon at city hall. If you're mad as hell and won't take it no more, join us. — with Laura Cambron, Rossana Cambron, Juan Pablo Guevara, Gaby Castillo, Mario Gonzalez-Brito, Audrey Silvestre, Scott Patrick, Lex Steppling and Miguel Paredes in Los Angeles, California.
Supporting Alarcon
In 2012, Mario Brito was supporting Richard Alarcon, as Field Director, Co-Campaign Manger at Alarcon for State Assembly 2012.[9]
National Party Building Conference
National Party Building Conference Hosted by Communist Party USA and People's World.
Saturday, November 11, 2017 at 12 PM – 6 PM EST
Join Communist Party activists and members in a national conference. You can register here https://tinyurl.com/ycdouk3y
The conference will take place November 11th to 12th to plan our work in the fight against the Trump Administration and its white supremacist ruling class backers. Find information here about how to participate. http://www.cpusa.org/2017-national-party-building-conference-resist-organize-vote-grow/
The conference will be streamed from Chicago to regional meetings in New Haven, Los Angeles, and Orlando. Whether you're on the East Coast, West Coast, in the MIdwest or the South, you'll be able to participate.[10]
Those invited on Facebook included Mario Brito.
"Train of justice"
July 29, 2011, SoCal Los Angeles Communist Party USA "Welcoming our new members who have chosen to board the train of justice".
Signed by; Rossana Cambron, Mario Brito, Juan Lopez, Armando Ramirez, Nelson Urrutia, Rafael Zamarron-Brito, Scott Patrick, Leandro Della Piana, Emily Clarida, Sam Webb, Michelle Henrickson, Richard Castro, Jr., John Bachtell and Nicholas James.
References