Marilyn Buck
Jump to navigation
Jump to search

Marilyn Buck was a domestic terrorist. She died in 2010.
Background
Marilyn Buck was an American anti-racist and anti-imperialist activist. Buck is felon, convicted of conspiracy in several violent crimes, including for her participation in the 1979 prison break of black activist Assata Shakur. She was also convicted of being a conspiring participant to commit armed robbery with members of the Weather Underground and the Black Liberation Army in the 1981 Brinks robbery. Buck was convicted for her role in the 1983 U.S. Senate bombing and the bombings of three military installations in the Washington D.C. area and four sites in New York City. Buck is serving an 80-year sentence for the bombings at FCI Dublin in California.[1][2][3]
Since her imprisonment, Buck has contributed to Sojourners Magazine, Monthly Review, and Social Justice, in addition to other publications.
Forward Motion
Freedom Road Socialist Organization's Forward Motion, Spring 1996 issue, include a poem from Laura Whitehorn Dublin California "Fourteen Days loss of privileges", and another 1988 poem from Marilyn Buck, from the same place..
The Rag Blog
In 2010 Marilyn Buck was listed as a contributor to the Movement for a Democratic Society linked, Austin Texas based, The Rag Blog website.[4]
Marilyn Buck and Lolita Lebron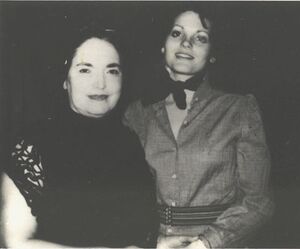 Lolita Lebron (L) with domestic terrorist Marilyn Buck[5]
"Marilyn served four years of the sentence at the federal women's prison in Alderson, West Virginia, where she was initially housed in one of the federal system's first high security isolation units for women. At Alderson, both in the control unit and later in general population, she met other women political prisoners, including Assata Shakur. Lolita Lebron and Bo Brown."
References