Maria Guillen
Jump to navigation
Jump to search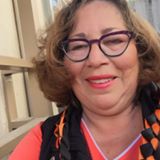 Template:TOCnestleft Maria Elena Guillen... has worked within the public sector in the field of aging for over twenty years. As a Program Analyst for the San Francisco Department of Aging and Adult Services, she liaisons with several non-profit organizations offering an array of services so elders and people living with disabilities can age in place with dignity and independence. For past two decades she has been a union activist, serving as a shop steward, mentor and union officer for the Service Employees International Union Local 790. She currently represents SEIU 1021 on the San Francisco Labor Council. A strong advocate for building community and labor power, she is active in Jobs with Justice SF.[1]
San Francisco Rising Alliance
San Francisco Rising Alliance December 19, 2018 ·
With Maria Guillen, James Tracy, Athena Waid, Celi Tamayo-Lee, Anakh Sul Rama and Li Miao Lovett.
Committees of Correspondence conference
Maria Guillen spoke[2]at the 6th National Convention of the Committees of Correspondence for Democracy and Socialism (CCDS) at San Francisco's Whitcomb Hotel July 23-26 2009 at the labor workshop. It pulled together more than 45 activists working in and around many of the major unions in the country. Four veteran activists in the labor movement: Bill Fletcher Jr, the former Education Director of the AFL-CIO, David Bacon, labor and immigrant rights journalist, Maria Guillen, SEIU and Frank Hammer, former UAW local union president from the Detroit area spoke.
A key issue addressed by the workshop was the struggle of U.S. workers against global neo-liberal policies of capital.
Key issues in the struggle against neo-liberalism highlighted by the workshop are the right to organize and defend against union busting, union democracy, the plight of undocumented workers, and the need for broad forms of struggle by workers such as working people's assemblies, unemployed councils, and municipal movements.
District Elections in SF: How Do "We the People" Become the Driving Force?
Circa 2010 at Center for Political Education. With community and labor organizers, N'Tanya Lee (Coleman Advocates for Children and Youth), Calvin Welch (Housing Justice), Maria Guillen (SEIU) and activist Sasha Magee.
Progressives who fought for San Francisco's District Elections in the 1970s and again in the 2000s, focused not on individual candidates – but on the broader movement for building grassroots power, developing people's consciousness, and creating democratic structures to keep officials accountable.
District Elections in San Francisco – How do "We the People" become the driving force?, will trace the history of district elections that brought Harvey Milk to prominence in the 70s, and will look at the district town hall meetings and citywide Community Congresses, structures that developed an agenda and demands which elected officials had to respond to. In the context of the city's current budget crisis, labor and community organizers will engage in a lively debate on how we can continue to build on the progressive gains of the 2008 elections, and fight for elected officials to follow the lead of the people.[3]
Caring Across Generations flashmob
Gordon Mar May 10, 2013.
Caring Across Generations flashmob action at Senator Feinstein's office - Build the World That We Want! With good jobs, fully funded services and quality and affordable care for all! — with La Colectiva de Mujeres, Chyanne Chen, Tony Robles, Maria Guillen, Ken Wang, Guillermina Castellanos, Maria Hernandez, Claudia Reyes, Jane Martin, Lisa Adler, Michael Lyon, Bjorn Toulouse, Sascha Bittner, Nikki Brown Booker, Hene Kelly, Sarah Jarmon, Steph St. Clair, Pete Woiwode and Jobs with Justice San Francisco at One Post Plaza.
OURWalmart SF
Gordon Mar June 29, 2013.
OURWalmart, community and labor allies meeting now, preparing for action today at 12pm at 757 Market Street, Walmart director Marissa Mayer's penthouse apt and Gap at Market and Powell demanding WMT & Gap sign Bangladesh sweatshops fire safety accord. — with Maria Guillen, Jenya Cassidy, Blesilda Ocampo, Annelisa Luong, Feng Kung, Kasi Farrar, Mabel Tsang, Lotus Yee Fong, Brooke Anderson, Dan Harper, Kathe Burick, Pilar Schiavo, La Colectiva de Mujeres and Shanell Williams at Unite Here! Local 2.
Causa Justa board members
As of 2015 the board of Causa Justa/Just Cause included;[4]
CPA 40th anniversary
On August 4th 2012 to celebrate Chinese Progressive Association (San Francisco)'s 40th Anniversary. CPA was proud to honor the National Guestworkers Alliance and New Orleans Workers Center for Racial Justice, the Free MUNI for Youth Coalition, and Jobs with Justice San Francisco.
Host Committee:
Rolland Lowe and Kathy Lowe • Grace Lee Boggs • Josue Arguelles • Supervisor John Avalos • Angelica Cabande • Supervisor David Campos • Mike Casey • Supervisor David Chiu • Antonio Diaz • Reverend Norman Fong • Conny Ford • Maria Guillen • Alicia Garza • Roger Kim • Supervisor Jane Kim • Helen Kim • Jee Kim • Mario Lugay • Supervisor Eric Mar • Gordon Mar • Alisa Messer • Luke Newton • Supervisor Christina Olague • Vincent Pan • Tim Paulson • Ai-jen Poo • Raquel Redondiez • Peggy Saika • Shiree Teng • Makani Themba-Nixon • Helena Wong • Miya Yoshitani[5]
Gordon Mar for Supervisor
Gordon Mar June 18.
So proud to have the support of Supervisor Ronen, Supervisor Fewer, my brother former Supervisor Mar, my family, colleagues, and community members today as I officially filed to run for District 4 Supervisor. I'm so excited to embark on this journey and I can't wait to tell you more about my campaign. — feeling excited with Anakh Sul Rama, Carolyn Ji Jong Goossen, Michael Mar, Maria Guillen, Conny Ford, Eric Mar, Hillary Ronen, Rick Claymore, Ryan McGilley, Raquel R. Redondiez, Matthew L. Steen, Ken Tray, Cecilia Wong, Sandra Lee Fewer, Wendolyn Aragon, Carlos Gutierrez, Lynn Yokoe, Linshao Chin, James Tracy and Sze-Shun Lau.
References